Original Build Thread
Self Hosted Write Up
Project Gallery
This was done last summer, but I'm now getting around to moving some builds into the project gallery.
A Portable Practice Amplifier for bass guitar, designed to have a far more accurate frequency response than the typical commercial offerings. This design goal makes it suitable for a mono music blaster, a keyboard amplifier, or whatever needs loud, clean and portable sound near an AC power outlet.
The electronics were designed long ago, and will not be documented here in detail, however they are based on National Semiconductor applications manuals and include the appropriate gain blocks and a 3 way shelving tone control. This old project was updated with a properly designed speaker, a new custom active filter setup, and a PBTL amplifier board to make the most out of the existing power supply.
Speaker Design
The speaker is simple enough to re-create, and would be a decent compact PA / keyboard / bass guitar speaker in its own right.
The Dayton PA200-8 was chosen for the woofer, and aligns vented with a 2" x 2.5" vent tuning the box to about 47Hz and reaching 49Hz at the -3B roll off point. The pro woofer will exceed Xmax pretty easily in the 80Hz range, however the Xmech is much larger so the damage potential for the woofer is minimal and the only risk is elevating distortion at high power. For this application, that's an easy trade off.
The Peerless 811647 horn loaded dome tweeter was chosen based on cost, response, and very high efficiency. The manufacture specification sheet was used to trace the response and impedance profile for crossover modeling.
The crossover uses a 2nd order electrical layout on the woofer with a cap as a breakup notch on the coil, paired to a 3rd order electrical filter for the tweeter including significant padding to drop down the high sensitivity of the tweeter to match the woofer.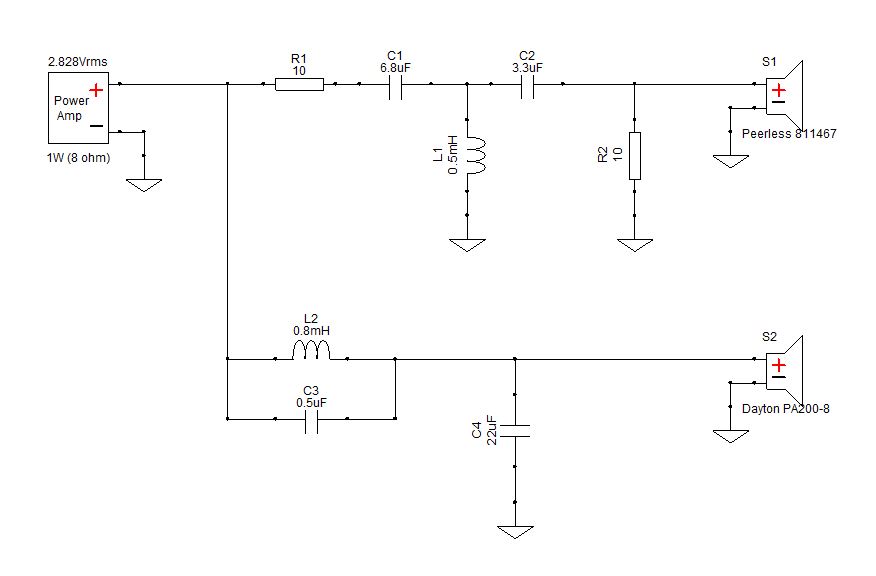 The modeled crossover output puts the system just over 90dB / watt efficient and within +-3dB from 300 to 15kHz with the low end a bit lower reaching about -6dB at 50Hz. The box is intended for use on the floor, so the boundary will compensate the low end.