After messing around with my Micro-B 2.1 plate amp project for close to a year, I've been thinking about what other subwoofers would be a good match to the .1 section of the amp. There isn't a lot of power to go around, 30 watts or so if that.
I've been using Paul C's "Voxel" subwoofer and my own "Bass ND" tiny sub tower for bass duties, Link here:
http://techtalk.parts-express.com/fo...roject-writeup
... but I wanted to see if I could get a bit more volume out of a different design.
I decided to check out how the Dayton DC160-4 6.5" classic woofer would do in a medium-small box. The Voxel worked great and was compact, but that Tang Band driver - though it goes low - isn't efficient. The DC160-4 is about 6 db more sensitive. I worked up a bunch of boxes and after a week or so of fiddling, came up with an 18" x 12" x 10" box with a 2" x 8.5" vent flared on the exit. Yeah, this isn't small by any means, but it will fit pretty much anywhere I would consider using it, given it's purpose of being paired with a small set of satellite speakers powered by my Micro-B plate amp. Also, the larger size allows some pretty deep bass from the DC160 without being a total power hog. This is the woofer:
http://www.parts-express.com/dayton-...eaker--295-309
It's only $25 too, not bad for the budget.
Here is the box being glued up.
I forgot to take pics of the boards before I glued them together, but they are all mitered so no end grain shows under the veneer.
Here is a shot of the vent, already glued into an old driver cut-out.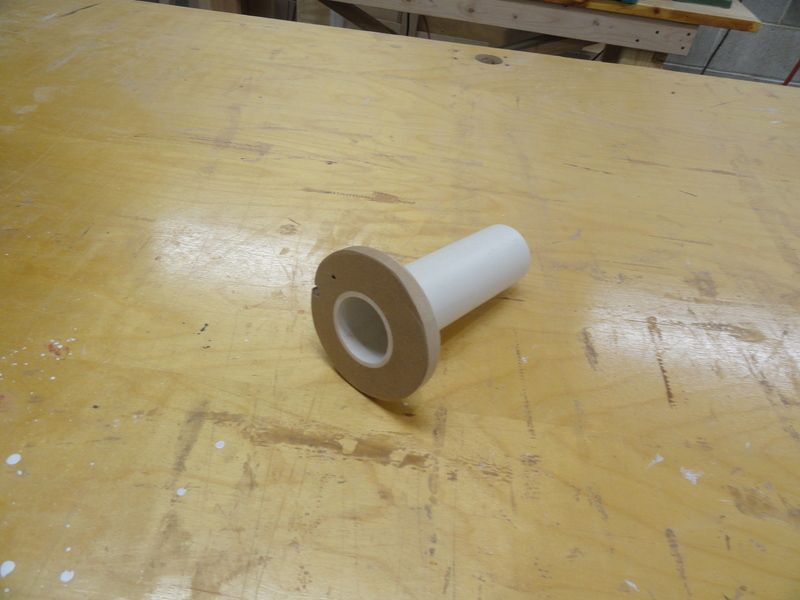 I'll drill a slightly smaller hole in the cabinet, glue in, and rout the opening to the vent that way, then round over afterwards.
Here is the basic design on paper:
It's about .8 cu. ft. and should have an F3 of about 36 Hz. With 30 watts it doesn't break Xmax until 30 Hz or so, and it's just a half mm over centered around 45 Hz. It should be fine I would think. I've seen my D3's flapping a lot more than that without sounding too ugly. At that wattage, it should be able to hit 99 db at 40 Hz or so.
I've wondered how this driver would work as a subwoofer for awhile. I'm hoping it will be a decent match to my 'Micro-B' 2.1 amp and possibly other lower-powered sub amp projects that exist and will come in the future.
TomZ