About 6 years ago I embarked on an interesting design for an omni speaker that combined elements of omni midrange with bipole woofers and a sort of bipole/waveguide tweeter. The project ended up with the name of Contrappeso's. For those who have not seen or heard these speakers, they throw a huge soundstage, yet have some decent imaging and can get very loud, due to the number of drivers employed plus the boost provided by the waveguide to the tweeter. They included dual front/rear 12" buyout sealed woofers, 4 mids in two tubes, each tube with an up and down facing mid with the tweeter firing toward the sides of the two tubes that forming a front and rear waveguide. So there were 7 drivers per speaker. They were an unusual looking, but oddly effective speaker. These were the last omni speaker I did.
I've always intended to revisit that design to see if I could come up with something that took a little less physical territory when deployed, worked as effectively and, well, looked a litter higher class. I even picked up some aluminum tubes for a new version a few years ago that I never did anything with. Recently I had the urge to revisit that design and have been conceptualizing, trying to come up with something that I could move forward with. Below is what I have come up with, final color scheme to be determined.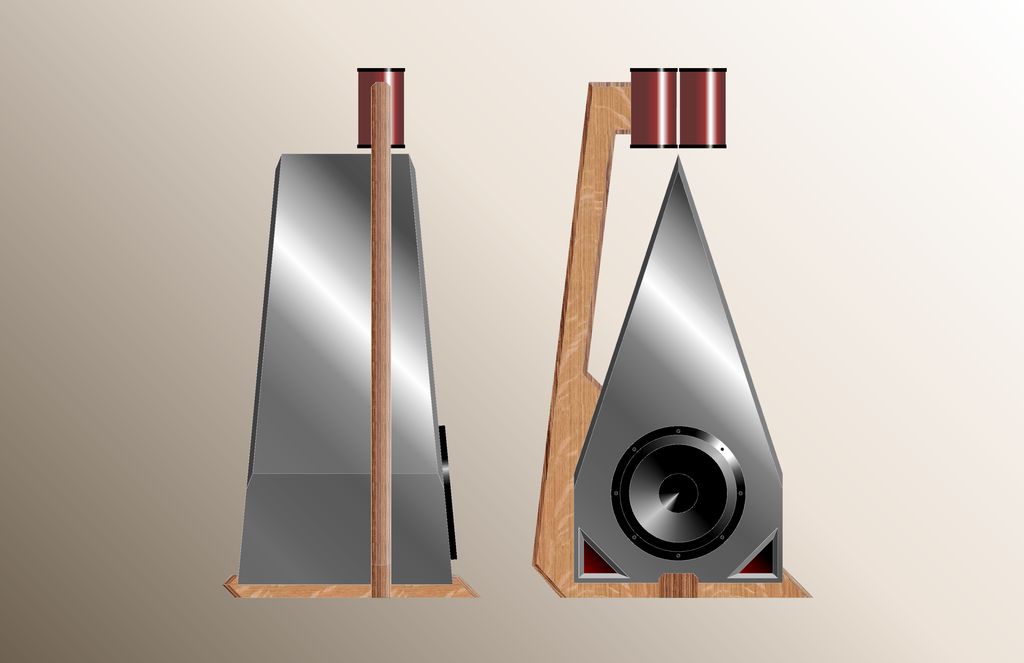 Drivers:
(total of 6 or 7 per speaker, number to be determined)
Woofer: 1
- Aura NS10, 10" subwoofer.
I picked up 4 of these for a song. They have good sensitivity for a subwoofer, yet reach pretty low in a reasonably small ported box. They measure quite flat out to above 2kHz or so, iirc. Mounted on a wide baffle, near the floor, there should be no need for bsc, so a single driver should yield an electrical sensitivity of around 90 db, 2.83v/meter. Modeling in Diffraction and Boundary Simulator, the low end boundary gain is approaching 9db, when about 3' from the front wall. The graph below shows the modeled woofer response in box and with boundary reinforcement. Also shown is the anticipated mid output with 4 mids in a series/parallel configuration with 1 ohm resistance in series. Overall, this should make for a pretty sensitive speaker, one that will never reach the excursion limits of the single woofer until below 20Hz, at least in my use. In this case, the 53L box is tuned to around 23Hz, with an in room F3 anticipated at about 18Hz.
Midrange:
4 – Dayton Audio DS90-8, 3" extended range in a series/parallel configuration:
http://www.parts-express.com/dayton-...8-ohm--295-422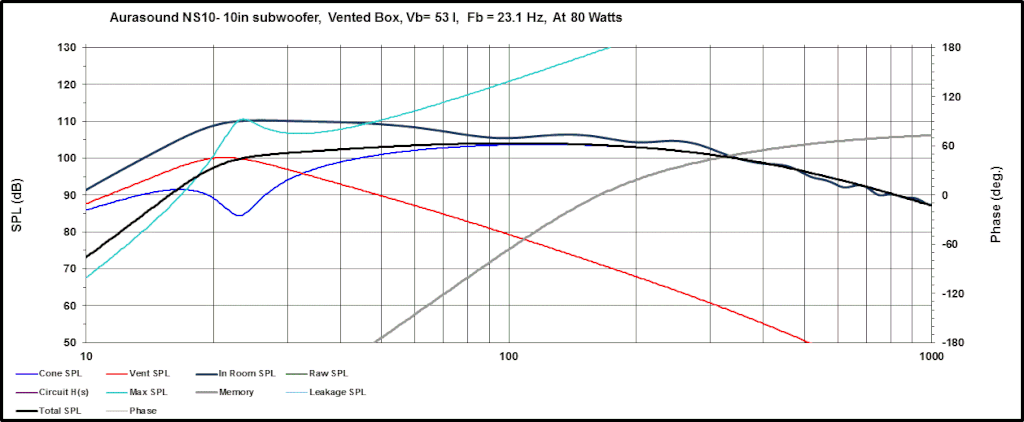 Tweeter:
http://www.parts-express.com/peerles...-ohm--264-1122
Phsyical Design:
Mid/Tweeter Module.Woofer Cabinet.
I needed around 50L to get solid, ported extension into the low 20's, but at the same time I didn't want the box to have too significant an impact on the output and dispersion of the mids or create reflections that would bounce back up at the down firing midrange. I came up with the idea of creating a narrow triangular shaped profile, with the pinnacle close to the tubes. The front to back position of the tube stack is currently placed so that the voice coils come close lining up to equidistant from the seated ear at about 12' away. The box shape evolved to allow for 53 liters, with dual triangular ports built into the corners so that two of the three port walls are formed by the sides of the box, minimizing volume displacement. Then an arm shape was determined to suspend the tubes above the woofer cabinet, with the arm structure being incorporated into the speaker base. I envision it being built out of laminated plywood, with perhaps some vibration reducing material encased. Wires will run within from the crossover mounted in the woofer cab.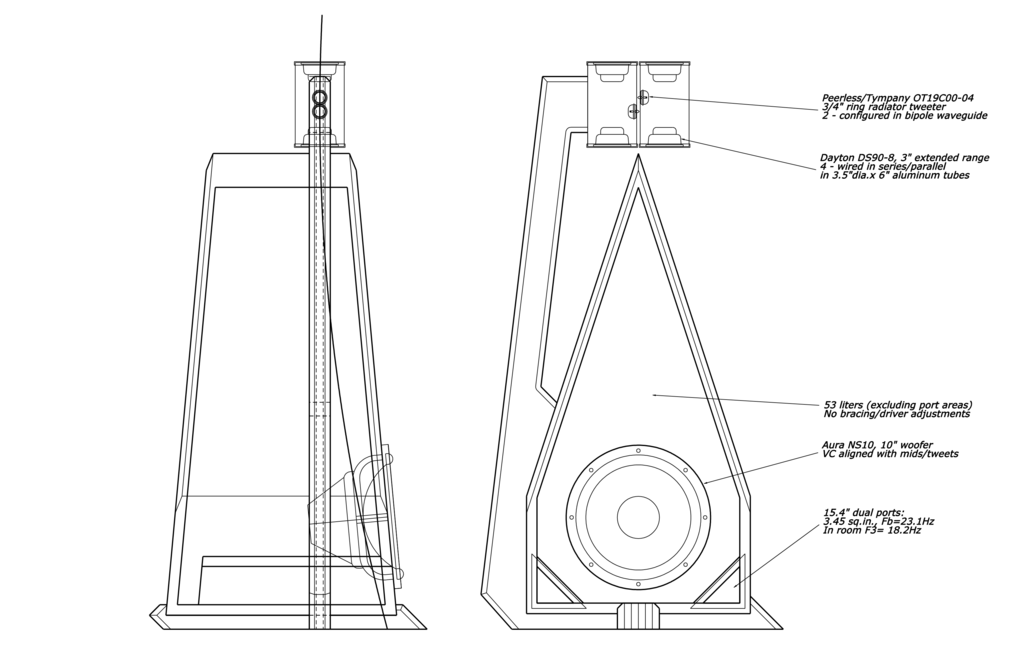 Crossover Design:
Much has to be determined once measurements are taken, but I don't expect anything unique or unusual. It is nearly impossible to simulate the frequency response of either the mid stack or the tweeter(s)/waveguide module. Going in, I anticipate the crossovers to be in the 300-400Hz range and 3000-4000Hz range. The drivers may be able to handle 2
nd
order in these ranges, which will likely be my starting point.
That's all for now. I haven't thought about a project name yet. I'm not sure when I will get started on these, nor am I anxious to get out in the garage this time of year. It is unlikely that these will make it to any of the early or mid-year events, however. My project production is ramping down big time. I'm not sure how many more speakers I will be inspired to build.
Feel free to comment, good, bad or otherwise!