Folks:
If you bought these and used them as car or home subs, I would strongly suggest using them for a 3 way speaker. They sound real nice and have a lot of oomph. Here is the FR Plot (sealed, 2.3CF, 13.5" baffle). Note that the bit of roll-off shows due to the nearfield + farfield MLS merge and they are quite strong in room but not overpowering :D
Actual sensitivity is around 88dB at 1Khz.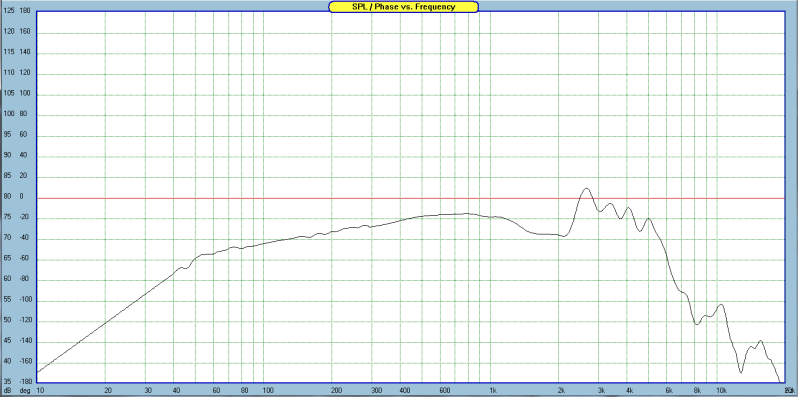 Here are a couple "starter" XO's for anyone sitting on these.
"Relaxed" BW3 at 300-350Hz (used in Metropolis Project at CKDIY) - by relaxed I mean they are app. 15-17dB/octave, this seemed to sound better.
And the BW3 schematic:
LR2 at 350Hz (played with a bit)
And the LR2 schematic:
Basically, you can do a lot with these and they are likely good to near 1Khz, allowing use of a dome mid and a higher XO freq as well.
Here are the TS Parameters for the 4 Ed and I have:
Stamped frame reminds me of the larger SB frames in shape. No vent in pole piece, inverted dustcap vented through teardrop-shaped cutouts in the cone to above spider. Below are averages of 4 drivers.
AVG RE: 6.58 OHMS
AVG FS: 29.72 HZ
AVG QE: 0.65
AVG QM: 3.89
AVG QT: 0.56
AVG ZMAX (FS): 46.03 OHMS
AVG LE: 0.96 MH
AVG VAS: 104.5 L
CONE DIA: 8.25" (CONE + HALF OF SURROUND)
SD: 345 CM2
AVG BL: 9.35
AVG MMS: 46.05 GR
AVG SENS: 88.1 DB
AVG % EFF: .408%
XMAX: 8mm (by spec.)
Notes:
Fs ran from 28.55Hz - 31.8Hz
Vas ran from 92.66 L - 110.45 L
Qts ran from 0.53 - 0.61
Higher Qts - lower Vas as is normal with samples, etc.