so.. i built another cabinet for the zaph zrt 2-way kit i bought, the first one being a
sealed 20L design
which had anemic bass (rolled off too much <100hz). The one i just built is a 38L cabinet and i followed Zaph's enclosure plans dimensions very closely, only difference being in the bracing placement.
Well, this time round there is more bass but definitely not what i expected from a vented 18w-8531 floorstander design. I'm really clueless as to what's wrong, though i'm sure you guys will be able to enlighten me :D
I went with the default 30Hz tuning recommended, and according to the tuning frequency response graph
, it should be at least +/- 3 dB down to 50Hz... but somehow i'm not hearing it. Woofer is verified to be in phase. Test tones revealed that the speaker sounds pretty flat down to 80Hz but starts to roll off until output at 40Hz is almost non-existent. I have heard more than a handful of ported bookshelves with < 7" woofer that has more meaningful output at 40Hz than the speaker i just built. I can't help but think i did something wrong since the 18w-8531 is so highly raved about everywhere
I clamped the front baffle on while adjusting the amount of stuffing.
. With this method, there didn't seem to have much, if any, air leaks though i'm not sure if the amount of bass should be affected by that much?
After trying out different amounts of rockwool and acousta-stuf stuffing, it didn't seem to make much of a difference. If it's not the woofers that are faulty, i'm wondering if it's a bracing/port problem.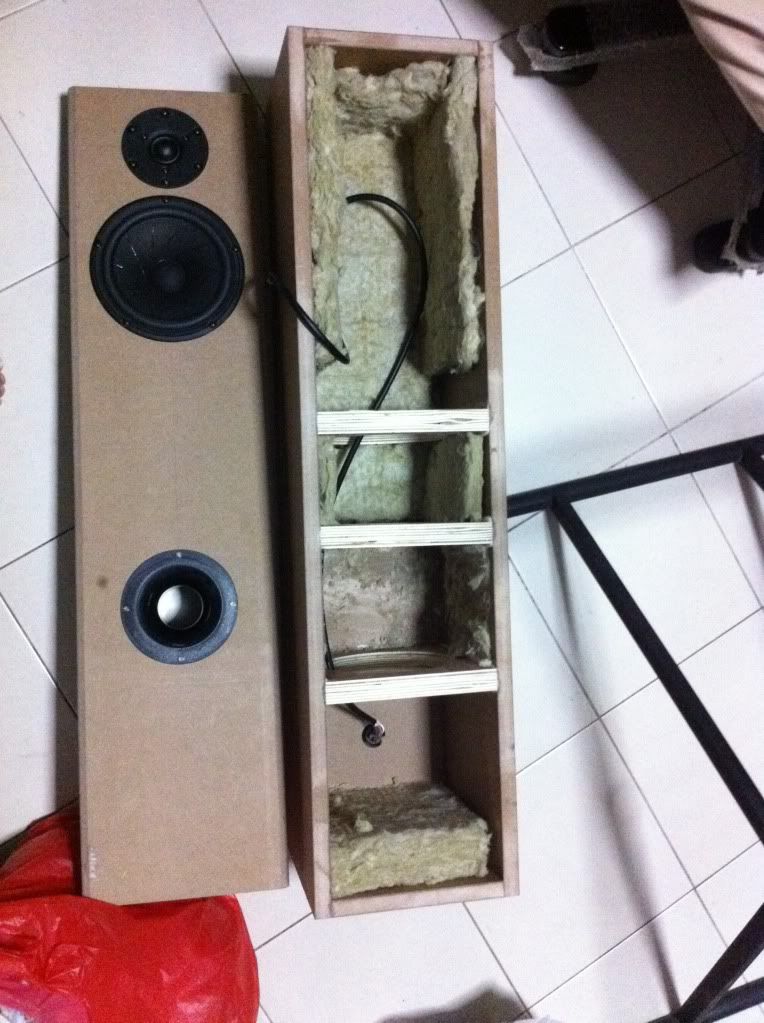 Circular cut-outs in 25mm bracing are 6.5" diameter. The only problem i can think of is how close the bracing is to the port, so there's not much air clearance near the port. I'm not sure if it affects anything. But even so, should the bass be affected by
this
much?
The biggest questions on my mind are:
1) Will the placement of braces relative to the port affect bass extension and output so much?
2) Will excessive stuffing/fill amount alter and shape bass response drastically?
Any suggestions are really appreciated, thank you!
2)