Recently I installed a few unfinished kitchen cabinets in my basement for storage and what-not. They were bargain cabinets with unfinished oak front frames and doors.
Before: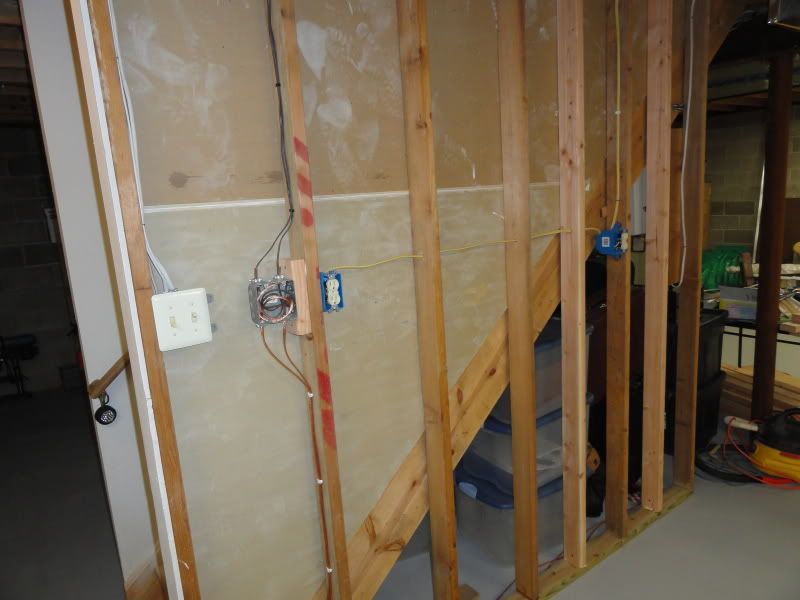 After: Please note mounted double gang wall box for hookup to shelf stereo system running two in ceiling 8" two-ways with pre-installed wire for an additional powered sub in the future.
So back to my question:
There is one shelf in each, 1/2" particle board the widest of these cabinets is 36" wide and there are two shelf pins on either side as well as one in the middle on the front of the cabinet between the two doors.
The shelves are 10.5" deep by 34.5" wide.
I want to add another shelf in each cabinet, and I want to use 1/2" particle board, but I can't find it locally so I'm wondering if MDF would sag too terribly much given that the longest span would be 18"? I would use them as the highest shelf and they wouldn't have much weight on them, probably just seldom-used stuff in plastic bins with labels.
Do you think 1/2" MDF is okay for this use? I already have enough of it as well.
I'm planning on covering them with the vinyl that PE sells for an aesthetic match.
Thanks in advance,
TomZ