Just finished doing the baffles on a pair of NTN's tonight.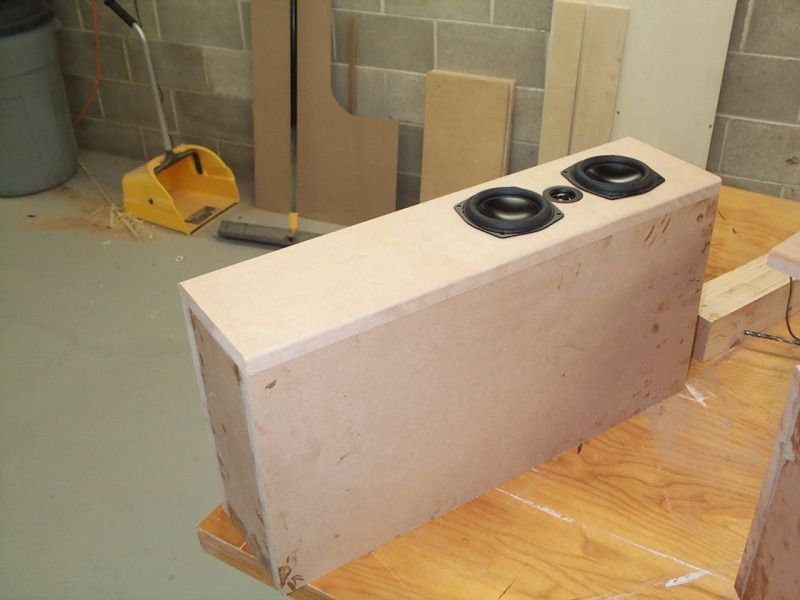 Not so good of a night. I had a heck of a time doing the recesses on the tweeters. It's been awhile since I've done any circle cutting on the router and I was a little rusty I guess. Took a few tries to get the diam. correct. It was because of my slow brain and bad math, I think, not my tools!
My router doesn't 'center' correctly so the markings on the jig does not match with where the bit is on the cuts. I'm not so good with numbers.
Then sparks start flying... it happened twice. Man, what do they put in that MDF that makes it look like the fourth of July under my router bit? Then the Jasper jig broke. Those holes near the inside don't have much meat on them, I was going pretty ginger but it snapped. Oh well, the rest of the jig is okay, but I really got that small one to do tweeters. Looks like it's time to 'home-made' a jig for small holes like my jig for big holes I made years ago.
Thankfully, I was able to do the rest of the cut-outs for the tweeters with the jig saw and they fit fine. Woofers same thing. They look good enough in my book. The baffles have a 1/4" roundover on them. These are going to get some nice walnut veneer for the sides, top-bottom and back. The front will receive a textured finish with black on top of that... sort of matte looking...
...like this...
I'll do a very low gloss finish on the cabs with a few coats of rub-on poly and some tung oil I think.
I'll tackle stands when I get these done, I don't feel like thinking about it now.
These are for a good friend of mine who I've been wanting to build a set for awhile. I think the NTN's will do him very well.
I just can't believe how long it took me to do a few holes. I'm really rusty with this stuff! I didn't think I'd ever get done, I almost called it quits for the evening after doing just the tweeter holes. Jeesh!
TomZ