This is a pretty good combination as far as I'm concerned.
Here is the link to the other thread about the amp; it's got some more info:
http://techtalk.parts-express.com/sh...hlight=micro-s
I want to change a few little things. Since the speakers are so close to the table, I'd like to have the terminal reversed aiming the wires down as they come out of the plugs, also, I'll have to reverse the orientation of the switch so 'on' is up. Maybe a smaller knob also.
I had thought of putting a light or lighted switch on the front baffle, but the 'Quarks' are clean looking, and I didn't want to clutter up the lines, so I installed a 5mm super-bright blue LED on the bottom of the cabinet an inch or so behind the kitchen cabinet drawer pull 'outrigger' feet. The little blue dot on the placemat under the speaker is visible, but not overly-bright as many blue LED's can be. I like it a lot.
I dremel'd out a recess for the top arc of the handle to sit in -- maybe 1/8" deep or a bit deeper. One screw and some epoxy to keep it stable. Not a bad look, it angles them up a bit which helps a bit. A little hard to see: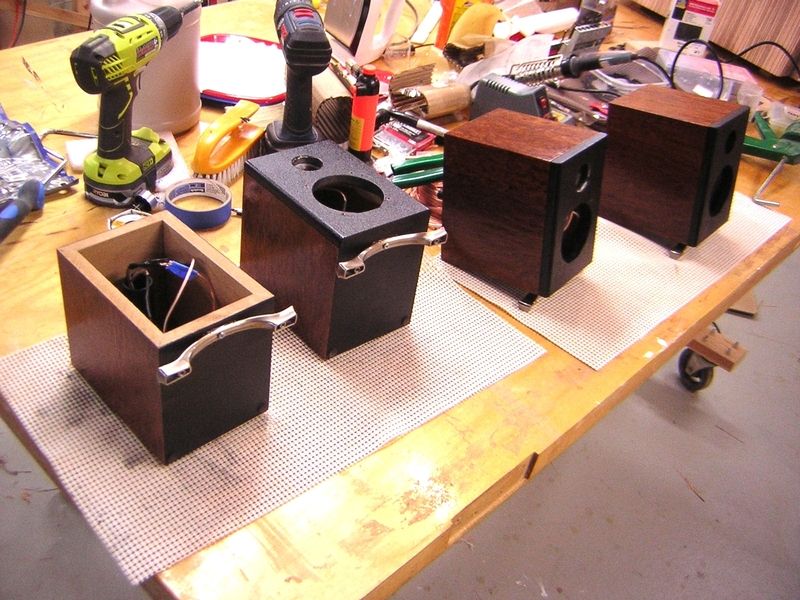 Better look here: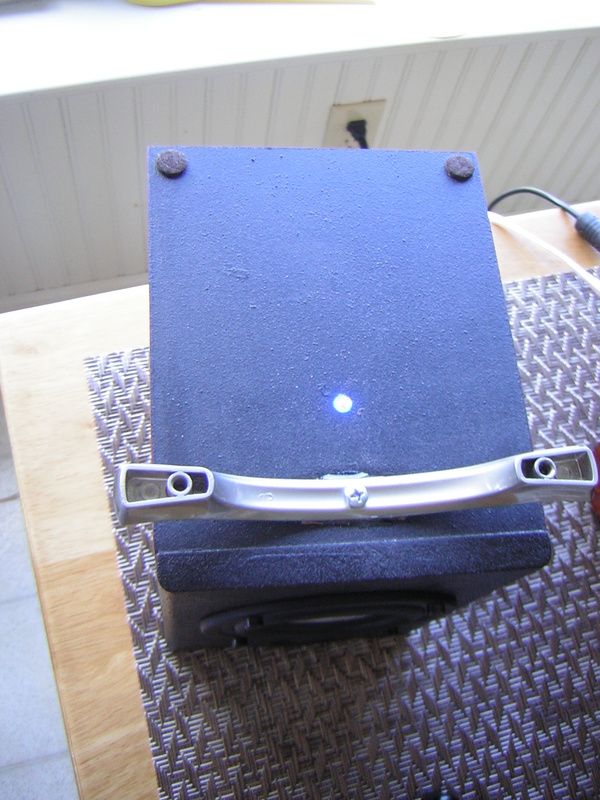 I actually forget the type of veneer I used, but it has a nice figure to it but it was unbacked, so therefore a bit more of a hassle to get it on the piece, even though they are small.
I made the cabinets but they are the same size as PE's knock-down version Jeff used except I mitered the corners for veneer, and I made the baffle out of 3/4" thick and inset it 3/8' or so. Baffle is Rustoleum texture paint with black satin on top.
I put the steel core inductor in the middle on the bottom of the cab, and then hot glued these three pieces together and hot glued that to the bottom near the rear. Fat fingers like mine need not apply. I glued the front baffle on after everything was installed, it helped, but it was still hard to get in there.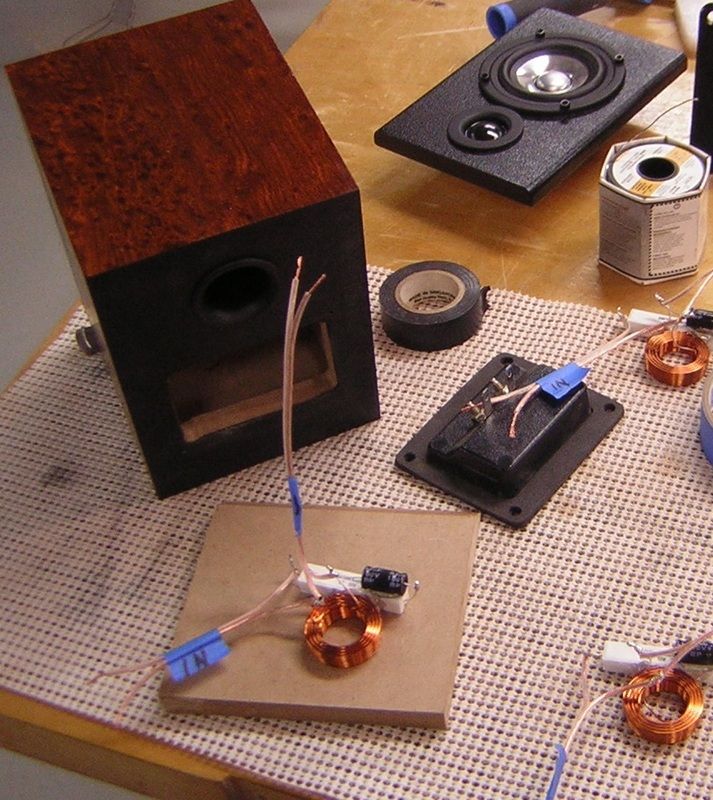 Overall, the sound is pleasing... neutral, no bad sounds at all when driven within reason. A lot of smaller speakers bother me somewhere in the midrange with a 'ringey' type of sound on some vocals/horns/strings, these are good in that range. I listened to them for 1/2 hour right in front of them as I read a magazine over lunch, and from classical to jazz and popular they did fine with everything.
Pretty amazing for the size really... I know the woofers are sold out, but it looks like they have been incorporated into a flat-pack package for all to consume over at diy soundgroup. I thought I'd post this in case anyone wants to construct a tidy built-in amp for a desktop or computer setup.
TomZ