I have some parts to build the Klipsch THX KL-650 bookshelf
1) 3x Klipsch 6.5 Aluminum Buyout (299-101), I have 3 of them but one has some cosmetic blemishes on the cone. $25+ Shipping for all 3. I am sorry I could not locate a 4th driver.
2) A pair of the horns (279-106) for the KL-650 THX offering those for $30 for the pair+shipping for horns
To make things easy for someone who wants it all $90 shipped for the 3 woofers and 2 horns.
The woofers are from the KL-650-THX Ultra 2, zaph measured them at one point.
http://zaphaudio.com/temp/299-101-FR.gif
http://zaphaudio.com/temp/299-101-HD.gif
http://zaphaudio.com/temp/299-101-CSD.gif
Here was the crossover info from another post, don't know if you can still purchase from Klipsch because that was 4 years ago.
Crossover details: Thank you for contacting Klipsch! We have replacement crossovers available under part number 116642 for $98.00/ea + S&H. If you would like to order, please give us a call at 1-800-554-7724. Have a great day!
I would just double check that the part number is 100% correct for the KL650 THX - just to be sure.
Here is a thread where someone built their own.
http://techtalk.parts-express.com/fo...2-main-bootleg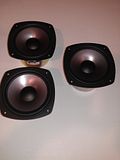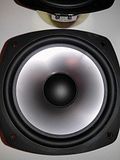 Blemished cone one