Hi fellas and (are there girls watching?) ... and everyone else!
I don't write much here but read just about every day. I've been very busy with multiple speaker builds. I've been very busy with other audio related builds. And I've been beyond busy for several months as I am building myself a proper studio. I tend to drone on and on when I get going, so I will really try to keep this as succinct as I can.
I came here to mainly praise the designs of Paul Carmody. I needed studio monitors and a pair of middle of the road (as far as power) bookshelf / big bookshelf speakers. The Hitmakers I finished about five days ago. They've been set up in my new studio and holy moses what a difference from what I was using- a pair of retail obtained powered monitors that were not cheap. They weren't good, either. Low end way overdone, highs either piercing and painful or pretty much non-existent- those were my choices with high frequencies: pain or whispers. Forget the midsection: the people who made the monitors I was using obviously did. Horrid vocal response. So I go non traditional (I thought) and make a pair of passive studio Monitors by Paul and pair them with a Samson Servo 200 Reference Amplifier. Night and Day doesn't cover it. More than Night and Day, I'd compare them to infectious wound puss drainage vs. platinum bars. Five fellow musicians want me to build them so far and are very serious about it- two tried to put money in my hands for materials. Is five people a big number or a small number? A total of five musicians have heard them since I installed the pair. The near field use of these presents a field of sound that seems dead center and about five feet wide. I have them at ear level, about 2 feet from a wall, on a shelf, and about two feet away from my head when recording / playing. I have never heard monitors like this and I have been in many recording studios.
About a half hour ago, I finished the Classix II. It's playing a selection of Moog Artists playing funk improv, the pair is behind me right now. The range is just THERE. No trouble whatsoever with the repeating low funk basslines while the right hand jams higher notes and I feel like I am in a club. Someone started snapping their fingers on a track and I can hear the finger skin slipping across the opposite thumb before the snap. They are that good. I know there have been many more people who could describe this magnificent sound better than I can, but good is good, great is great and UN-FREAKING-BELIEVABLE is what these are.
Thank you Paul. Thank you. Thank You. Thank you. I am blown away.
(Oh. I know you like white speakers.... the Classix II are a VERY light grey Duratex I had tinted that I think you'd appreciate.
Hitmakers: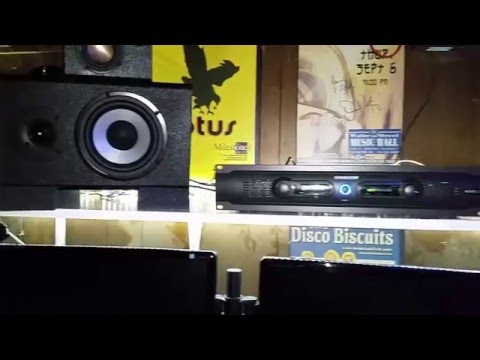 Classix II: