Here is a write up of my 2016 MWAF project entry, "The DN-10's"
(Dayton Neodymium 10's)
The DN-10's are a small, full-range tower speaker designed primarily for a medium to small space like a bedroom or modest living room.
Design Goals:
I wanted to design a smaller tower speaker set that could reproduce full-range sound, while still being fairly compact in size: with enough bass that a sub would not be necessary for normal music material. Building on a former design, "The Curves" I tried to create a speaker shape that would be pleasing to the eye, incorporate some interesting curves and angles, but still be fairly easy for most anyone to construct. The upward angle of the speakers helps to project the sound into the room.
Driver Selection:
I looked at several woofers for this design, but continued to come back to the well-known ND-105-4 woofer, as no others could reach as low in such a small box with as much excursion. Chris Roemer used this driver shortly after it became available in his "Neo Nano" and "NTN" speaker designs, which immediately became hugely popular -- and for good reason... amazing bass in a fairly small package. The ND-105 is indeed a special driver.
The tweeter I picked for this mini-tower was the ND-28F-6, which is a 1 1/8" driver, as opposed to the smaller 3/4" domes usually paired with this woofer. I wanted to try a slightly higher-end tweeter with this and see what I could do to create a dynamic sounding tower which gave up nothing except for some efficiency and overall SPL... these are only 4" woofers after all.
The Passive Radiator is a Dayton model SD270-PR with about 20 grams of weight added.
Those with sharp eyes will notice that the passive radiator looks a bit different than the one that Parts Express sells... that is because the dust cap on the stock PR being smaller, made the center of the PR look very deep inside the cabinet when viewed from the side... I added a Parts Express 5" dust cap to each PR to give the appearance of the cone of the passive radiator being closer to the outside of the cabinet; this was just for aesthetic reasons of course, the PR performs perfectly without that modification.
Enclosure Design:
The enclosure may look complicated compared to a standard rectangular shaped box, but it's fairly easy to construct using 3/4" MDF. The front-to-bottom, and bottom-to-rear angles are standard 90 degree angles. Only the top has an angle incorporated in it, and both of those angles are the same at 84 degrees, simplifying panel cutout. The curve on the front begins under the drivers, 12" down from the top and is complete by about 4" from the bottom of the cabinet. I carefully cut out one cabinet side profile, sanded to get a perfect curve, then duplicated this 3 more times, rough-cutting a good 1/16" wide, and trimming the excess MDF with a straight cut router trimming bit to create 4 exact copies. The approximate box volume is .8 cu. ft. The system has an F3 of 41 Hz. • F6: 37 Hz. • F10 33.5 Hz.
Enclosure Assembly:
I assembled the top, bottom and back as one glue-up assembly for both speakers, at the same time I glued the 4 cross-braces and one horizontal brace to each of the two sides, remembering to do mirror images of the horizontal brace behind where the passive radiator would go. After all of those glue-ups had cured, I then glued on both sides in one operation.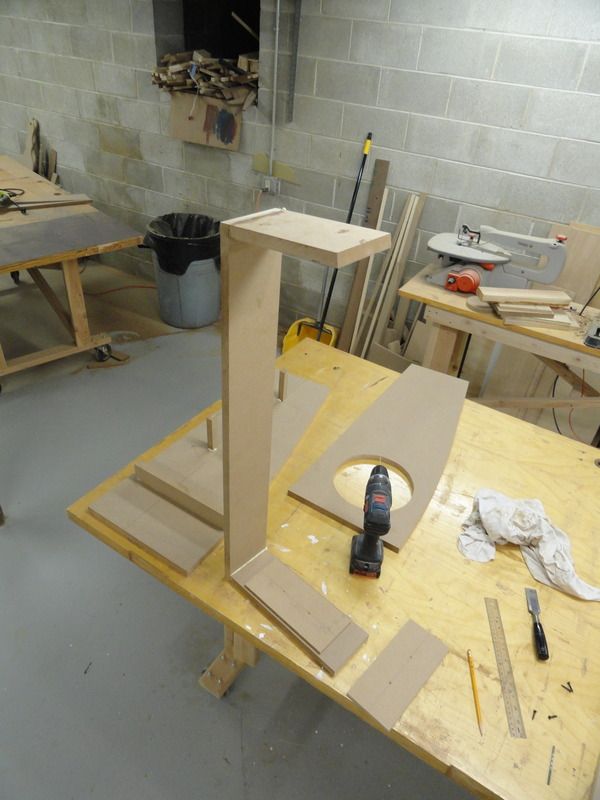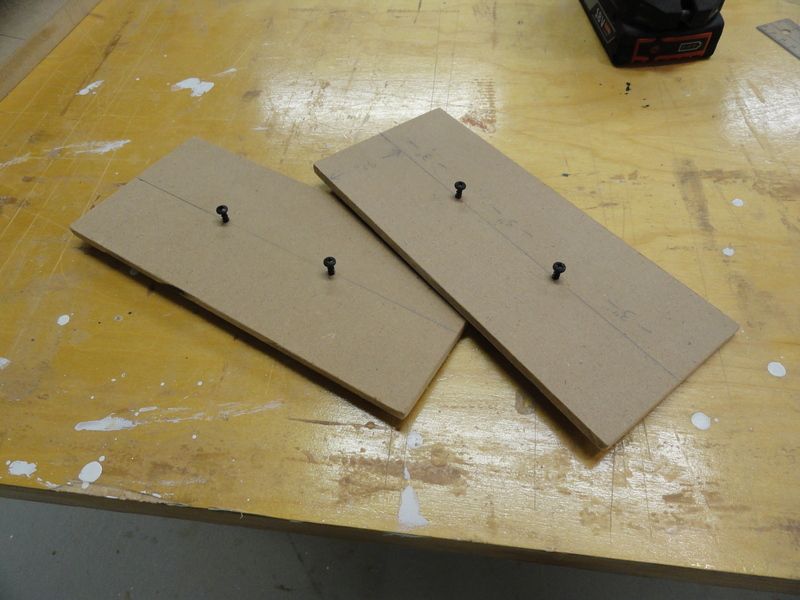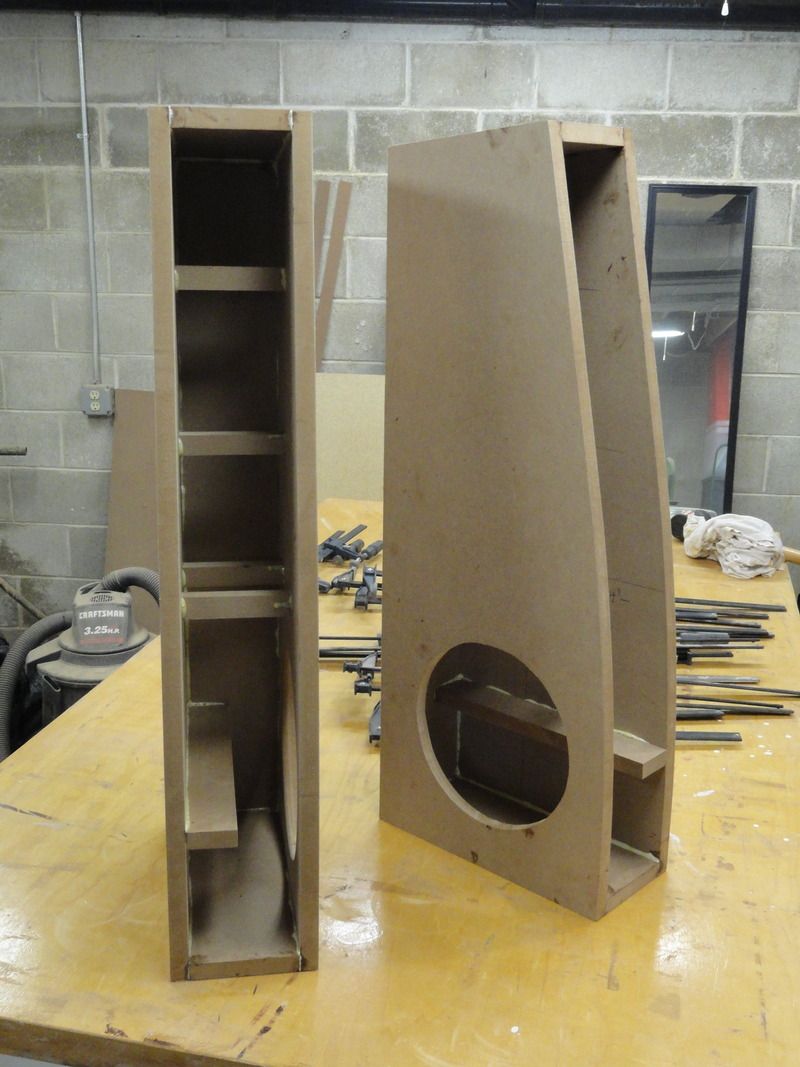 Gluing on the baffle is next. The three 1/4" thick oversized MDF panels that make up the baffle were sanded with a low grit to encourage good bonding of the glue. I used regular Titebond II to bond the panels to each other, then Polyurethane glue (Gorilla Glue) to bond the last panel to the speaker carcass. This was all done in one operation. Many clamps were used to keep things from sliding around too much as glue can act like a lubricant until it begins to set up. A few brads can also be used to keep things from sliding around until all can be clamped down securely. It doesn't take much pressure to hold down the three 1/4" panels, it can be done in dry-fit with my one hand fairly easily.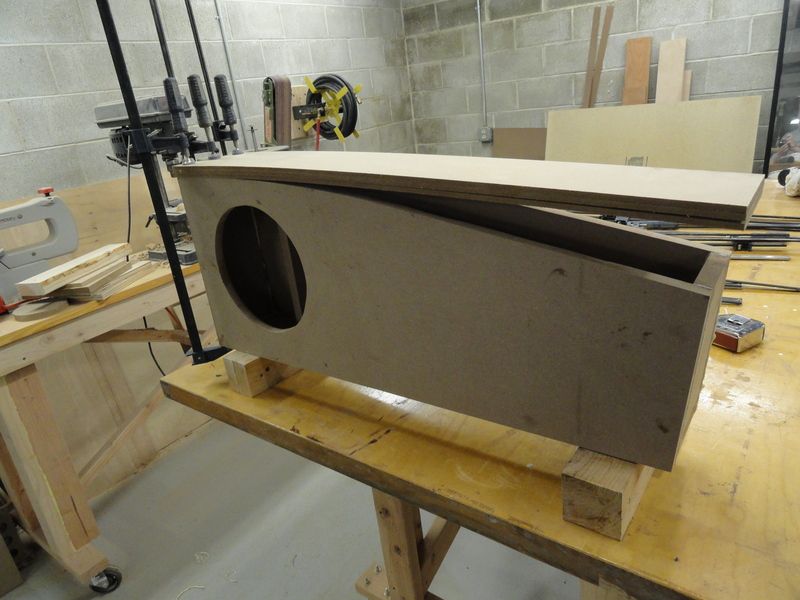 After a good 24 hours remove the clamps and use the flush trim bit in the router to remove any overlap of the front baffle layers from the speaker. After some sanding and filling of 'mistakes' they are essentially 'done' except for driver recesses and cut-outs.
I did let my cabinets sit for a few months... I like to do this whenever I plan on veneering so the end seams of the MDF don't expand in the future and swell up, causing what I call "joint creep" which can show up months later.
I even glued a sacrificial 1/16" sheet of raw oak veneer to the top after sanding several times to prevent this from happening.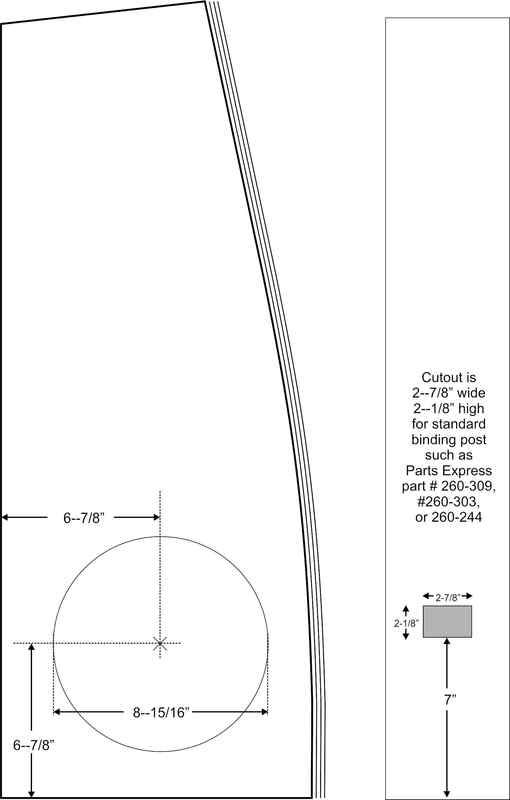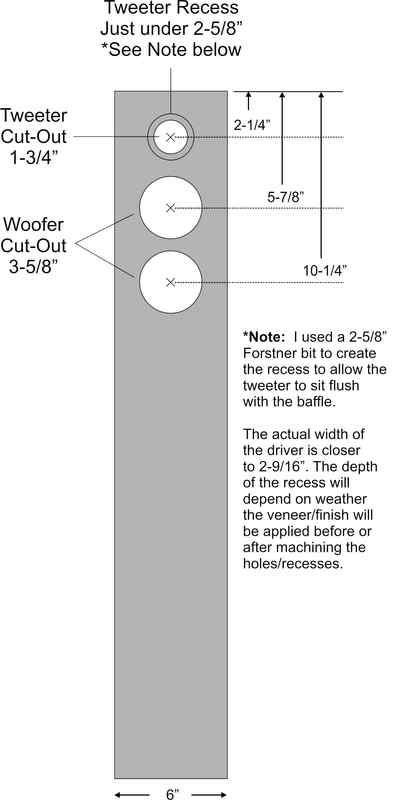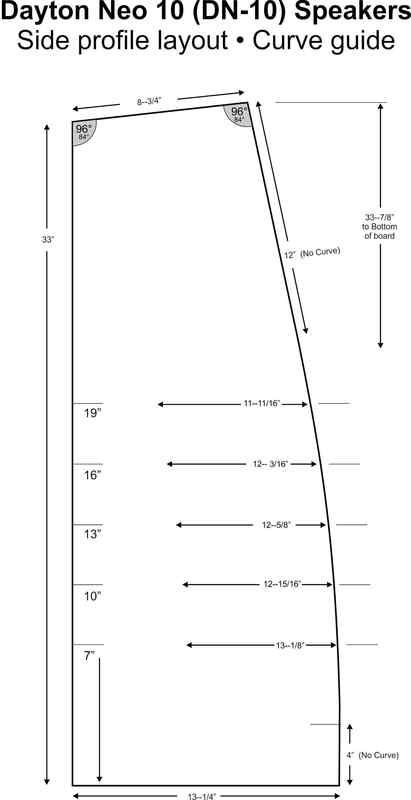 The veneer I used was white birch. The black stripe in the middle is actually just the same white birch veneer, just stained black.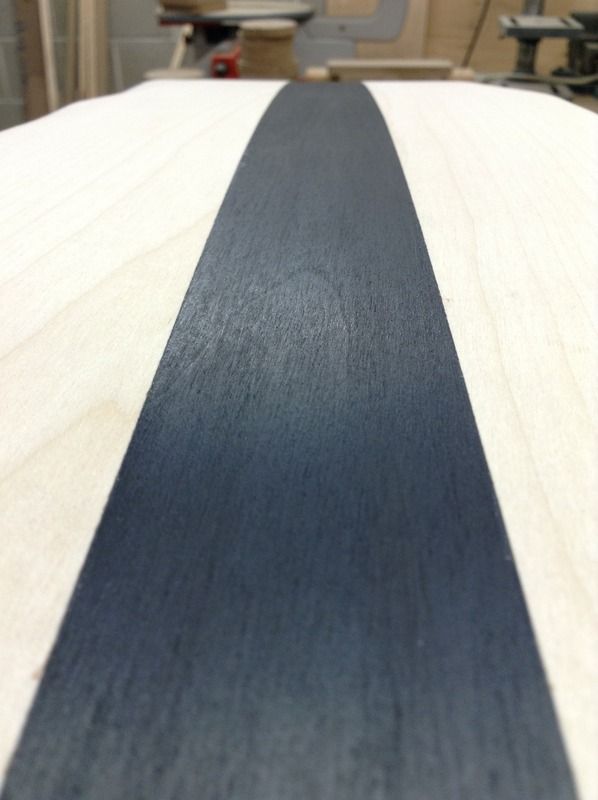 I am not an expert when it comes to putting the final finish on completed speakers. What I've finally found that works well for me is simple Minwax wipe-on polyurethane applied with a cotton cloth -- a piece of old T-shirt works well. Sand with 320 grit sandpaper between coats to smooth the finish. 6-7 coats is enough to create a nice, even shine with a smooth feeling underhand.
Crossover Design:
The crossover for the DN-10's is not complicated, consisting of only two components for the woofer, and five for the tweeter including L-Pad to bring the level in line with the woofer -- seven components in all, resulting in an approximately 2,200 Hz crossover point. The woofer filter is a second-order L/R electrical, and approximately fourth-order acoustical. The tweeter filter is third order electrical with a resistor in parallel with the final cap to tilt up the dropping response of the tweeter. This is an 8 ohm speaker and likes a bit of power to perform well. However, I have powered it with the popular Lepai 2020A mini-amp and was able to achieve a fairly loud volume with it, so you don't need a high-powered amp to create good sound with these.
Continued...