"The Bantams" -
Small and Feisty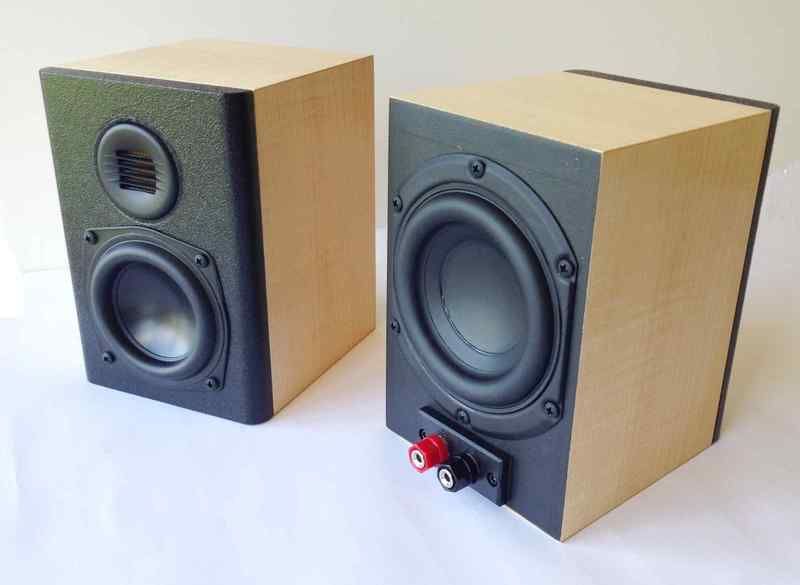 I would describe this system as a 'micro' speaker system without the 'micro' sound. It produces deeper bass and more detailed highs than most tiny speakers of this size are capable of. The idea for this speaker formed over time as I've begun to realize that I tend to listen more and more to smaller subwoofer/satellite systems as opposed to the larger, tower-type speakers that I've always associated with high quality sound. Although I've built many of the fantastic performing mini/small speaker designs that other folks from PE's Tech Talk board have designed, I realized that I've never designed one myself, and thought it was time to give it a shot.
Design Goals:
My goal for this design was to create an extremely small speaker with reasonable bass output, as well as a nicely executed and sparkly top end. I also wanted to use one of PE's Denovo brand pre-cut cabinets so anyone could easily build these. This design employs a Peerless 3.5" passive radiator in lieu of a traditional vent. Using the passive radiator in this system had a few positive results. First, it allowed for a reasonably low tuning with a shallow roll-off in a box size that would have been difficult with a vent. Secondly, I was able to use the frame of the PR as a crossover mount, which simplified crossover assembly and mounting in such a tiny box. Although the passive radiator is small at 3.5", it takes up almost all of the back of the enclosure, leaving room for only the smallest of binding post terminals.
Driver Selection
:
Since I wanted this to be a miniature speaker, but also have a 'higher end' sound than you might normally see in the micro size, I went with the #290-224 Dayton Audio ND 91-4 woofer, and the #275-195 Dayton AMTPOD-4 tweeter pair -- which is actually designed to be used in an automotive environment. These drivers are a bit more expensive than are normally used in micro speakers, but after listening to them for some time, I have to say that I feel the extra expense was worth it.
Enclosure Design:
Using the PE supplied Denovo .04 cubic foot knock-down boxes made assembly quick, and super-simple. They only go together one way so you can't do it wrong, and the machining is so precise, the seams fit perfectly -- even when just dry fitting the panels together. If you don't have the tools to cut panels perfectly square, or just want to try an easier way to build a box for a change, these knock-down cabinets are top-notch. They even seem to use a nicer grade of MDF than what I can get locally.
A Similar Design:
First of all, let me say I realize there are similarities between Scott Sehlin's Helium speaker system and my Bantams design. The Helium design uses the ND91-4 woofer mounted in the Denovo .04 cu. ft. box just as my 'Bantams' do; and the Heliums have been around for a few years at this point. I remember reading about them when Scott first posted his design and remember being impressed with them, though I've never heard them as far as I'm aware. Fast forward a few years, and I'm looking for a small speaker project to use as my first official "Speaker Building Design Team" project which needed to use a PE box, and I wanted to think small as I've never really designed a truly tiny project. The ND65's are smaller, but I have another project slated for those, and their bass output is nowhere near the ND91's. Settling on the ND91-4 as my tiny speaker woofer, I ran some numbers on various box sizes and it seemed that the .04 cu. ft. box that PE sells could work, if I can fit my crossover in there without using up all the space... but I wouldn't have to sweat a vent eating up my interior volume because I had modeled a Peerless passive radiator and found it to be a perfect fit for both this driver as well as the box.
So, I did a search on the ND91-4 to make sure there were no similar designs on Tech Talk and ended up rediscovering the Helium speaker design. I admit, my first thought was...Nuts. I really wanted to do this design as I was becoming more intrigued with the promise of real bass output in a speaker this small, but it looked like it had already been done. Of course, I had planned on using an AMT tweeter as I loved it's presentation on Kevin Kendrik's "Archers" speakers from the 2016 MWAF.
After thinking about it a bit more, I decided to use the smaller AMT tweeter (the AMTPOD-4) and a passive radiator, and just hoped that there would be enough of a difference between the two so as to not step on any toes. Maybe I'm making too much of the similarities... some speakers lend themselves to certain size boxes, and I think that's a major factor with these. Anyway, I just wanted to relay my thought process for conjuring up with this design so you all would know where I was coming from. I don't want to take anything away from, or in any way besmirch an obviously fantastic design in the Heliums... I just think my idea -- though similar -- deserved a chance to exist in speakerdom as well.
Enclosure Assembly:
I used Titebond II wood glue and spring clamps because I had them, but you could easily use tape to hold things together until the glue dries as long as you're not using an expanding/foaming polyurethane glue. After removing the clamps I sanded the seams until they were all flush. The boxes are wisely designed with an ever-so-slight bit of extra material right where you want it, at the seams. A few passes with medium/coarse sandpaper makes the surface flush with the adjoining panel, ready for veneer or paint.
The baffles come already rounded-over on the vertical sides. A light sanding of these round-overs with medium grit sandpaper smoothes the machine marks. I also slightly softened all the remaining edges of the baffle with medium grit sandpaper as well, since I intended to paint them black. If I were veneering the baffles, I would have chose to keep the edges sharp. I also made sure to caulk the inside seams of the cabinet with silicone caulking as I went to be sure there are no air leaks.
Machining the openings in the baffles and cabinet takes time and a bit of precision.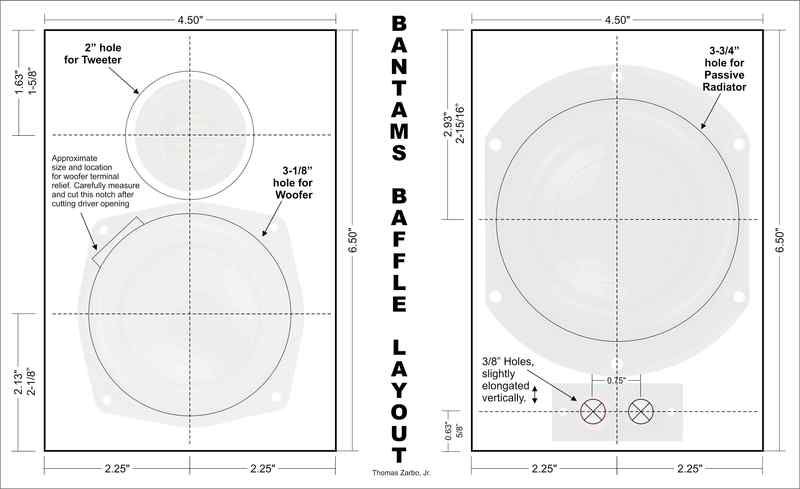 I mounted the tweeter in a 2" hole, 1--5/8" down from the top of the baffle and centered left to right. The woofer hole is 3--1/8" and is centered 2 1/8" from the bottom of the baffle. I cut the tweeter hole with a fostner bit starting with a small 1/8" pilot hole and drilled the finished hole from both sides to eliminate tear-out. The woofer hole and terminal relief was cut with a jig saw. Be careful with this as there is not much of a flange on the woofer to cover the opening. Mark and drill small pilot holes to mount the woofer at this time. While we're on the subject of pilot holes, I used a center punch to locate every screw hole on this entire project, and I also made sure to use a drill bit that was as big as the shaft of the screw I intended to use.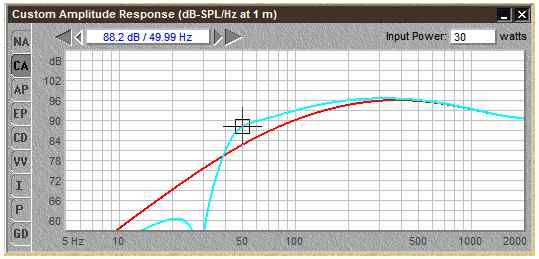 The passive radiator opening is 3-3/4" and is on the rear of the cabinet, with its center at 2--15/16" down from the top and centered left to right. The PR will be in the top portion of the cabinet, which should have just the two seams for the sides visible, not the third rear seam -- leave that for the bottom where nobody will see it if the seams ever show through the veneer or paint. I cut the PR opening with a jig saw. You will notice that the jig saw may dig into the sides of the cabinet slightly, that is normal... just take it slow and try and stay on the line. Mark and drill your pilot holes to mount the PR at this time.
The holes for the binding post terminal are 5/8" from the bottom of the rear of the box and 3/4" apart. I drilled these holes with a 3/8" drill bit, using the leverage of the tip of the drill bit against the inside bottom of the enclosure to 'elongate' the hole a bit until the terminal fit in just fine with room for the quick disconnect fittings. I had to bend the terminals a bit closer to the binding post shaft to make everything fit. Mark and drill your pilot holes to mount the binding post terminal at this time. As you can see, it's a tight fit on the back of the cabinet but if you're careful, everything should fit just fine.
Continued...