The 'Tenacious Bass 6' and 'Tenacious Bass 8' Subwoofers
I love bass, I admit it. To me it's what makes music sound real. In the past, I've designed mostly larger speakers -- floorstanders and towers -- which were able to produce sufficient bass on their own. However, after designing my first set of truly tiny speakers -- the 'Bantams' as my first Design Team project, I started to see the wisdom in keeping the main speakers small and just using a subwoofer to augment the low end of the sound spectrum.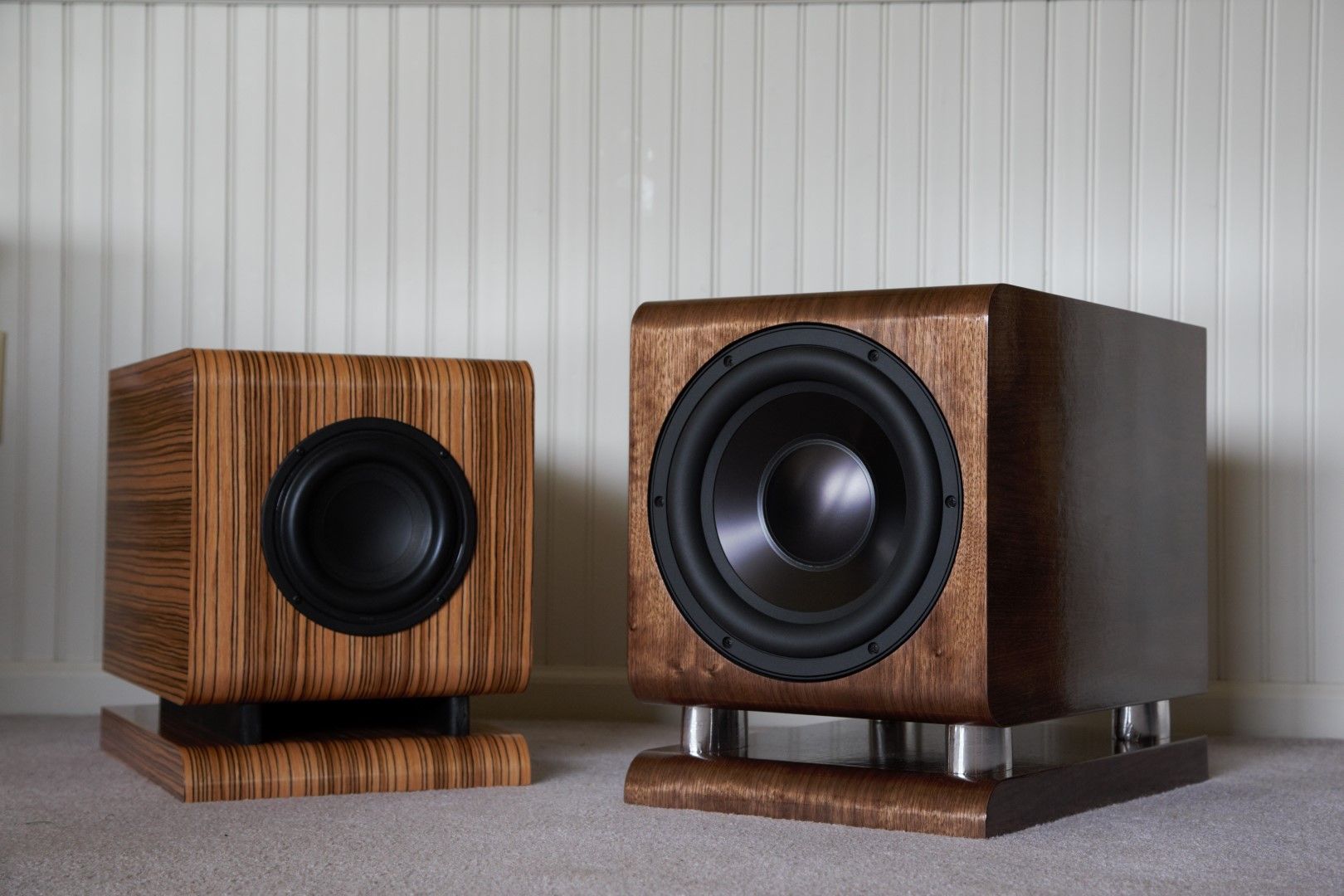 When thinking of subwoofers, you almost have to consider the drivers from Tang Band. I love how well the Tang Band smaller subwoofers perform; they are almost legendary at this point. The venerable W6-1139 and it's little brother, the W5-1138 subs are just amazing drivers and there are many good designs using them in the DIY community.
The more I considered it, I thought it would be fun to imagine a basic subwoofer cabinet shape in two sizes... or 'strengths' if you will. The smaller design would use the ferrite version of the W6-1139, and the larger version would use one of Tang Bands 8" subwoofer drivers -- both utilizing a slot vent with a front exit design feature. There are a few 8" subwoofer drivers to choose from but the one I originally was looking at became unavailable in small quantities, so Jill, from Parts Express actually recommended modeling another 8" subwoofer driver from Tang Band -- the W8-740P -- It seemed that it would perform perfectly in the box size I was considering... or so I thought.
For those not familiar, a slot vent is usually constructed with a rectangle cross-section and uses standard construction materials (MDF, plywoood, etc.) to make up the small 'box' that is the actual vent. They often can be arranged so that they help 'brace' the cabinet, or add stiffness to the box, which is a good thing. I had never designed one before and thought it would be a good 'learning' experience as a speaker designer. Well, I did learn a great deal with this project, but as many learning experiences go, it came though failure.
The first of these projects I started to build was the larger of the two, the 8" version. I modeled the box several times and came up with what I thought was a sound design. Over several weeks I built the box and got it to the point where it was ready for veneer. I loaded the box with the driver and powered it up... what happened? Well, it did reproduce lots of deep bass, but the air from the vent was moving so fast that it created massive turbulence -- commonly called 'chuffing.' At anything more than around half of the drivers available excursion, I was getting pronounced vent noise -- though my modeling suggested the vent speed would be in the 'safe zone' regarding air speed. As I turned up the volume my shock turned to horror... the amount of vent noise was overpowering... and putting my head in front of the vent opening felt like sticking my head out of a car window at full highway speed.
I wondered what went wrong. I had designed many, many speakers and subwoofers with traditional round vents and had gotten comfortable enough with the results that I felt assured that my simulations would match reality. This time they didn't. Well, I enlisted the help from several of my 'speaker building' friends from Tech Talk and discovered several issues. I used BassBox Pro to design the box with, which is the program I always use to design boxes; it is a good program, and is very intuitive to use. Somehow, the program became corrupted however, and numbers were just not adding up -- a fact discovered later on by Kevin K., another Tech Talk forum member -- when I was seeking a second opinion on the second, smaller subwoofer design. A reinstall restored proper operation. I think I know how it got corrupted... I had recently updated the database, so I'm guessing something probably went wrong during that process.
Another issue was the fact that slot vents behave differently than traditional round vents; the 'ratio' of height to width is obviously different than with a round vent. Although I was aware of this to a degree, I learned that most box modeling programs are not able to account for these changes, nor do they tend to properly predict responses with sharp right- and 180 degree-bends in the vent layout. This is not a 'knock' against BassBox Pro as most box calculators behave similarly... I have used and likely will continue to use it to design boxes -- I'll just probably steer clear of slot vents from now on now that I'm aware of their added complexities.