This is the first boombox project I made for my wife (anniversary gift) and it encompassed many new challenges as a builder.
It has an arduino with rgb leds wired to the top panel with our anniversary date and initials. the 400 or so fibers were tedious to do but the work was worth the effort!
if anyone wants to do something like this, a few tools to help; small pcb drill bits, a paper template to guide your hole placements, and one big help was the UV cure glue! being able to insert the fiber with the glue wet and then zap it set instantly was soo nice! I started with gluing the fibers into the holes for each character and bundled them with masking tape as I worked on the next.
once they were all done, I mounted the arduino to the clear plate with holes matching the led ring and glued the short acrylic tubes in place. the fibers were carefully trimmed to length and glued into the tubes protruding to just above the leds. the result is fairly neat looking and gives a scifi vibe
for power, I found a seller on ebay listing individual Tesla 18650 cells and got 6 of them and a BMS to match. the pack is a 3S 2P 11.1V and the BMS cuts off around 9 volts.
this pack runs the box for a really long time at decent volume, I havent ever had it running long enough to go flat, but several days at work and it was still going good.
the speakers came from an old set of pc speakers and weren't great, but later i swapped them out for some from a Phillips surround sound and they are much better.
for the receiver i found this one on Amazon: (Link removed)
it has some issues like low volume buzz, bit has decent range and no connection issues.
I machined some buttons to go through the top plate from aluminum rod and guide tubes then mounted the pcb to the lid.
the handle is from a toaster oven that got cannibalized for another project at work.
here is a short clip of it in action: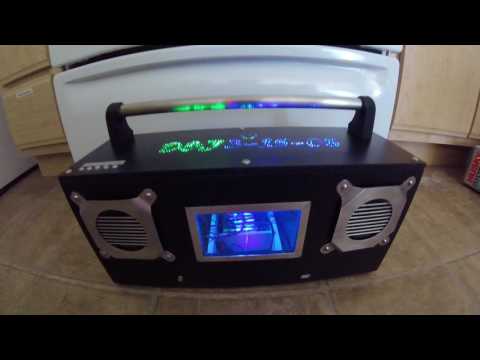 all this taught me a LOT of new things and leads me into building one for myself, bigger more powerful and better audio quality.
That's when I found Parts Express and decided to come here!
thanks for looking