This will be my first build post, though I've put together a set of Tritrix MTM TLs before this somewhat ambitious build. The goal was to build a home theater setup for my daughter, and a two channel stereo setup for my son, and their families of course. The HT setup will also include a subwoofer, that I was able to design with help from the experts on this board. The front two channels will utilize the transmission line variant, and the center and surrounds will utilize the vented version. I will make the cabinets rather than use the knock-down kit offered. I should hasten to add that unless you enjoy woodworking and have access to basic powertools, you'll probably be better off buying the kit. It's not free, of course, and you'll have to pay shipping on the rather heavy components, but it's reasonably priced -- especially when you take into account the price of MDF (currently around $33 per sheet).
I've completed everything, but I'd appreciate your comments nonetheless. I'll share my mistakes, and the lessons learned, in the hope that others can learn from the experience, as I did. As I write this, I'm aware that builders and designers far more knowledgeable than I will likely read what I say. To you, I'll apologize in advance for covering things that are to you, elementary. But, a primary goal here, is to provide something that will be of value to those with even less experience than I have with this fascinating pursuit. I doubt that many experienced builders will find what I have to say all that enlightening, but there might be a few things of value. Regular participants will hardly find another Tritrix build thread compelling reading, but some may find the ceiling bracket design used for the rear surrounds interesting.
I selected the Tritrix design for this project for several reasons. First, the Tritrix design has been highly acclaimed as an excellent high-value choice by those who should know. I am a strong believer in the advice so often seen here, that an inexperienced builder or would-be designer, will likely achieve much better results by using a proven design. Second, I'm very pleased with the first set I made. Third, the Tritrix kit offered by PE is a great value -- the discounted kit, as compared to purchasing individual parts, makes the Tritrix a very attractive option. Thank you Curt and Wayne...
I think it's probably a good idea to include a photo showing where this thread is headed. Because the Tritrix design is so common, I didn't bother to photograph the finished TLs -- they're visible in the background of some photos I will include, but until my daughter sends me a photo of the installed system, these will have to suffice. This is a photo of the completed enclosures in primer:
This photo shows a surround with the bracket I'll describe later in this thread: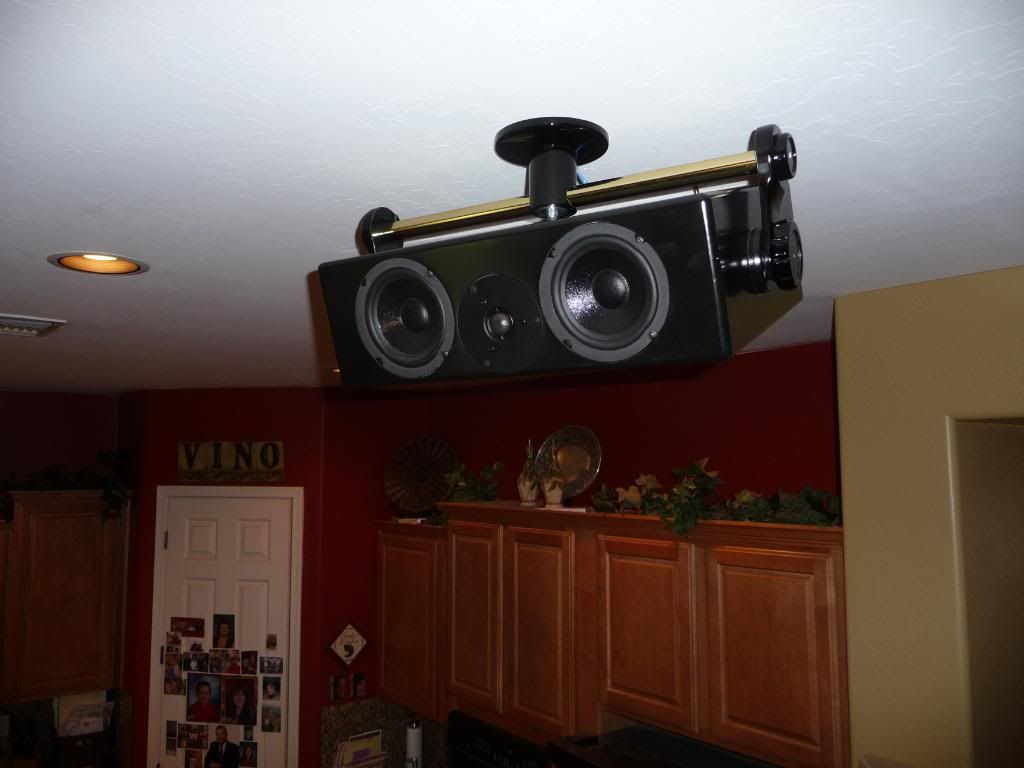 Here's how the system looks in place in my daughter's home. Note the subwoofer tucked away in the cabinet on the right side.
And this would be a closer view of the subwoofer:
I'll be back with more, hopefully this will be useful information for some...