This string will describe the steps involved in building a set of Paul Carmody's Overnight Sensation speakers. I arrived at the decision to build the OS for several reasons. My brother was visiting, and he told me he needed a small set of high fidelity speakers that would produce quality audio. He needed something compact that would fit into his home entertainment center, in the small shelf/cubicles designated for speakers. Paul's OS design caught my attention some time ago and since then, I've wanted to build a set that I'll use for my computer, on my workbench, and in my RV. Just as importantly, I'm always looking for an excuse to build a set of speakers. I thought that while I was at it, I may as well build two sets -- one for him, and one for me.
This link will take you to Carmody's website where you can learn more about the Overnight Sensations and his other designs as well:
http://sites.google.com/site/undefin...ightsensations
This build will be of interest mostly to those who are considering an Overnight Sensation (OS) build, anyone who is new to speaker building and wants to know what's involved, or builders who are interested in seeing what processes others use to complete their projects (see update below). In all honesty, I'll have to admit that there are many far more competent builders than I who frequent this forum -- all one has to do is read the posts here and it becomes obvious that there are a lot of experienced and capable designers and builders here. But, in the hopes that some may benefit, I'll discuss woodworking, crossover building, my observations about veneering (I'm new to veneering), and finishing.
UPDATE, 03.29.11 Since the posting of this introductory message, this thread has increased in scope considerably. Several members have offered their opinions and suggestions regarding better ways to do things, primarily pertaining to surface preparation, finishing, and veneering. Experienced builders will likely find those areas worth reading...
Hoping to pique your interest, here's a couple of photos showing the end result: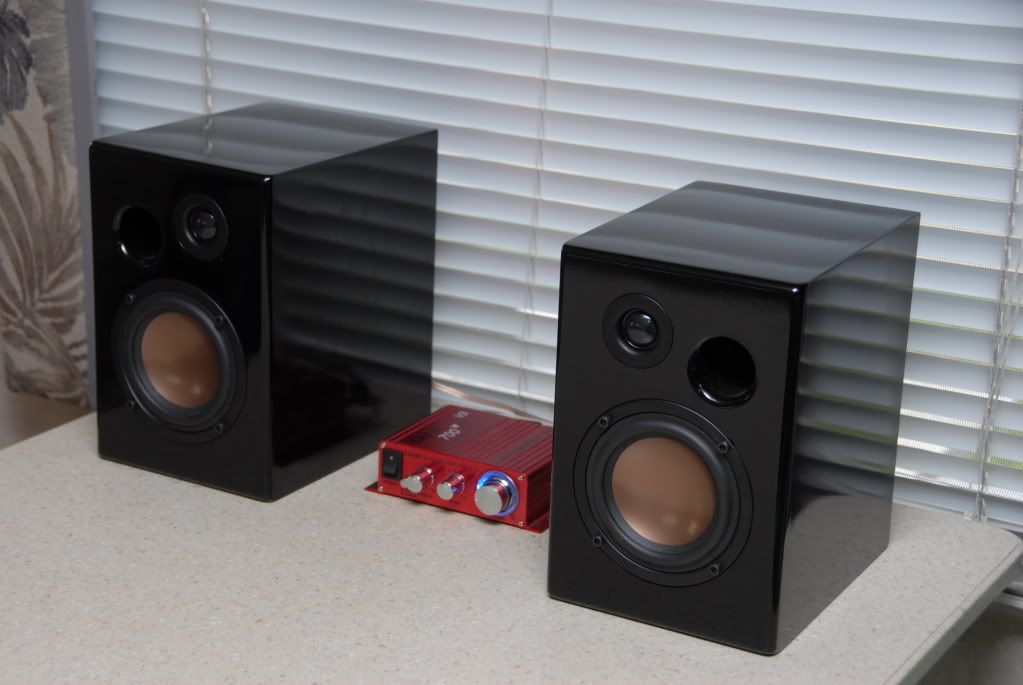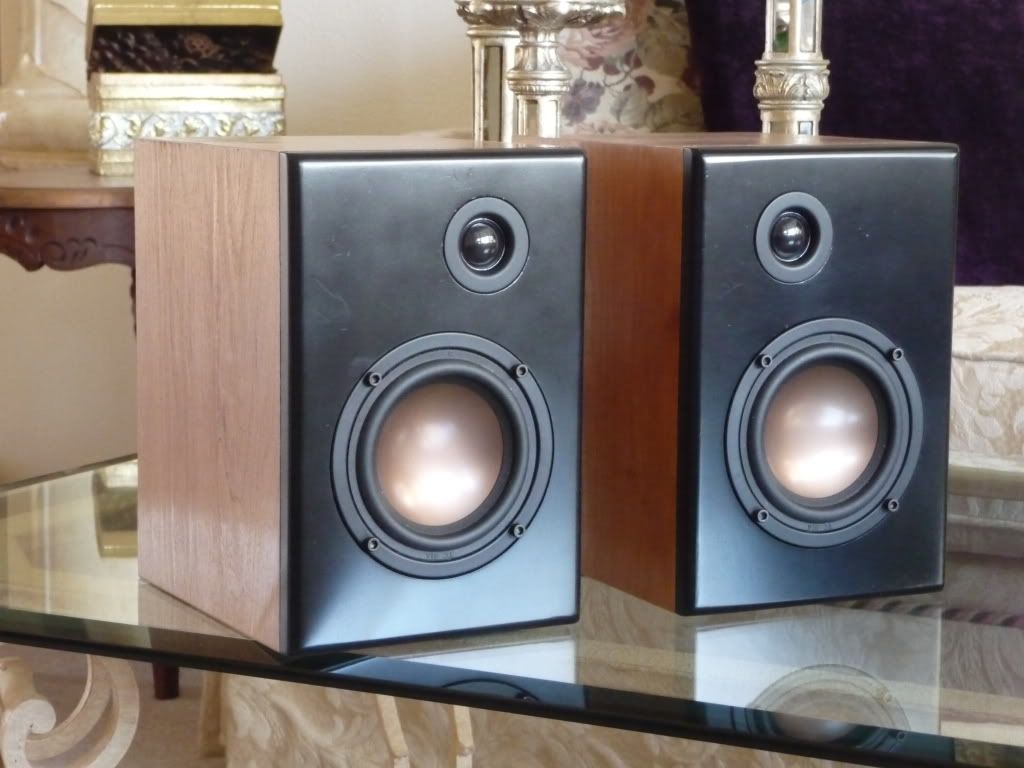 As you can see, one set is finished in black, while the other is veneered with a semi-gloss black baffle. Also, the black set has the port vented to the front, while the veneered set are ported to the back. I apologize for the mediocre quality of the black photo -- immediately after completing the build, I went on a long RV trip to Texas where I realized that I didn't have any finished photos of the speakers. I brought the black set along with me to give to my brother and realized at the last minute that would be my last opportunity to photograph them. We snapped a few photos in his RV, but black is difficult to photograph well. Wish I had more time. Maybe he can send me a better photo.