Re: Overnight Sensation Build -- Two Sets
Continuing with the veneering process -- Disaster strikes!!
I think I mentioned earlier in this string that I'm new to wood veneering. This was my first wood veneer project, and I did encounter some difficulties. The primary difficulty for me was in trimming the veneer, once it was applied to the enclosure. It may have been my choice of veneer, but I found the material extremely fragile -- given half a chance it would split. I was concerned about that issue when I purchased the materials from a local Rockler store, so I went the tool you see in the photo below. It isn't going to be a tool I use often. I found the tool to be unreliable, or maybe untrustworthy would be a better word. Despite great care, the veneer would unpredictably split in places, or even worse, tear a piece out if I was attempting a cross-cut (across the grain).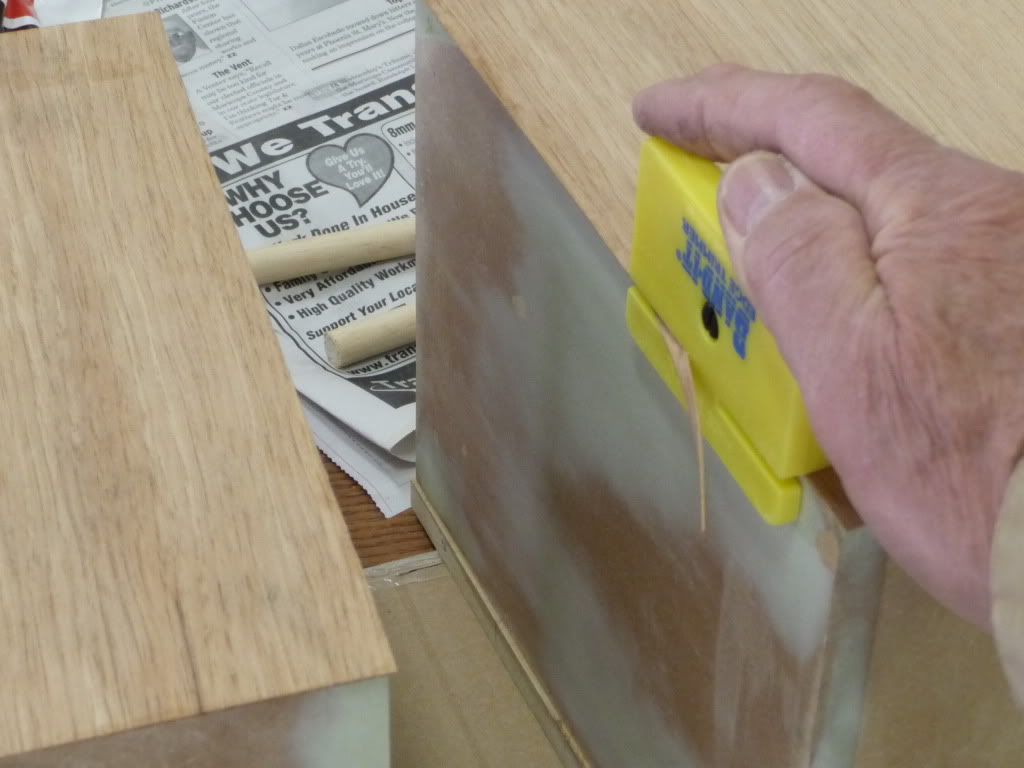 The tool features a special blade (looks a lot like a rectangular utility knife blade) and guides that are supposed to produce a flush cut. Maybe with a bit of practice it would be possible to get consistently good and accurate cuts, but I ended up abandoning the tool in favor of a sanding block. To make the tool work reliably, you'd have to inspect it closely before each cut to make sure there weren't any splinters of wood between the blade and the holder. If there were splinters, the blade wouldn't make a decent cut. Changing the blade frequently is also necessary. I found a simple sanding block with 150 grit paper to be the most accurate and least troublesome way to trim the veneer. That of course means that you'll want to cut the individual pieces pretty close to the final trimmed size so that you don't end up with a lot of overlap to remove. For those unfamiliar with the basics of veneering, you must trim each piece after it is applied, before moving on to the next piece.
Regarding the difficulties I encountered, here's an example: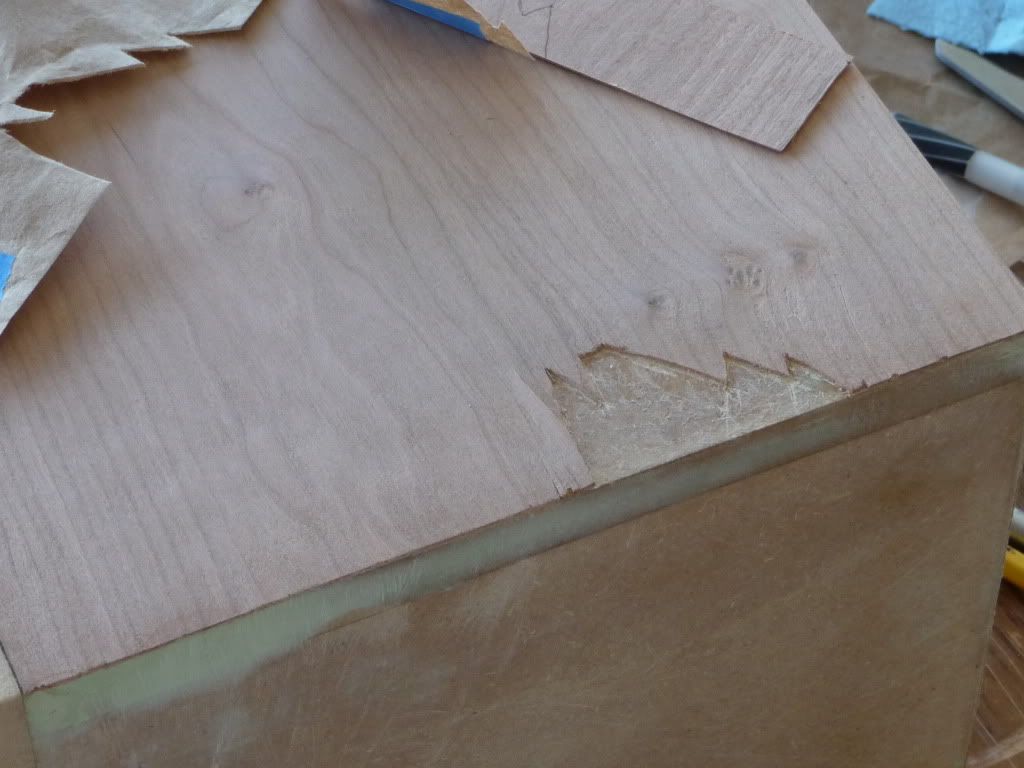 That tear-out you see there has been cleaned up with an Exacto knife -- it looked much, much, worse before I trimmed it up. But, it did give me an opportunity to explore ways of correcting (maybe patching would be a better word) the damage. I damaged the veneer by using too much force with the trimmer described above -- I was pushing it pretty hard, but not nearly as hard as as the force used with something like a hand plane. Once the damage was done, I was left with a couple of choices -- attempt to remove the veneer, or repair the damage. I opted for the repair route because a new piece of veneer wouldn't match, and because removing the veneer was likely to result in new imperfections, perhaps even making matters worse.
I sorted through the scrap pieces of veneer and found a piece that matched the damaged area fairly well. I then made a paper template to arrive at the general shape of the torn-out area, simplified of course to eliminate the shards and fibers of wood that remained. I chose to use an irregular shape, as opposed to some easily recognizable shape such as a square, circle, or oval, because it would be much more difficult to spot, once in place. The template was used to produce a slightly enlarged piece of veneer that would become the "plug" or patch-piece. The plug was then placed over the damaged area and the outline carefully traced onto the torn-out area as precisely as I could. I then enlarged the damaged area with an Exacto knife cutting out the veneer within the area defined by the traced line. I removed as much of the adhesive from the surface as possible, then glued the plug in place.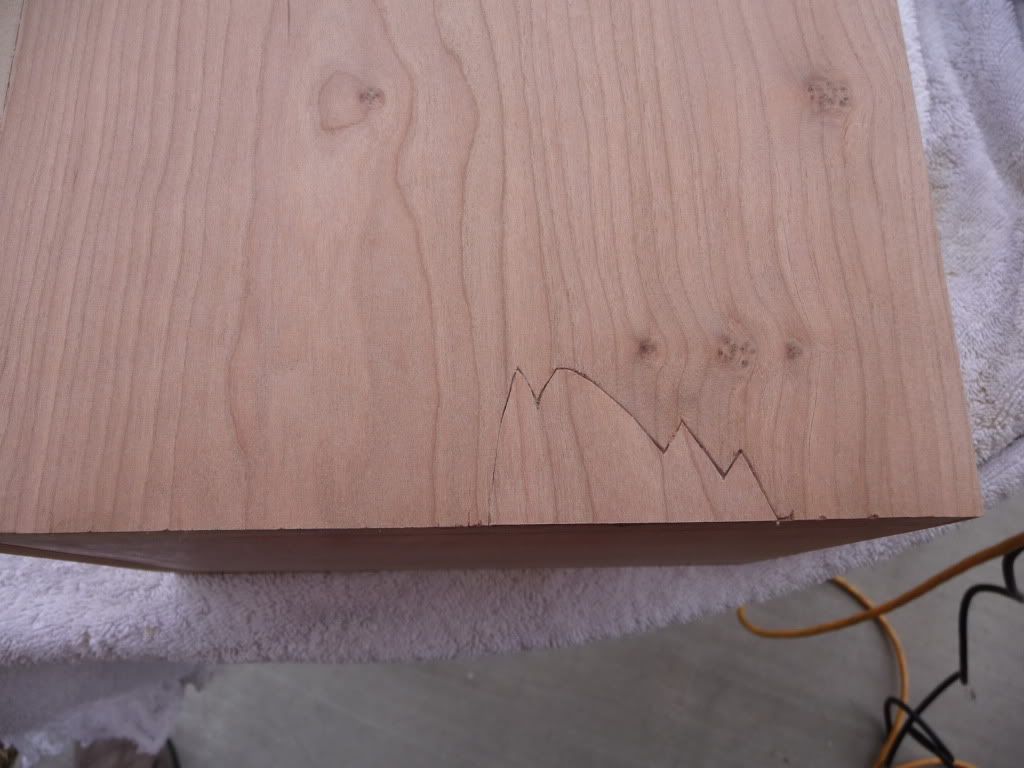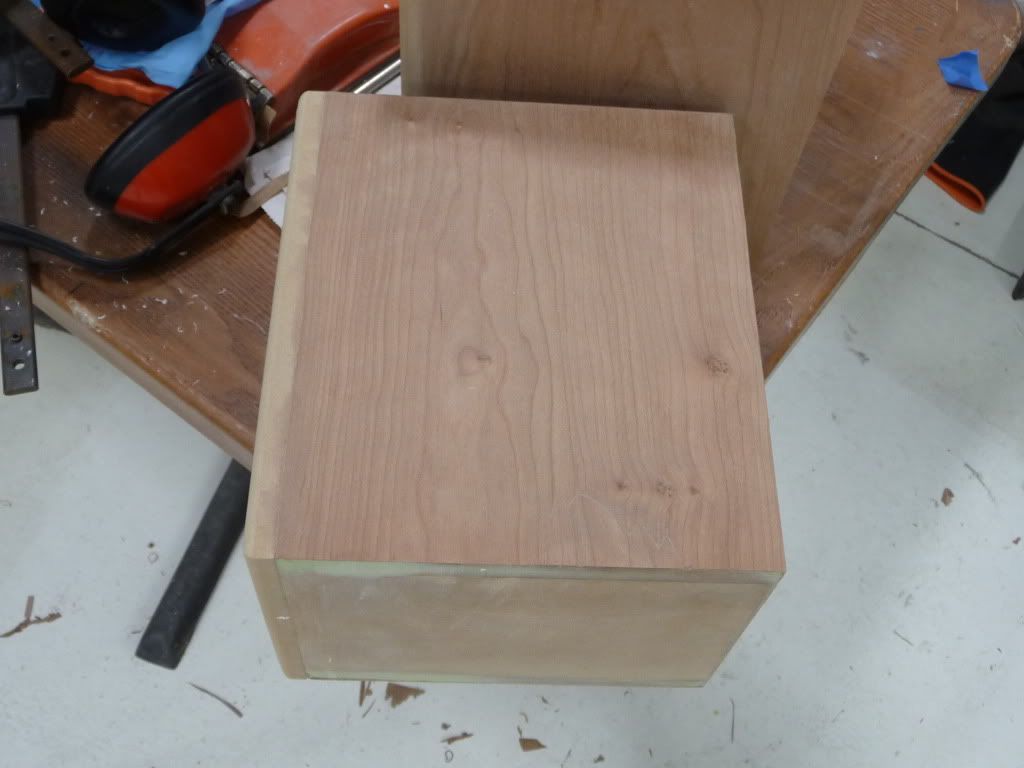 Looking over the photos again, I can see that I smoothed the shape of the plug and cutout somewhat. You can see that I achieved a fairly close fit -- not perfect but things were looking up.
I used a wood filler that's made specifically to closely match the color of Cherry wood to conceal the part line. The repair was next sanded to make sure it didn't protrude above the surrounding area.
The patch is actually difficult to find and unlikely to be noticed without close inspection.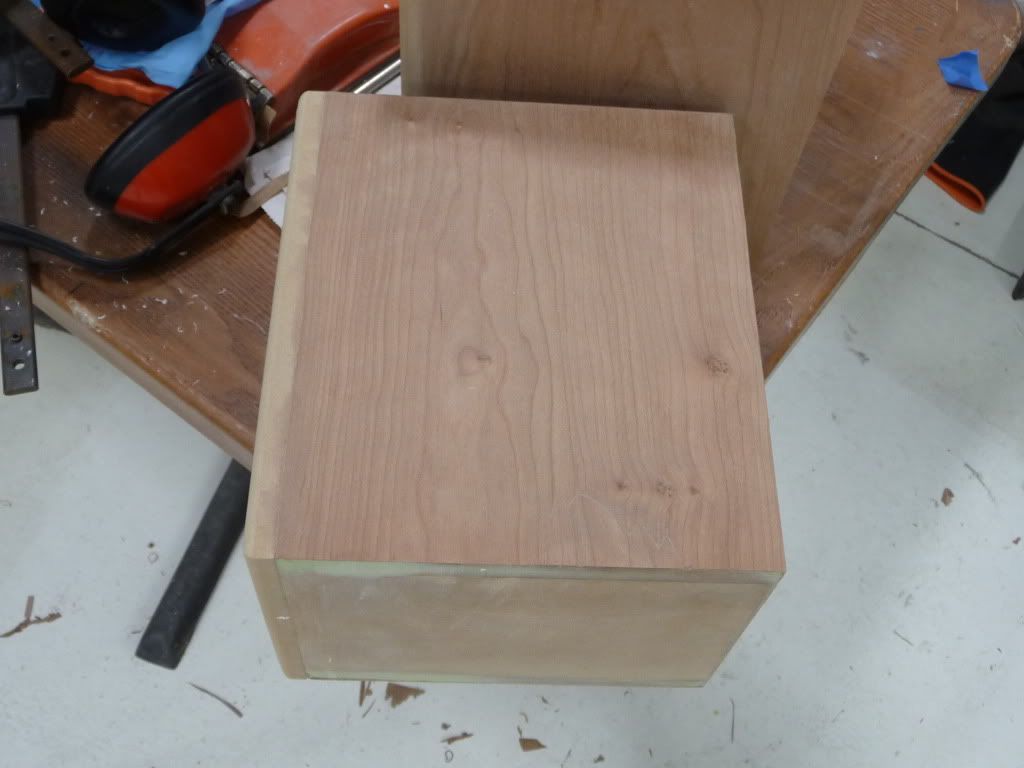 For those who are interested, I offer the following observations about veneering:
1. It produces a great looking result that's hard to equal or surpass with other methods.
2. It is easier to produce a good looking finished product with veneer, than it is with paint. Some will argue with this, so to clarify let me point out that when one attempts to evaluate an argument for one type of finishing method or another, one must know what sort of result the proponent has in mind. I'm talking about high-quality, high gloss finishes. Semi-gloss, or satin finishes are far less demanding as are hammer-tones (but, they do look nice).
3. I will use a paper-backed veneer in the future, whenever possible.
4. So far, I haven't found a method of trimming I like, other than sanding. I haven't tried a flush trim bit and a router yet, but I have tried utility knives, pocket knives, the infamous little trimmer I described above, saws, planes, and files. I will sand the edges to size, rather than risk damage from other methods.
5. Don't give up if you damage something -- it probably can be repaired if you're careful and patient.