Greetings from a new forum member...sorry if this post is long but I want to give a proper background.
In January we moved into a new house and I decided it was time to upgrade an old pair of worn out JBL floorstanders. (I inherited them 10 or 12 years ago from my wife's ex-husband, as I was in law school at the time and quite broke.) I listened to a few options from well-known consumer brands but didn't find any real pleasers. When I saw what it cost to buy speakers that actually sounded good to my ears, I opened up my JBL's to see what made speakers so expensive. They didn't look too complicated, and I thought about trying to tinker with them. One thing led to another and I found myself googling "DIY speakers." I learned there is an entire DIY audio subculture -- who knew?
After poking around on the internet a little, I had made up my mind to try building a little pair of Ed Frias-designed 2-way speakers that I read about on a popular audio website. The problem was that it was an older design and the drivers were no longer available. I ended up emailing Ed about 6 weeks ago, and he was kind enough to send me a crossover schematic and cabinet dimensions to adapt his design to a couple of Seas drivers.
My only prior experience was building a (really rough) plywood extension speaker cabinet for an old guitar amp when I was 19 or 20 (I am 37 now). I have a fairly decent complement of woodworking tools, though, and I decided to give it a shot.
Over the last couple of weeks, an hour here, a couple of hours there, I built my first pair of DIY speakers. I also found myself scouring this forum late in the evening looking for tips and tricks. (As an added bonus, I found out that Parts Express is minutes from where I live, which was quite handy.)
Here is the visual result of my efforts: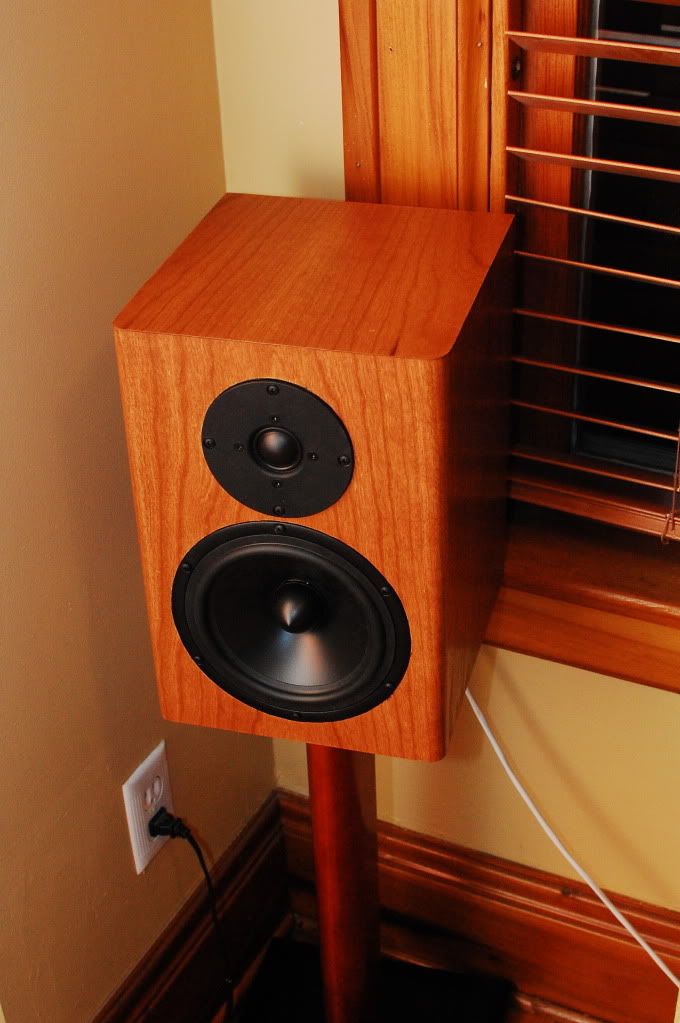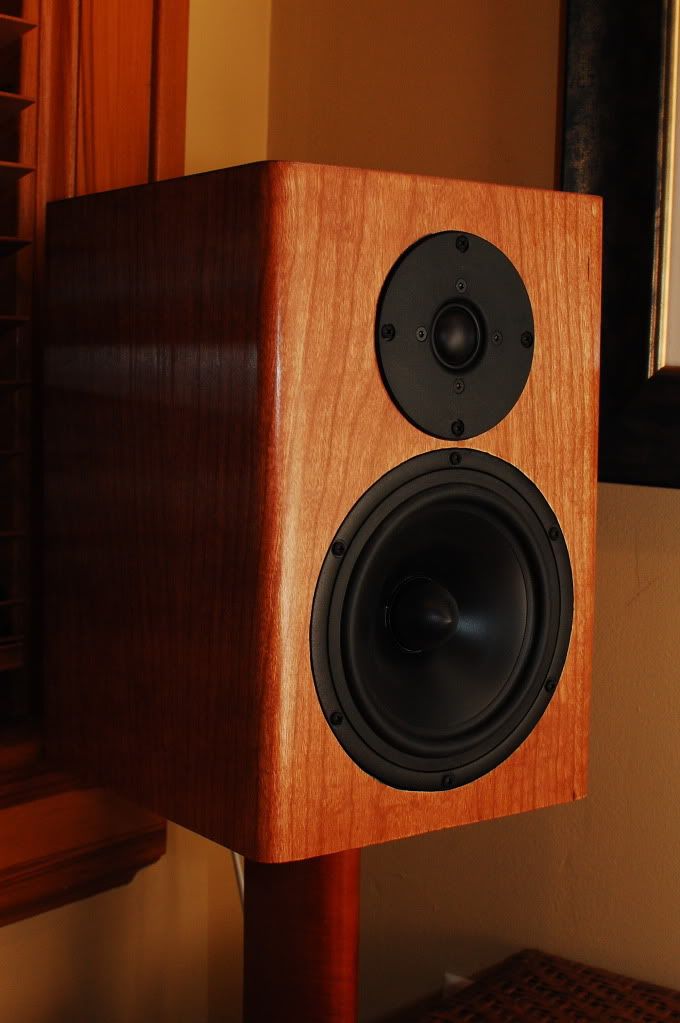 Obviously these speakers aren't huge and they aren't too bold, as they had to pass the wife test. They are constructed in 3/4" MDF with American cherry hardwood veneer. (The veneering was also a first for me.) The finish is 3 coats of Minwax satin poly, lightly sanded to 220 between coats. They're not perfect, but I don't think anyone but me will notice. Well, many on this forum probably will, but that's OK with me. I learned quite a bit.
The auditory result? All I can say is -- wow. They were a little muddy at first, but within just a few minutes they seemed to really open up and smooth out. I can only imagine what 10 or 20 hours of burn-in time will do for them. I'm definitely not an audiophile, but I play several instruments and have a reasonably good ear. I have no complaints about these speakers whatsoever. I'm running my music through a Yamaha A-S500 integrated amp and they sound just great.
Thanks to all on this forum for your various build threads and discussions, which provided a number of ideas and solutions to the little snags that came up during my build. This forum is a great resource. I was really surprised at the quality of these speakers, especially for a first-time builder, but I found a lot of help here. I'm already thinking about ideas for building another pair (or maybe a sub?), not because there is anything wrong with these, but because I enjoyed it so much and they sound so great!