Just finished today two pairs of Encore's. I started on the cabinets months ago.
A few videos of the construction of their curved panels are here:
https://www.youtube.com/watch?v=Yecz...ature=youtu.be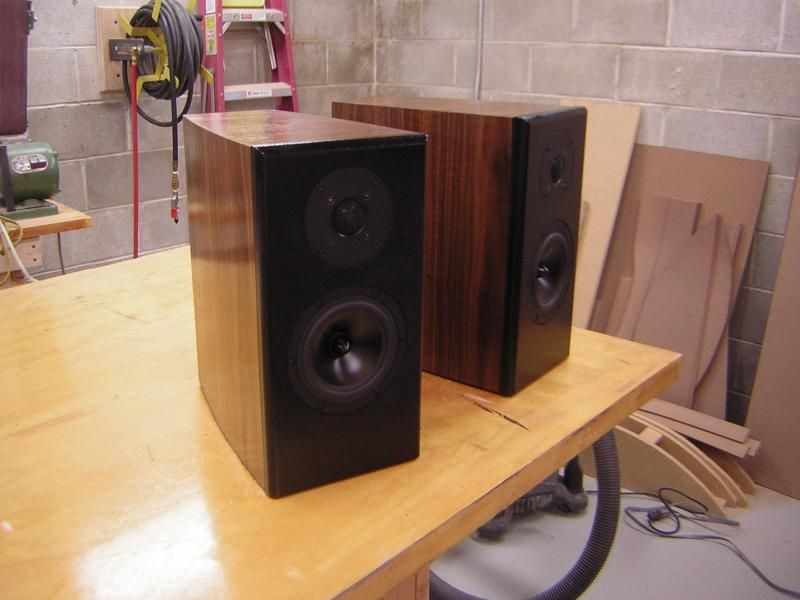 They came out pretty good. I was originally going to try for a high gloss finish on the baffles, but life had other plans. I ended up going with a textured (Rustoleum) finish with gloss black on top of that. I like the look just fine.
I did use BIN shellac base primer on the baffles as some of you suggested as opposed to rubbing glue all over it.
That stuff is pretty nice. I'll be using that again for sure; sands real good too, thanks for that bit of advice!
Here are the pre-primed baffles:
Boxes enclosed:
Cut-outs for the baffle:
Veneer going on:
I used walnut for these as I had just enough to finish these from scraps from previous projects. 6-7 coats of rub-on poly, gloss this time.
Tried something new this time. I attempted to continue the grain pattern from the side-top-side in series. I ended up leaving too much extra on each piece of veneer for it to work 100%, plus the rear curve threw a monkey wrench in that as well, but overall it ties the grain in much better as a whole. It's a nice thing to try if it works out I guess.
I ended up using the woodworkers warehouse contact cement for the top and bottom and back, but I reverted to my good old heatlock iron on stuff for the sides. The contact cement worked fine, but it's runny, and it's hard to not drip it on adjoining panels, even being careful. It also is very "rubbery" everywhere it gets on things. I'll use it if I have to, but I still prefer iron-on. There were some spots of bondo on the sides, so I was a bit nervous about using the iron on those areas... I scuffed them well and went ahead with it... it adhered just fine, I just made sure I kept the iron moving.
I did screw something up... I always manage to do so: :D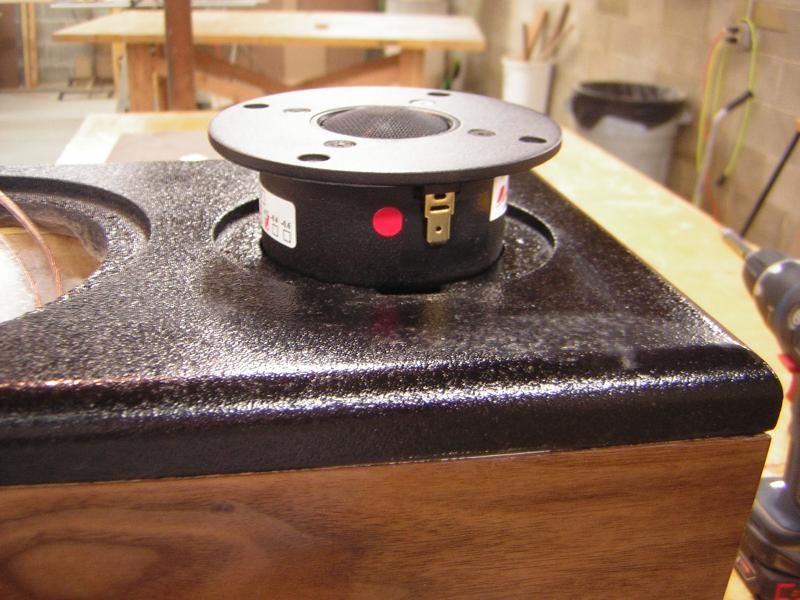 I made two set of these, one had the shielded tweets, the other did not. When I measured the tweeter backs, I measured the non-shielded ones, and never even considered that the shielded one may be bigger... it was. No big deal, a few minutes with a drum sander in the drill took care of it, but I hate when that happens.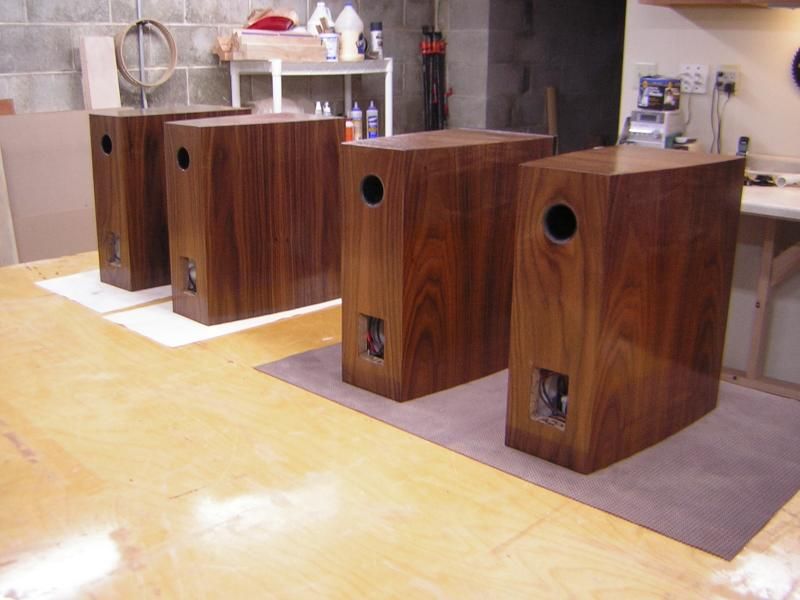 One pair goes to my parents, one for our bedroom. It's about time I get a nice set over my parents house, I'm sure Dad would like to jam out to some tunes... and these will play loud enough that he won't be able to hear Mom yelling at him to turn it down.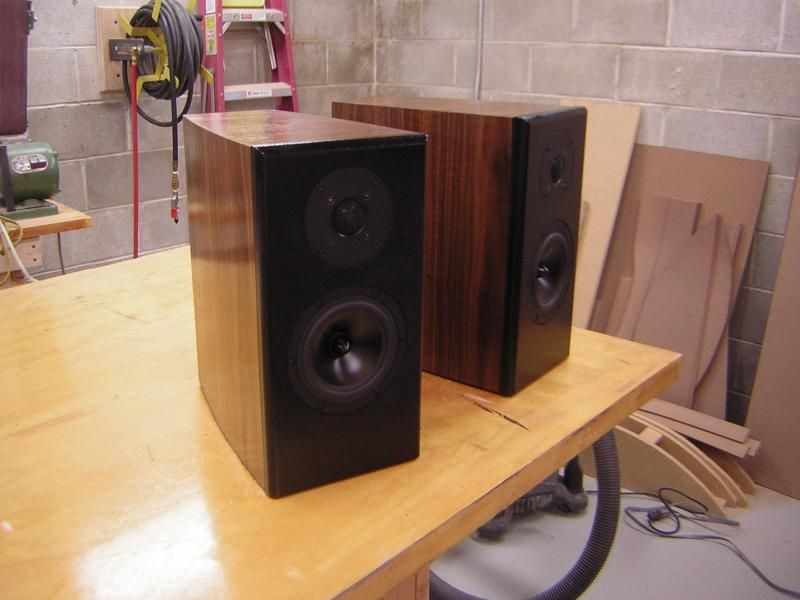 Nothing too exciting construction-wise, but it was fun to do something higher-end. Those alum. Reference series tweeters are really smooth, we're spoiled with these things... 15 years ago I was listening to 2" cone tweeters and thought they were pretty good. These use Jeff Bagby's tweaked crossover version for added Bagby-ness... they sound very nice, thanks Jeff for the crossover info.
I built two of these though I only had drivers for one pair. Over the span of a few years and several tent sales/classified purchases I was able to get the rest of the parts; that's why only one pair of shielded tweeters.
My theory was that for the time it takes to build one pair of speakers, it would only take a bit longer to build two pairs. It's kind of true, but it still took a while to get both finished. Truthfully though, I made a bunch of stupid mistakes that I don't normally do on these, which had me patching boo-boo's more than normal. I'm glad to have these finished though.
Thanks for looking.
TomZ