After I finished up my 'Micro-B' 2.1 amp project, I started thinking about which small subwoofers would be a good match for it. The 'Voxel' designed by Paul Carmody is probably the perfect choice I think, but I wondered what else would fit the bill... it had to be something equally small or smaller... and hopefully a little cheaper.
That curiosity intersected with another curiosity that has been gnawing at me for an even longer time. For years I've been toying around with the idea of trying to turn a single ND-105-4 into a small subwoofer. I suspected it was too small for real subwoofer duties, but I was still curious. Each time I listen to Chris Roemer's Neo Nano's, I marvel at the bass they are able to put out for their size... If you've heard them, then you know what I mean. So eventually, my curiosity got the best of me. I modeled one in a squared-off tower design I'm calling the "Bass-ND".
I was shooting for the ability to reproduce around 90 db at 35 Hz as a target... I listen to jazz a lot -- more modern stuff than traditional stuff -- and there is a good amount of low stuff in most of what I listen to, so I went with a longer vent to gain some additional lower bass at the expense of more volume in the 50-70 Hz region. That tradeoff seemed to suit my goals.
I know the cone excursion is well past X-max at 35 Hz, but I think if you can live with some distortion down there, the cone will survive just fine when pushed within reason. I believe Chris allowed for a generous amount of excursion when modeling his Neo Nano's in part because of its huge X-mech stat, so I felt excursion was going to be outside of the 'damage' region.
The box is 7" by 7" by 15.5" tall with a long 1.5" by 12" port. I made the sides and top with mitered corners to make it nice and strong and hopefully keep the veneer nice and smooth, I hate it when seams show through the veneer.
Here are a few shots of the construction of the box: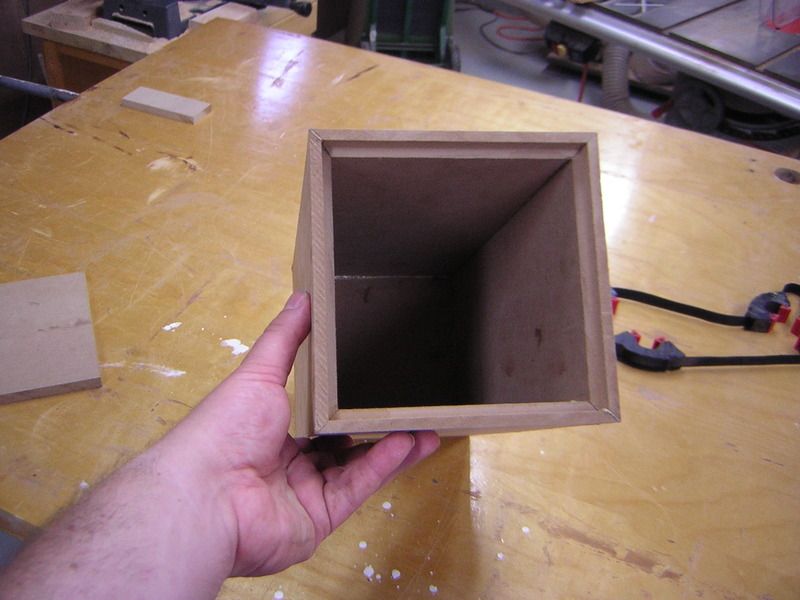 I was running out of 1/2" MDF so I had to glue up some scraps for two panels to get enough to make this box with. There are no braces by the way, it doesn't seem like it needs it to me, the box doesn't vibrate at all believe it or not. I was planning on throwing a few dowels in after I fired it up, but it wasn't needed.
Here are the parts I used to build it: The ND-105, 4 ohm woofer, a binding post terminal, and a few large stainless steel drawer pulls. I thread-locked the mounting screws for the drawer pulls and then cut the heads off. I then epoxied the threaded portion in pre-drilled holes in the bottom of the box. I also lightly stuffed the box with some polyfill, I guess just out of habit.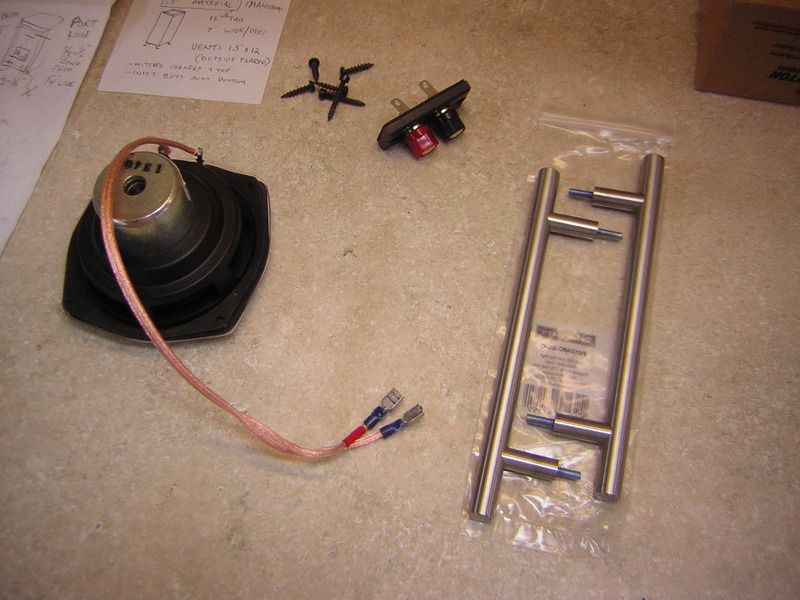 I was going for a minimalistic avant guard type of look for this. I chose Mahogany veneer which is kind of boring, but still has enough grain to be somewhat interesting. I couldn't put anything too fancy on it, I thought it would clash with the simple design/lines. It doesn't show in the pics, but it's very glossy, which adds a bit of pizzazz to the piece.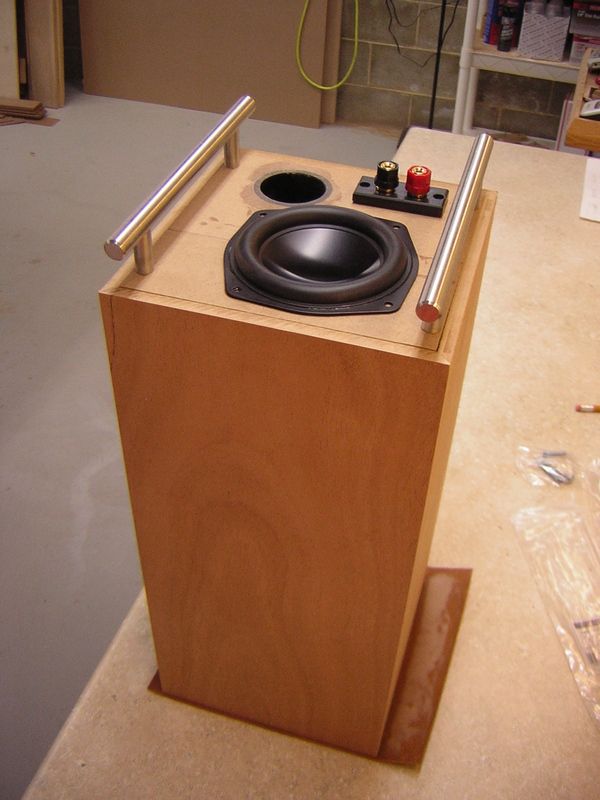 I made a mistake originally; I always seem to make at least one! I placed the binding post on the bottom without noticing that it would be impossible to plug wires into them for lack of ground clearance. So some dowels were glued in those holes and it was moved to the rear of the box.
The top and sides received 7 coats of rub-on gloss poly and the bottom was painted with Rustoleum 'painters touch' flat black paint rolled on. That stuff is awesome for a quick cover-up, it covers even MDF end grain, and dries in minutes.
Here it is in its new home by my chest of drawers in our bedroom.
It is now the acting subwoofer for my "Micro-B" 2.1 plate amplifier powered set of Jeff Bagby's Quark speakers which set on top of the chest of drawers.
Here's a better shot:
So, is it a real subwoofer? Honest opinion: it does a fairly decent job as a small subwoofer if you keep in mind that it's just a 4" driver in there and so it is limited in output down low. It has an F3 of 50.6 Hz, F6 of 38.5 Hz, and the F10 is 30.8 Hz but the slope is kind of shallow until around 30 Hz, then it dives steeply.
The "Micro-B" 2.1 amp has a knob to control the subwoofer level, so I could tell as I turned down the subwoofer volume that it was really contributing to the overall 'depth' of the music. It didn't get as loud, or as low as the 'Voxel' subwoofer obviously, but it does seem to be efficient enough to keep up with the 'Quarks' volume wise to be a good match for them with this amp setup. Placed next to a wall, the bass filled in nicely in our large bedroom... in a corner with a bit more input power (I was using an old Kindle Fire as a source) I bet it would surprise.
I suspect that it would probably perform pretty well with the Dayton SA25 25 watt plate amp as well; I like that little bugger also. At 6-5/16" square it would just fit in the cabinet. That amp is kind of pricey though for the time being when not on sale, which kind of negates the 'budget' feel of this project. (one of the factors in designing this was that the ND 105 is only $27 bucks as opposed to the Neo W5, at $59... with the Ferrite version of the W5 running about $40 a pop.)
That's pretty much it for this project. I was curious like I said and wanted to give the little ND-105 a go just to see how it would do. It was fun to complete a quick project, as well as being a good thought exercise for a few weeks. I played with lots of box sizes, port lengths and various tunings for a long time before settling on what I had. A bigger box would have been better, but after consideration, I went as large as I was willing to go size-wise so that was kind of set in stone near the end...also, the tall shape allowed for an easy time fitting the long vent.
Well, It was fun to finally 'scratch that itch' so to speak. Thanks for looking.
TomZ