A little while ago PE had some buyout Passive Radiators for sale, (I think they're sold out now though) I picked up a few and didn't do anything with them. Then Kenny K. whipped up a tasty cube of bass that closely mimics Wolf's "Triumph" subwoofer (which I also have). Here is the end of that thread which is actually Paul Carmody's "Voxel" thread:
http://techtalk.parts-express.com/fo...mini-sub/page3
I ended up with a slightly different cabinet, a 10.5" cube, but the idea and inspiration was all Kenny K's... I never would have thought about pairing that PR with the 5.25 TB ferrite driver. (I was thinking PR's for a smallish tower speaker.) My box ends up being about an inch bigger than the "Triumph" sub, which was a 9.5" cube with .75" material.
Pieces for four of these cut out... hey, it's just as easy to cut out four than to cut pieces for one.
I recessed the PR's because they had a funky kind of rounded edge that would have looked goofy if I didn't recess them... kind of like a rounded edge, but with the biggest part at the edge. You can see it in the pic a few down...
I just flush mounted the TB sub.
See some glue discoloration on the cabinets near the roundovers? It's a 1.5" roundover I did in my router table... even though I had a board as a backing piece to minimize tear out on the edge of the cabinet, it still happened on a few of them. I tend to use a super-light touch when I'm using that router table with the big bit in there... as I've said before... that thing scares the carp out of me. I think I just wasn't pushing hard enough on the backer board. Anyway, I just lifted up the edge of the MDF that was lifted up and shot some glue in there and taped it down, problem solved.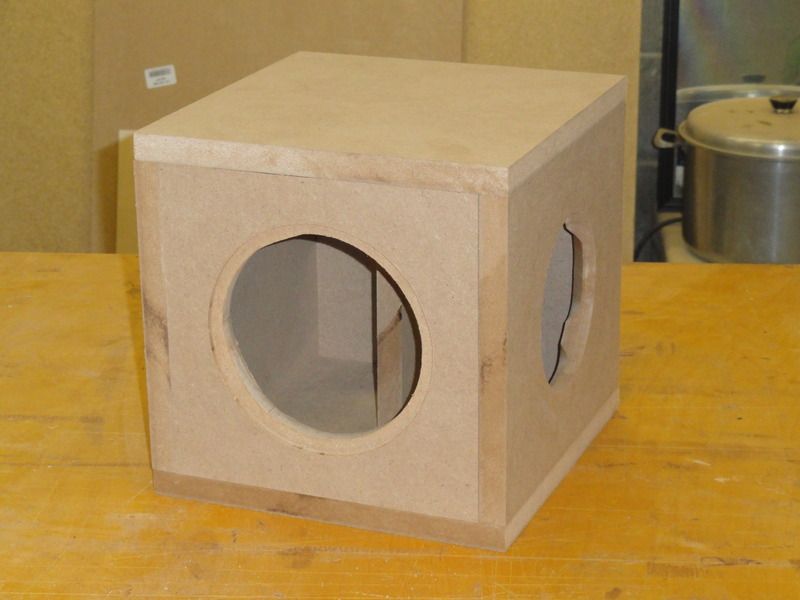 It will use two of the buyout PR's and of course the 5.25" Ferrite TB sub along with a PE 25 watt plate amp. They just went on sale a few weeks ago luckily.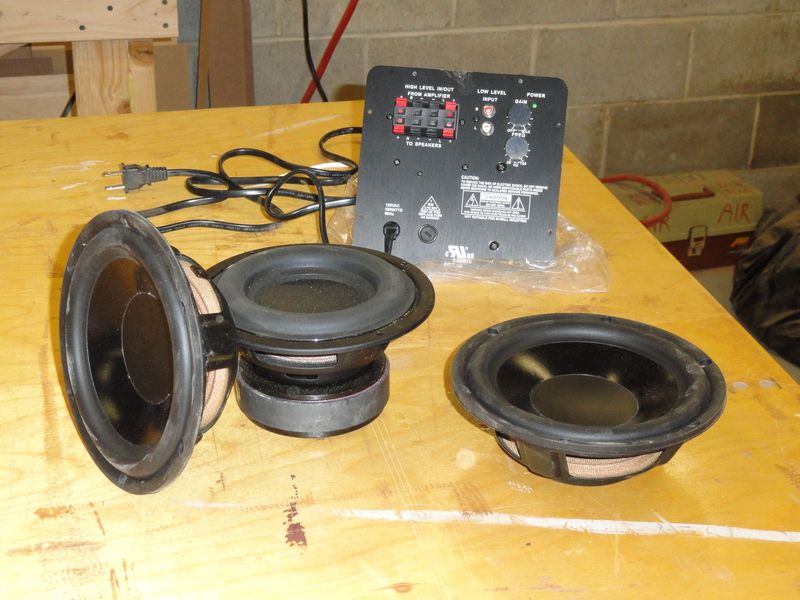 I used Walnut for the veneer. There are only two seams on the sides. I used 2' wide x 8' rolls and two sections meant that I had two seams to deal with. I ended up applying glue to the entire four sides of the box at once, and using the iron on method and cutting one layer over the other -- was able to glue up all four sides in one operation. I also veneered the top... the bottom I'm just putting some of the wipe-on poly on, and I'll call it done.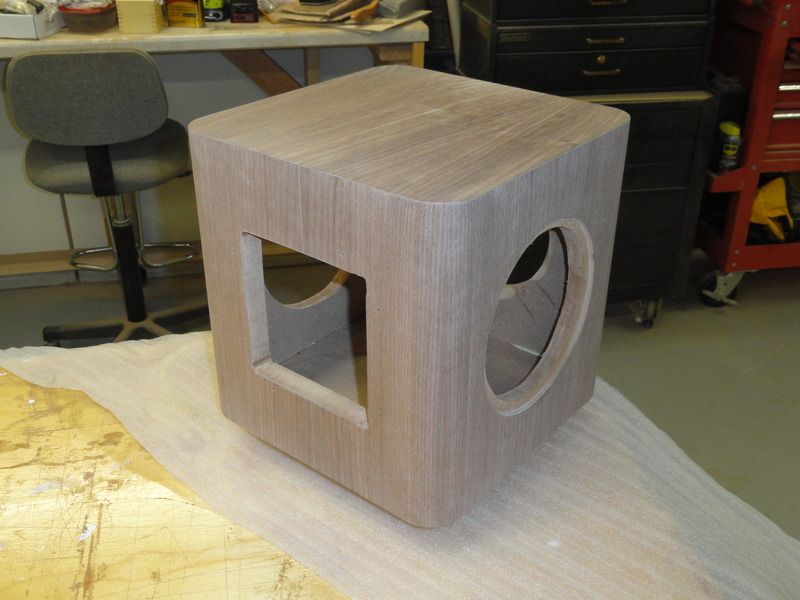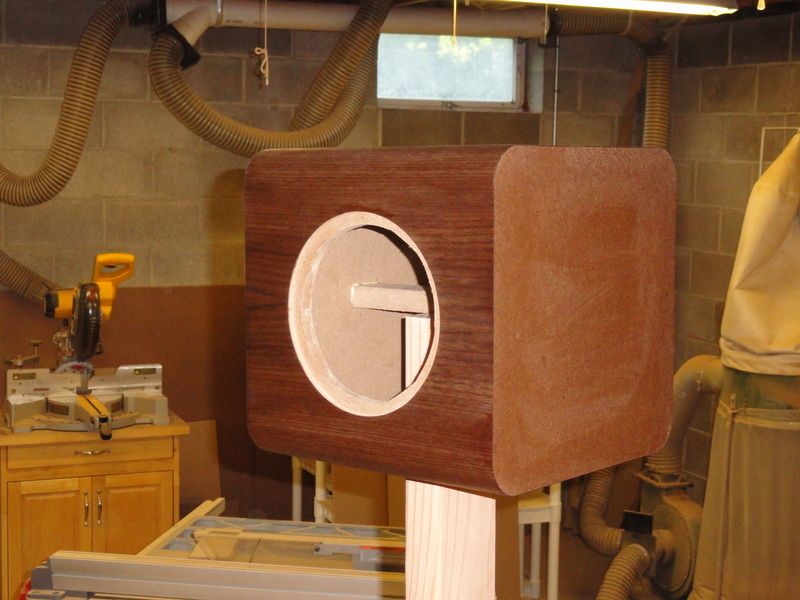 The F3 is about 34 Hz, and with 25 watts, it should hit 93 dB at that frequency.... F6: 31.5 Hz... F10: 29Hz. At 25 watts Xmax is never breached, so that's nice. The PR's are set up with the stock weight, there appears to be a mass of epoxy or something inside of where the voice coil is. There is no way to easily add mass, not that it's needed.
I know the 25 watt amp might be considered 'not enough' for a driver with a 40 watt power handling ability, but bumping the scenario up to 40 watts only yields 2 dB more of output at 30 Hz, so I think the cute little 25 watter' will work fine for this. I absolutely love my little "Triumph" subwoofer, which uses the PE 25 watt plate amp...and I'm hoping this one performs equally well.
This one will be for my father, to go with the "Encore's" I built him a few years back. He uses them with his computer setup in his mancave/bedroom. Another one will be for my niece's boyfriend, who has a set of Jeff Bagby's Quarks (which he loves) and I told him I'd get him some bass soon to go with them. I think these will be a good match for them, he uses them as a computer sound system as well, which works well for the PE 25 watt plate amp with it's on/off/volume knob.
Yeah, nothing too exciting here, but there doesn't seem to be a ton of construction pics floating around lately, so I'm posting what I've got.
TomZ