Per the title, next project in the works is an Active 40 degree Arc Array. Due to the cost of the arrays and equipment needed (stuff I still need to buy), am predicting this will take a few months to finance and complete.
Was fortunate enough to meet Rick Craig at 2015 MWAF and then worked with him on a desktop CBT array for 2016's MWAF. While carrying in the speakers and equipment for the competition Friday night, low and behold Don Keele was cranking up his new CBT24's. To say I was floored would be an understatement. It's about all I could think about after MWAF and so I started pondering the idea of building some. After asking several forum members their thoughts on different drivers and driver combinations, Rick generously offered to help guide me along on the project. Lots to learn in between now and it's completion, and I'm not one to shy away from help when offered.
Watched all of the videos Don has up on youtube about his CBT technology and briefed the links to his presentation papers. Still a
whole lot of stuff
in there I don't understand and hope to become more knowledgeable during this build. So, without further ado, let's get into some of the details for the project.
Equipment Needed:
MiniDSP 2x4
A good Pre-Amp and 4-channel amplifier. Decided on Outlaw's Pre-amp & 5-channel Amp Combo. Currently on special for $999.00. Here are the links:
Drivers: 10 woofers and 20 tweeters per cabinet
Woofers will be the SB Acoustics SB13PFC25-08 5" Paper Cone's, the same ones used in the Uluwatu's if you are familiar with those. Sorry guys, cant post the link, but you can look em up if interested.
Tweeters will be the new Peerless DX20BF00-08 3/4" Textile Dome Tweeter - 8 ohm. Since PE carries Peerless products, I suspect these will be available from them soon.
Cabinet Design:
Sealed, 50 liters gross, 45 liter net after driver and brace displacements. Cabinets will be constructed from 1/2" MDF with multiple braces, damping material TBD. Sides, top, back & bottom will be veneered, baffle will be painted black. A grill may be incorporated to keep curious fingers off the drivers. Here is the first model of the cabinet:
And the next images show some of the dimensions: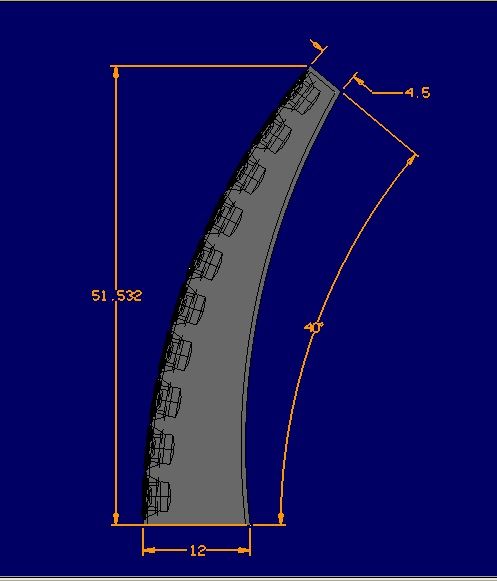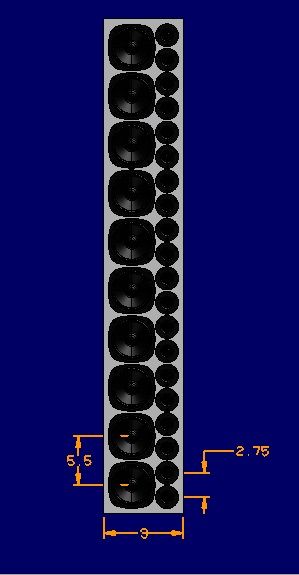 I was nervous about the front baffle and the bend required for it to conform to the enclosure. With all of the driver holes cut, it seemed to me that it would be fairly easy to snap. Decided to cut a pair of sidewalls and one front baffle to either confirm my fears or put them to rest. It took shape remarkably well but had it been any thicker, not sure that would have been the case. Also, not a fan of ghosting so 45 degree chamfers were used and that seemed to help with the bend. All of the photos below show the baffle just clamped at the top and bottom of the enclosure, no glue, just a dry fit.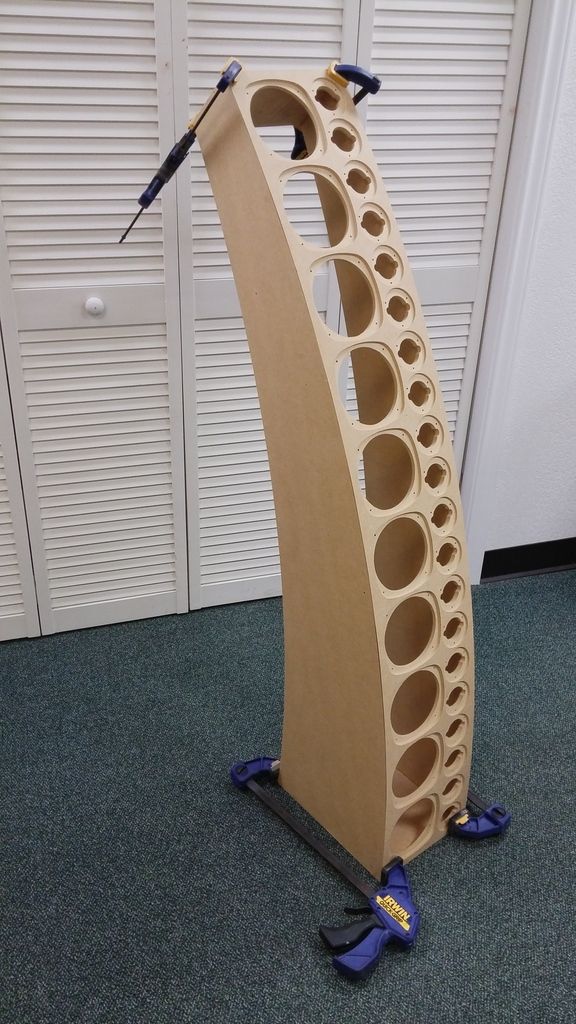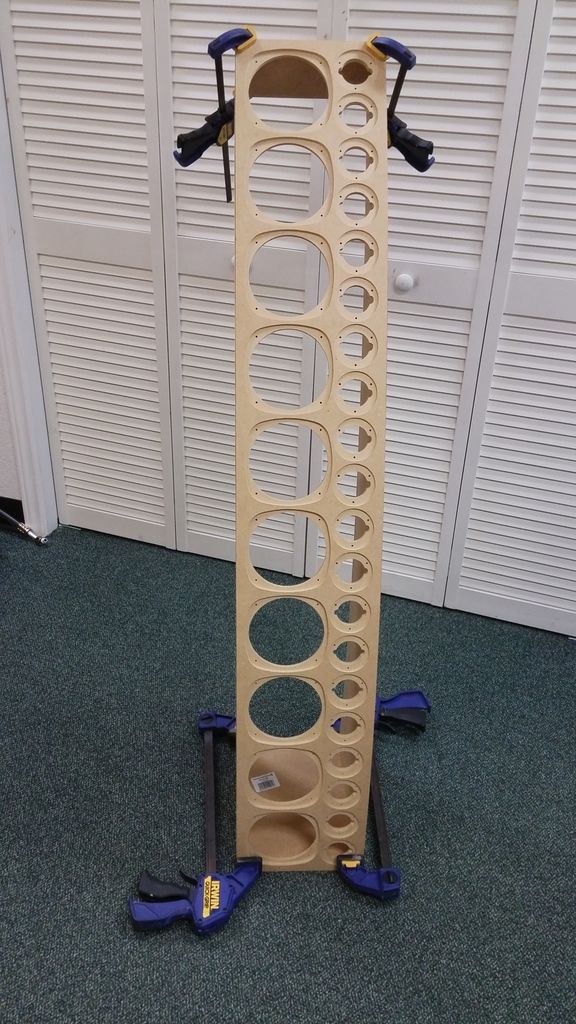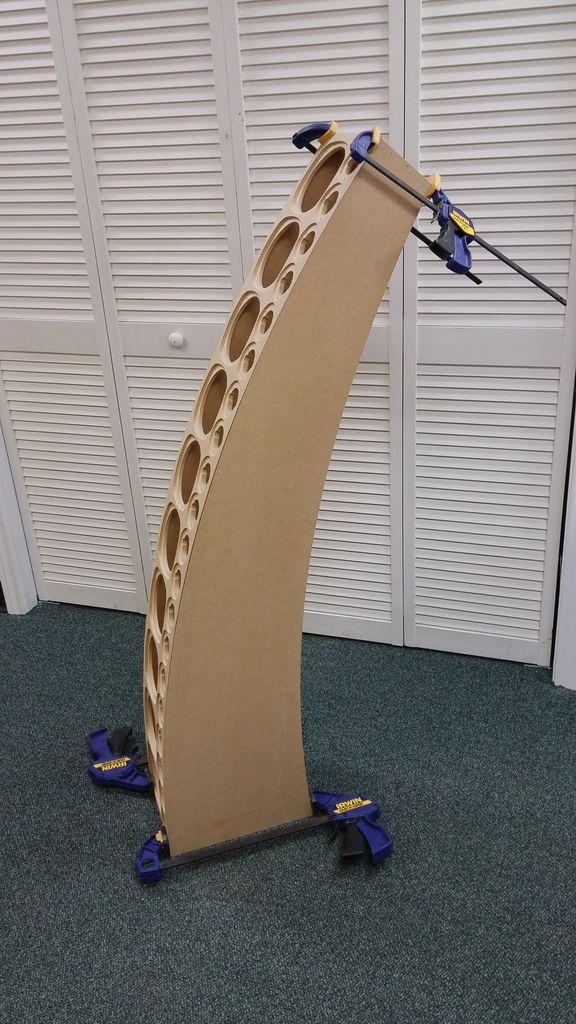 And here is a pic with the drivers sitting in their pockets. Only have two each of the woofers and tweeters on hand right now, will get the rest when closer to finishing the enclosures.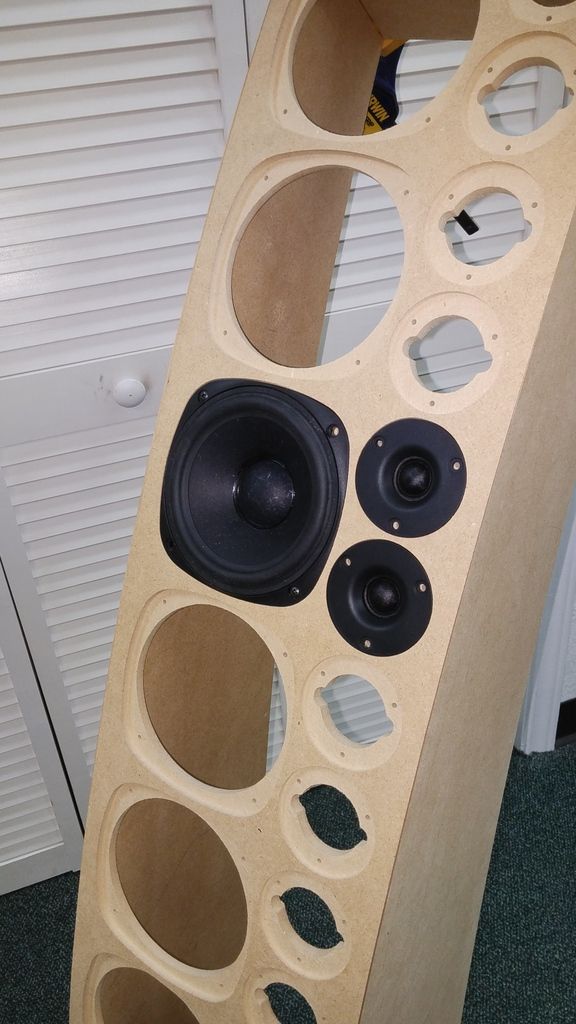 Now that the bend is no longer a concern, will go back to modeling the final enclosures with appropriate bracing and perhaps start the cuts on them next weekend. Thanks for looking guys.