I was going to reveal this when it is finished, but seems like this forum needs a boost, so I'm going to post this prematurely. Here it is,
The ultimate small speaker: The Reference Mini
Design goal: Build the most accurate, highest fidelity, and highest bass output small speaker possible with DIY components without any budget limitations.
I started DIY in order to build a great sounding small speaker with good bass, because I couldn't buy something like that on the market. I got sucked in by DIY and it is just exhilarating to design and build speakers that sound better than what I can buy at a store. I really enjoy pushing the boundaries of performance, and I was really curious on how far I can push small speaker performance, and how good I can possibly make a small speaker sound. This is the first time I allowed myself to be careless with budget with anything. This curiosity and one time budget freedom led to this incredibly fun, and absolutely insane project. I should check myself into DIY rehab after this.
Shout out to JavadS and Kevin K for being incredibly gracious in helping me out with this speaker. I couldn't thank them enough for bringing this project to life.
Forget about any preconceived notions of small speaker. This entire project is about figuring out how to get all of the normal sized bookshelf/floorstanding speaker performance from a small speaker. Originally it was thought it will still be inferior and a compromise to normal sized speakers, but turns out
it is possible to do significantly *better* than normal sized speakers
.
Design summary: this speaker is 6.25" x 11.5" x 7.5" HWD. It is a 3 way, 4 driver, 2x passive radiator internally amplified active DSP design. It is specially designed so it can be used horizontally or vertically with no performance degradation. A pair can play over 100dB at 40Hz and 110dB when paired with a sub.
A little video to demonstrate the bass capabilities.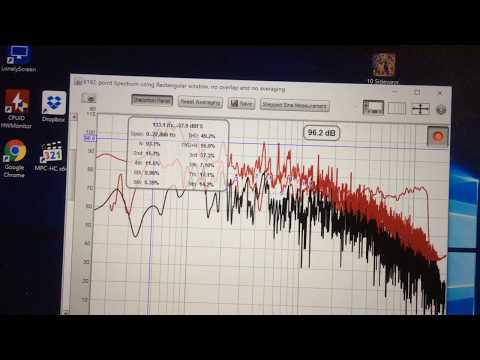 Tweeter: Scanspeak Illuminator D3004/6040-10 1'' Beryllium Dome Tweeter
Midrange: Scanspeak 10F/4424G 4'' Neodymium midrange
Woofer: 2x Custom Audio Technology 5.5" woofer
Passive radiator: 2x Tang Band PR14 oval passive radiators tuned to 42Hz
DSP: MacBook Pro with JRiver
Amplifier: 2x ICEpower 100AS2
Here's a picture of the test enclosure to give you an idea of what the speaker looks like. There is a second woofer behind the speaker that you don't see in this picture.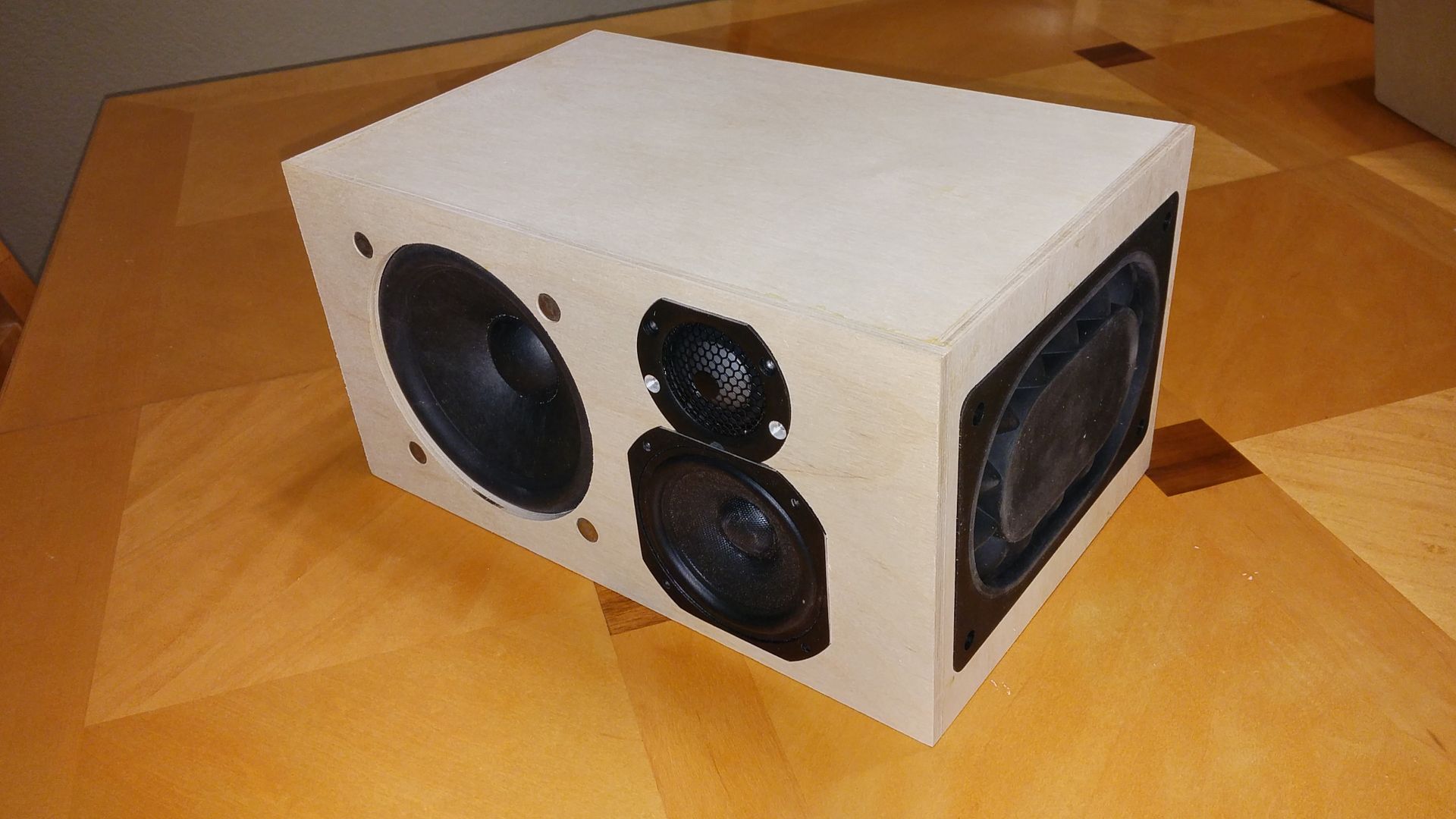 I'll start by listing out the features of this speaker that makes it superior to most normal sized speakers. This is very long. Read the paragraphs below each feature if you're interested for the details.
Controlled directivity with cardioid radiation pattern
You can have the perfect speaker, but put it in a room and the room acoustics will muck it up and prevent the speaker from performing its best. Therefore, controlled directivity is a must to achieve a very high level of performance in a room to reduce the room interactions. This speaker uses a heavy DSP approach to achieve controlled directivity instead of using waveguides. It uses multiple drivers playing variable phase shifted signals to achieve a cardioid radiation pattern down to around 100Hz. A waveguide that can do that would need to be several feet wide!
This is more important in a small speaker because the baffle step loss happens quite high, close to 1000Hz, and the distance to the wall would drastically change the sound of even a properly designed small speaker. By controlling directivity down to ~100Hz, there is no need to worry about the varying baffle step loss depending on the distance to the wall since the sound is only radiated forward.
A 3 way that acts and measures like a single driver point source speaker
Unlike pretty much any multi-way speaker, there is no horizontal or vertical lobing error. Two sound sources couple as one when spaced between 1/4'' of their wavelength.
By using crossover frequencies equivalent to 1/4'' of the wavelength of the CTC distance between the drivers, the 3 drivers acts as a point source, and we get the massive advantages of multi-way and point source without the disadvantages of both (or coaxials).
In order to do this, the spacing between the tweeter and midrange must be minimized to the extreme. The frame of both the tweeter and midrange are truncated in order to place them as close as physically possible to achieve a CTC distance of about 2.2", which still dictated a 1300Hz crossover. This tweeter has exemplary distortion performance, and with a steep crossover the tweeter can be made to handle this.
Stunning bass extension and SPL for its size
As a bass head, a huge priority for this speaker is to get as much bass out of a small speaker as possible. I want the speaker to play so deep that Adele can roll in it! This is perhaps the most fun part of designing (and listening) to this speaker, and perhaps the biggest shocker when people hear this speaker. The result? This 4L speaker should produce 96-111dB from 40-100Hz, 1M outdoors! Add 3-6dB for a pair (gain depends on distance between the 2 speakers and the frequency), and another 3-6dB when placed in a room! I expect a pair to produce a peak of 105-117dB of bass from 1M away in a typical room. Small speakers can't have bass? This one should be able to outperform some floorstanding speakers.
To do this, a custom woofer is needed, and Audio Technology has been fantastic to work with to make a custom driver. Most drivers that are good for high output deep bass have low sensitivity and does not sound good up high. So Audio Technology made me a driver with high sensitivity (90dB) that can also do deep bass. It also has a very low Fs with a large 2" voice coil for extra power handling needed. The voice coil is made of a combo of kapton and aluminum to reduce eddy currents that cause distortion for better sound quality. The frames are truncated to reduce size to fit the biggest woofer possible in such a small speaker. This driver made it possible to maximize both low bass and upper bass/low midrange output.
Multi-band compressor
In order to get 38Hz extension from this tiny speaker, up to 17dB of bass boost is required. This is usually problematic because the speaker quickly runs into excursion limits, and very much limits the maximum volume for the speakers to be safely played at (by as much as 17dB). Therefore, a multi-band compressor is used to limit the woofer's deep bass output to below its limit without affecting the rest of the woofer band. This allows me to get the most out of the speaker at any volume by having very deep bass extension at normal to high volumes and automatically limit bass to prevent distortion when the volume gets really high.
Equal Loudness Contour
I want a speaker that sounds its best at ANY volume. I want to have full sounding bass and flat treble at low/normal listening volumes and a reduced bass and treble at high volumes to prevent listening fatigue from the ear's increased sensitivity to treble at higher volumes. The solution? A dynamic EQ (sort of similar to Audyssey's Dynamic EQ) that automatically adjusts the bass, low midrange and upper treble levels depending on how loud the speaker is playing. Notice the midrange and lower treble is kept flat. This means the bass and treble is gradually reduced as the volume increases. Low volume listening is very full and enjoyable while high volume listening is stunning and fatigue free. One dangerous aspect though is that the speaker is so smooth this way that you can play much much louder without even realizing it, causing hearing damage, potential speaker damage, and pissed off neighbors. Screw that, I like my music loud and clean!
Superb dynamic performance
Small speakers have restricted dynamics and can't play loud right? Not this one. The high efficiency of the system (93dB on the woofer, 90dB on the midrange and tweeter) and active crossover with powerful amps allow this speaker to play incredibly loud and dynamic. A pair should be able to produce peak SPL of just under 115dB 1 meter away. Unbelievable? Well, this speaker is really a 3 way, 4 driver floorstanding speaker packed into a small speaker. All that extra air space in a floorstanding speaker just increases the <150Hz efficiency of the speaker. I can achieve nearly the same bass performance in a small speaker, I just need way more power.
By using 3 way, there is much less intermodulation distortion than a 2 way simply because the woofer isn't asked to do large excursions and play midrange at the same time. By using passive radiators, the woofer's excursion is greatly reduced for bass. This improves efficiency as speakers lose Bl under greater excursion levels as well as face a stiffer suspension with higher excursion levels. Both leads to reduced sensitivity at high volumes and a loss in dynamics.
Virtually no cabinet vibration or resonance
Cabinet resonance is an interesting issue. Unlike what intuition would tell you, a thicker wall causes bigger resonance issues! More accurately, a thicker wall causes the resonance frequency to shift higher up in frequency, and for normal thicknesses (3/4", 1"), this falls in the crucial midrange frequencies. Bracing simply pushes the resonance frequency higher.
So, the solution, is actually to use a thinner wall. In fact, for a 1/4'' wall, the resonant frequency is around 100Hz, according to BBC's research. This is completely out of the midrange band, so the midrange enclosure suffers almost no audible resonance issues within its band. For the woofer enclosure, the midrange enclosure acts as bracing, pushing the resonant frequency up above the woofer's band. Therefore, we have a box that has no resonance issues.
Even though the wall is only 1/4'' thick, the dual opposed woofer configuration cancels out almost all of the mechanical cabinet vibrations. Same for the 2 passive radiators. This way all their mechanical forces cancel out, leaving a vibration free cabinet.
The woofer enclosure is also too small to have standing wave problems, so only a small amount of Acousta-Stuf material is used, and they wouldn't be effective for <400Hz anyways. It is mainly to absorb the harmonics. A layer of Fatmax dampener is lined around the cabinet. Fatmat is lined around the woofer enclosure to provide extra damping to reduce sound from leaving the box. The midrange chamber is actually made of a molded ABS plastic that is even stiffer than plywood while being thinner to save 7% of the enclosure volume. It is stuffed with Acousta-Stuf to absorb as much of the rear wave as possible.
Minimal baffle diffraction
With the combination of asymmetrical driver spacing to nearby edges for all drivers, as well as wool felt treatment on the front baffle, this speaker should have very minimal amounts of diffraction induced frequency response ripples. The speaker grill is also treated with wool felt on all edges and hard surfaces, so this speaker can have a grill on without affecting sound quality.
Linear phase and time alignment
The use of such low crossover frequencies necessitates a steep crossover, but there is a price paid for the nasty phase shift that comes with steep filters. By using FIR filters in the DSP, I can have a linear phase 4th order (or 8th order if I want) crossover. Additional processing can be done to reduce the pre-ringing caused by the steep linear phase filters. Time alignment is trivial to do on a DSP. The result is a time (mostly) and phase coherent multi-way speaker.
And there it is! I spent way too much time and money on this. But with everything this is a speaker that should outperform most traditional "Hi-Fi" style speakers. I should check myself into an addiction centre after this :eek:.
Continued on the next post.