These are pretty close to being ready for measurements.
On the Bantams I used foam speaker gasket foam tape to mount the tweeters, but this time I gave the electrical tape another shot. I was able to get it mounted with either 3 or 4 wraps, can't quite remember -- cutting the seam on the 'ghosted bump' of the beginning of the first layer. I finished up with some flexible caulk speaker gasket stuff that PE sells. It sealed perfectly.
I had to cut the gasket that came with the ND-91's to get rid of the 'ears' for the mounting holes.
Then I used about 1/4 of the 1/8" gasket tape to create a very small area of foam for a gasket. Then I cut down on the thickness with a razor blade so I wouldn't have to stress the mounting tabs on the cabinet when I torqued it down. I had some cracking on the center ones the first time I tried it... (fixed it with super glue) so I wanted to create less 'pressure' to be exerted. I wish PE would start selling thinner gasket tape; it would really make life much easier for me.
So this is what it ends up looking like: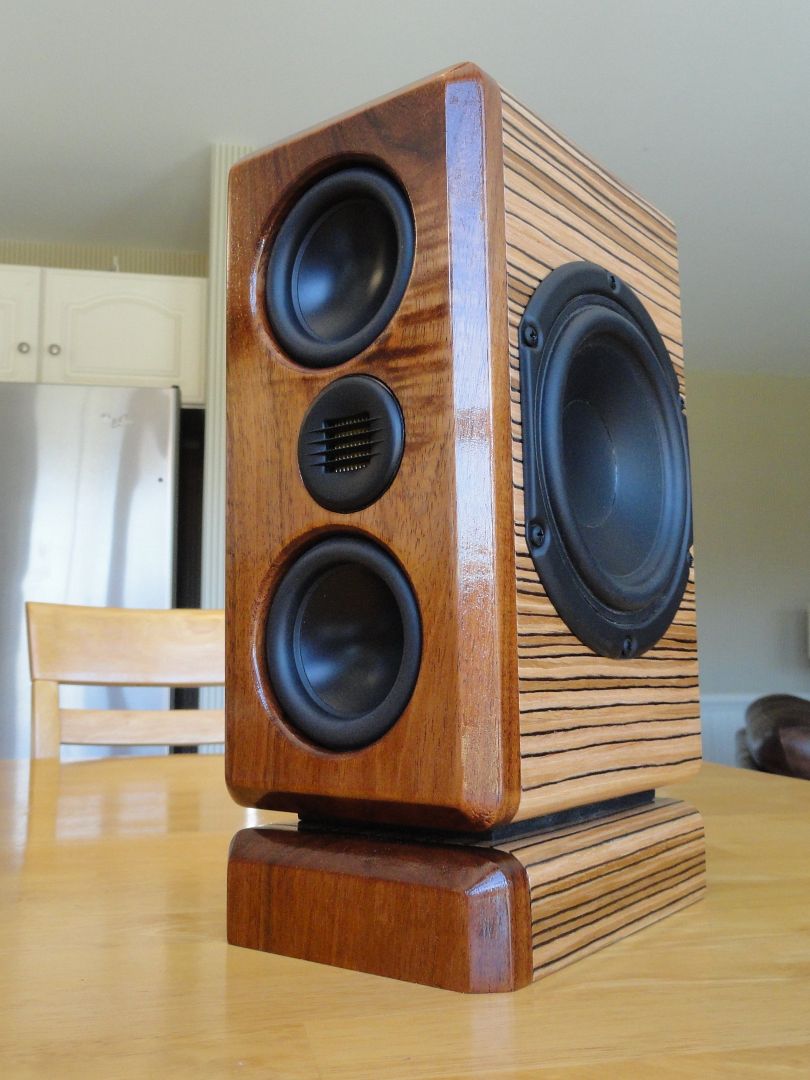 and the back with it's 12 mounting screws:
I felt like I was torquing down the head of a 350 Chevy small block with the back. Again I used a very thin width of gasket tape and cut most of it away for a tight seal without over-doing the torquing down process.
I have about 8-9 coats of wipe-on poly on them and I used Rustoleum painters touch on the back. Two quick coats at one shot.
Just
under 12" tall... just enough wiggle room to put a few thin felt bumpers on the bottom; and I do mean thin. I cut it close with the height.
I'd
really
like to get all the crossover bits in the base compartment, but we'll see.
I have a few leaks on where the back mounts because like an idiot I put the gasket tape on the outside of the screw attachment points instead of the inside... (duh) I'm too tired, making some mistakes so I'm stopping for the morning. Hopefully I can get this one buttoned down and ready to fire up my Omnimic later tonight or Monday.
TomZ