Some expressed interest in building the powered monitors I pictured below. Here is the pic again.
Start with the Parts Express RS722 kit. You won't use all of the crossover parts. But that's OK, the kit is still cheaper, and the baffle comes precut, it has pretty much everthing you need in it, and who can't use a few parts to put back and have on hand?
Next pick-up a pair of these 55 Watt biamp plates from MCM (Hey, PE - you guys really need to carry something like this, or a small fullrange amp, or both. Don't make us go to MCM for this stuff :D )
http://www.mcmelectronics.com/product/50-6277
Cut your holes to mount the amplifier modules
OK. Now after measuring the drivers on the baffle and modeling the 4th order active crossover in the plate amp I arrived at the following response shaping circuit that I placed between the amp and speakers.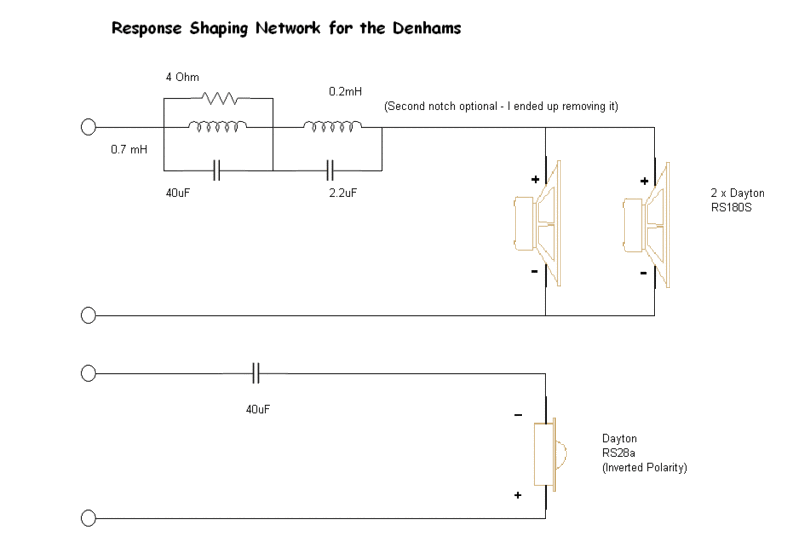 The cap on the tweeter was just for protection against any turn-on thumps, but I don't hear any from this amp, so it may not be necessary. I used it anyway though.
The first notch filter on the woofer combines with the driver's response and impedance to compensate for baffle step, flatten the baffle bump at 1khz and give a little lift at 2kHz, which is needed to get a flat summation at the crossover. The second notch (.20mH and 2.2 uF) suppresses the cone break-up. However, I ended up removing it. I found that the 4th order crossover did a good job here all by itself, and I got a very flat summation without using it, and felt the midrange was at a point where I couldn't improve on it anymore anyway. The reason I left it in the schematic was because I know some people don't like to use these drivers without dealing with this area. I didn't find it necessary though.
With everthing done I set the tweeter knob to the max and backed the woofer knob off about 2/3 of the way to get a flat response. These speakers have an exceptional midrange quality, and sound very good across the board. The only lack the deepest bass, but would work well in a home theater system with a sub.