So after weeks of agonizing over what speakers to build, I finally decided to go smaller and higher-end, and build the Zaph SR71's...
First things first: huge thanks and round of applause to Zaph for his enormous contributions to the DIY community, including this design. I have spent many hours pouring over his site, and have learned a tremendous amount from doing so.
Here is a link to Zaph's wonderfully detailed write-up of these speakers:
http://zaphaudio.com/SR71.html
So I ordered the "parts only" kit from Madisound... as much as I would have liked to build the crossovers from scratch, it was tough to pass up the 10% discount on all of the parts (including drivers) by buying the kit... I'll still have to solder up the crossovers, so I'll have some fun doing that...
I'll be building the cabinets from scratch, more or less exactly to Zaph's specs, so they'll look very much like these, only painted... not sure what color yet. The only other changes I'll be making is to make slightly thicker baffles (1.25" instead of 1"), and I'm going to have the drivers be slightly closer together. Doubtful that these theoretical upgrades would make any difference that I'd be able to discern, but what the hey.
So here we have the top of the cabinet being glued to one of the sides... in my opinion these first clamp-ups are the most crucial... get these nice and square and the rest of the cabinets will come together beautifully... the corner clamps shown here are an absolute godsend for this... sold for about $9 each at home depot... best $18 you'll ever spend... the clamp at the top of the picture is simply holding the assembly to a heavy iron right angle we have lying around the shop, so that I can hang the whole thing off theedge of the table, which makes it much easier to use the second right angle clamp underneath...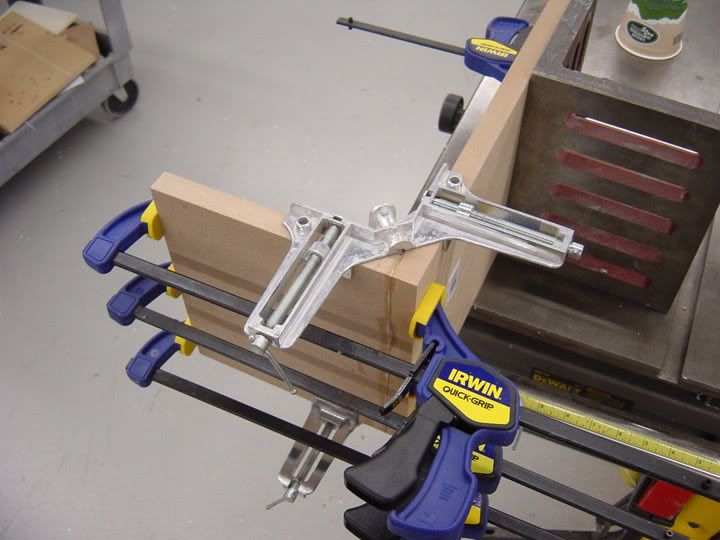 And now the bottom of the cabinet clamped up...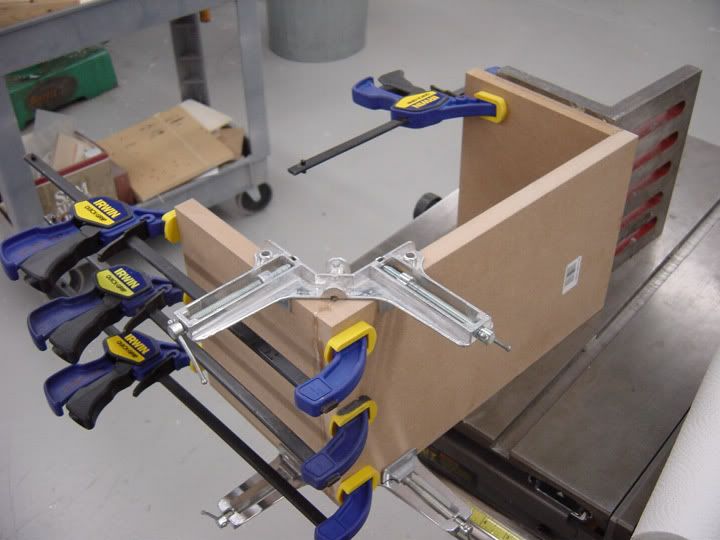 Here we have 2 layers of MDF (one .75" piece and one .5" piece) clamped up to make nice thick 1.25" baffles. I've made the baffles 1/8" bigger all the way around than the rest of the cabs, to be cleaned up later with a flush router bit. I'll also be routing a substantial chamfer on the back edge of the woofer hole so that the thick baffle doesn't interfere with the woofers...
Much more to follow...