Yesterday, in that way too long of a thread, there was discussion about how a transient perfect crossover can remain minimum phase in its summation off axis or even with some offset delay added.
For back ground, it mostly began with this exchange between Jay and me
(Please feel free to scroll past the quotes if you wish they are just reassembled here for reference):
One more minor thing. I think a transient perfect system is minimum phase, not only precisely on axis but also in a narrow, nearby off-axis region beyond which a phase shift due to acoustic offeset finally brings about a non-M-P summed response.

-jAy

Regarding a transient perfect system's off-axis window: Sure, there is a narrow window in which the summed phase errors are small enough to be inconsequential, so it may still be considered minimum phase / transient perfect. However, in reality errors begin to present themselves at some level with any movement off-axis. Now, the question becomes estabilshing a tolerance for the phase error that defines the window you are referring to. It is the same as asking how much do we turn down the volume before we say it's now quieter, or quite enough. Or how much can we turn down the lights before it is now darker. From a technical persepective though transient perfect isn't "perfect" as soon as the relative path lengths change.

Jeff B.
Then there was this series:
There is an important difference between MP and TP. TP implies MP, MP does not imply TP. If you have a system which is TP on the design axis and move off axis slightly there likely hood is that the system will remain MP but will now have non-flat amplitude, thus will not be TP. This still usually give better transient behavior that a non-TP system.
__________________
john k....

This is exaclty what I thought initially, but I was a bit confused after seeing Jeff and Dave's posts. Now I'm going back to my original position, not only affected by your post but also based on my simulation. A 1st order T-P system deviates from being T-P, but still remains M-P (not nearly M-P, as we might think), even when a small amount (the limit of which depends on Fc) of relative acoustic offset occurs between drivers (e.g., woofer's AC a bit behind tweeter's by changing the mic axis upward). I verified this via simulation.

-jAy

I Did not intend to confuse. John is correct about the difference between transient perfect and minimum phase as systems go. One is a subset of the other and to be transient perfect requires stricter conditions to be met than simply summing to minimum phase. However, the technical differences do not change any of the things Dave and I were saying as we used the terms in our discussion regarding driver phase response and even system phase behavior.
Jeff B.

The confusion arose because you and Dave's posts implied that a 1st order transient perfect system is strictly minimum-phase only when the drivers' relative acoustic offset is zero, without necessarily distinguishing between transient-perfect and minimum-phase when it's really necessary. You'll see it if you read yours and Dave's post again. The difference between T-P and M-P was the central point of my original post on this issue, if you read it carefully again:

One more minor thing. I think a transient perfect system is minimum phase, not only precisely on axis but also in a narrow, nearby off-axis region beyond which a phase shift due to acoustic offeset finally brings about a non-M-P summed response.

-jAy
Things finally wrapped up with this:
First, you are correct you did make the distinction between the two and I didn't pick up on it - mainly because, as I stated above, it changes nothing with respect to my reply and what I was trying to communicate. Yes, there is difference between the two which I stated above, but that difference doesn't really enter into what I was trying to say. We apparently won't agree - that's OK. (Although I am sure we actually do. )

Jeff B.

Your graphs posted above clarify what you were trying to say, and I agree. It remains though that errors do begin as soon as you go off-axis or introduce offset as you did. At first they may be too small to notice, so yes, there is a window that works just as you stated, but I said this too above. The phase doesn't suddenly switch from minimum phase to "phase all out of whack" there is a continuum that it goes through as you increment this angle. Of course, I am sure you realize that.
Jeff B.

I know what you mean, Jeff. But I don't think this notion applies here. Though I didn't post more simulations I did, this idealized BW1 T-P crossover doesn't exhibit any degree of non-M-P behavior until the acoustic offset becomes quite large and the summed response quite wavy. I used 1 kHz Fc to see it better.
-jAy
I understand what you are saying, and I am sure it stays fairly minimum phase looking for quite a while, enough that comparing line may not reveal it, but comparing numerical values may show the difference. But just to be clear, even though it looks correct, the phase change is a continuous thing not something that waits until the delay reaches a certain point before the phase begins to shift. So, although it may stay very close to minimum phase for quite a wide arc or with some offset misadjustment there is still some degree of error, even if it is small. Adding offset and saying that it is still minimum phase would be the same as saying that adding a small amount of delay doesn't add any excess delay to the phase at all, and we know that technically that isn't right, right?

Jeff B.

It was simply that if a system's summed response is minimum phase on a design axis (and this alone represents a fairly special case of crossovers), that moving off that axis technically changes the relative path lengths between the two drivers and the mic from what we had on the design axis. This change in path lengths adds delay to one of the drivers with respect to the other. It will change the summed response, yes - but, the added delay will also cause the phase to roll more in one driver pulling the summed phase off from minimum phase as defined by the summed response compared to what the HB Transform says the minimum phase would be. It may be a very small difference, but technically there has to be some difference none-the-less.

We can not add delay to an individual driver's output without impacting the existing minimum phase behavior of the summed system response. Don't you agree?

Jeff B.


I am almost ready to prove out my point mathematically, and I am confident in the results and would certainly stand corrected if I proved to be wrong. However, I don't have the time to do that at the moment because we have a family outing in a little while. But it does seem to me that we are straining at gnats here, don't you think?

I am really not just trying to just defend myself either. I am OK with being wrong. That's why I am willing to do the math and see.
Jeff B.
OK, so most of you skipped all of that above. Here's the results of the mathmatical test.
I used the same example given by Jay. I took a textbook First Order Butterworth with zero offset that results in flat summed response and a flat minimum phase response as well - in a phrase - it's Transient Pefect.
Next I offset the woofer back by 25mm. This created ripples in the response and makes the summation no longer Transient Perfect, but Jay's point was that it was still minimum phase.
Then I extracted the minimum phase from the summed response and compared it to the system phase response to see if they were still identical or not.
I was saying that although it appears to be minimum phase there are still phase errors present due to the delay added to the woofer which pulls the phase reponse off of what would be perfect minimum phase. I agreed though that there is a window where the system can still be described as MP but we would need to define tolerances to the phase deviation in order to say whether we still considered it minimum phase or not. In a post above I said it was like gradually turning down the lights to make it darker, but we needed to define when dark was dark enough.
Here is a plot of the test I referred to above. It include the summed acoustic response with the 25mm offset, the phase, and the extracted minimum phase.
It looks very close. Here it is zoomed in on the phase.
And here is the deviation of the phase from minimum phase.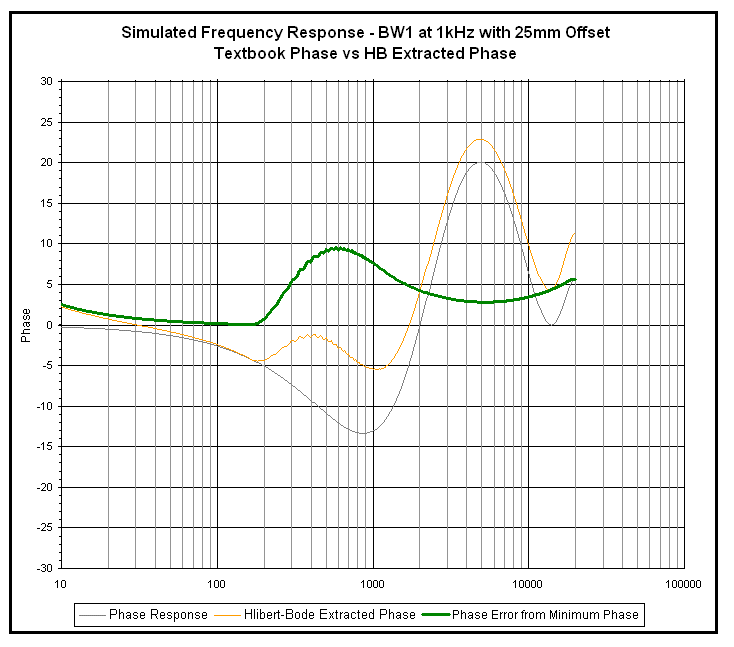 This shows exactly what I was trying to describe. However, it may show what Jay was trying to say too, because I think there is some subjective opinion about what stills fall into the realm of minimum phase.
Is this minimum phase behavior?
Not perfectly - which is exactly what I was saying.
However, I concede that for practical purposes the maximum deviation is only 9.5 degrees from MP and much less than this most of the time, so I would be willing to place this within that window that is very near minimum phase behavior that I mentioned above. So, in that I would be happy to agree with Jay from a practical standpoint. I was just saying that there is some delay added, so there has to be some deviation too. I will also add that it is really not as much deviation as I thought there might be for a 25mm offset. Keep in mind that is equivalent to only a 12.5mm offset at a 2kHz crossover, since this is more in the range we typically crossover.
Jeff B.