I just finished my crossovers for my Cello's last night, and I was thinking that there has to be a better way to make connections between components.
Of all the searching I've done on the net, I haven't yet found something I would really like to use.
So, I started thinking about what
I
would like to have when laying out crossover boards, and this is what I came up with...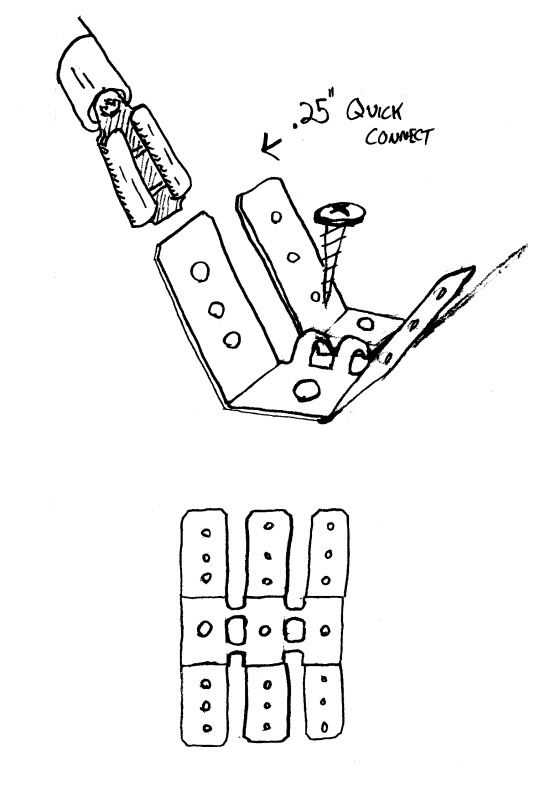 It's just a quick pencil sketch, but you get the idea. They would be constructed of just metal, fairly thick and strong, able to take a .25 quick connect for easy mounting of speaker cables and binding post connections.
They could be as long as needed, say 8 "V" shaped tabs long connected by the two little "humps" in between, which could be snipped with diagonals when needed, but could be left in place to aid in making bulk connections, such as the ground of a complicated crossover. In the lower pic, there are three tabs, but there's no reason they couldn't be manufactured with 10 or 20 long... just snip to your needed length.
They would have holes for mounting with either wood screws into your crossover board, or you could even use rivets to fasten to circuit board material.
There would be 3 holes for soldering components to, and there would still be two holes left even if a quick connect clip were attached.
Having something like this would greatly simplify my crossover building time, especially for those crossovers that are a bit more complicated. It seems pretty simple in my opinion, but I think it's what I've been looking for. Does this exist anywhere? I really don't want to start manufacturing crossover terminal strips, but I may have to make a few just to see how effective of an approach it would be.
What do you guys think?
or :(
TomZ