I can't find the recent thread Dan and Robert conversed aout them, so I'm top-posting to show off my version.
Here's the Pjay proto that was the inspiration initially:
Here's mine:
I still have to do some minor soldering and mount the Mid and Tweeter polarity//on/off switches on some angle-aluminum stock to allow for height clearance, but they are currently able to proto. Who wants to swap wires when you can flip a switch? I can imagine I'll bridge the adjacent negative terminals, and keep a couple copper-rods around to connect +/- through on 2 or 3-ways, or just use some flying wires. Wiring the middle terminal pairs as inputs to a 3-way could easily be done. I figured I could at least do a 6th order electrical on a 2-way if necessary, so I have enough connection points, not to mention plenty of configurations for layout.
They're 9"x15", 0.22" Acrylic panels. Thinner will crack easy, and masonite or luan ply will tear out and not support the jack mounts. A sheet to cut in half is about $14 for the total of 2x 9"x15" boards at HD. Use an awl and mallet to mark the 3/8" spacing on terminals and screw-shaft, and drill through with a 5/32" for the threaded shaft and 11/64" for the terminal holes. Nuts and lock-washers are provided with these jacks at Apex Jr. (10x for $10):
http://www.apexjr.com/Jacks.htm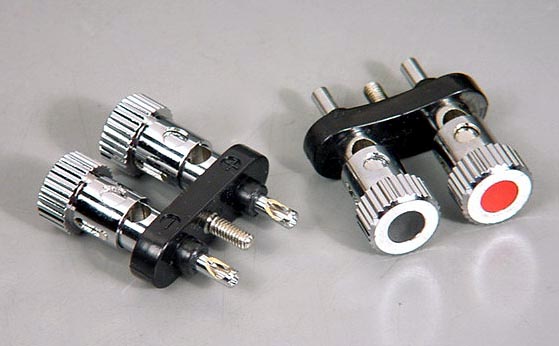 I used 15 jacks, and any regular banana-post input for these. The 6th one down from the top on the ApexJr page would probably work fine there.
Later,
Wolf