After deciding to build a small subwoofer for my home office, I looked around for a respected design. Noticing the popularity of Roman Bednarek's Cerberus, I decided to go with his design. The sub will be used for music, both in my office and my RV, and probably as a computer sound system.
The Cerberus uses the TangBand W6-1139, a very popular driver as evidenced by the number of builds, and the rather dramatic increase in price. The 11" X 11" X11" enclosure is constructed of 3/4" MDF.
I opted to go with the larger port size, primarily based on advice given on this forum. Roman's original design specifies a 1-1/2" X 4" flared port (PE part number 260-402), a size arrived at for practical reasons, i.e., the limited space within the confines of a small enclosure such as this one. As Roman mentions on his
website page
, the 1-1/2" port can produce audible chuffing, but only when used at very high volume levels. Several recent builds have used a 2" port, 17" long -- the port I elected to use.
As is my habit, I first drew the enclosure, driver, port, and amp, to scale using a CAD program. I take a few liberties that would make my old mechanical drafting teacher shudder, forgoing a maze of dotted lines for the sake of clarity. Here's a bitmapped image of the drawing: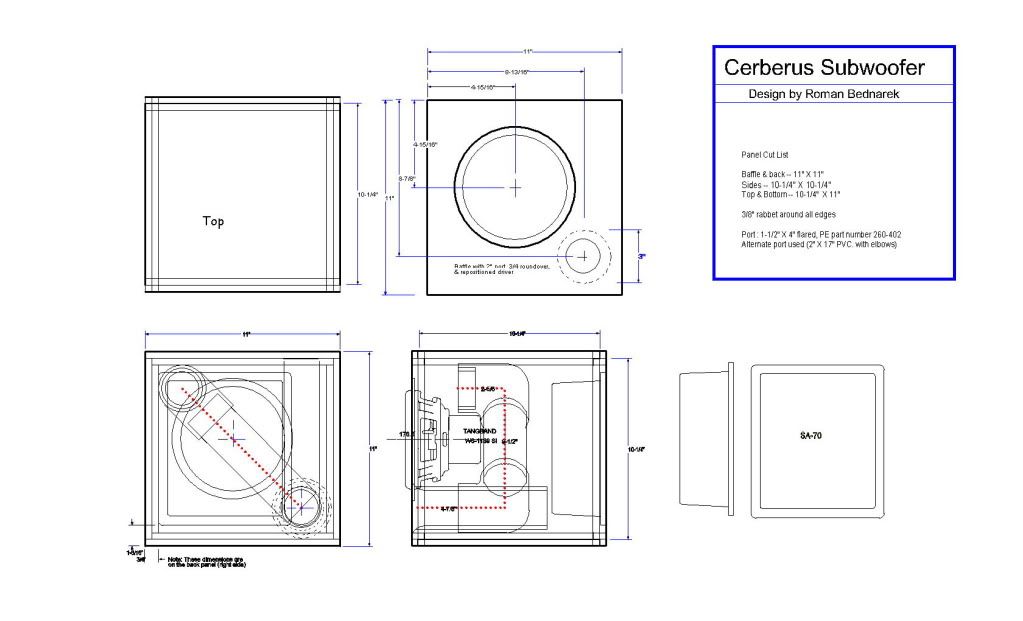 The drawing shows the
rabbeted joints
I will use. I decided to use this technique after reading an early post in what has to be a
record length string for the Nano Neos
, and NTN's. Chris Roemer commented that he used a rabbeting technique, and having tried several joint types all having their own disadvantages, I decided to give it a try. I'll be back later to continue with this string. I'm going to make some sawdust...