Hey guys, as talked about in another thread here and a different one in the Gallery, I had proposed to do a thread on "Spraying outside" and achieveing a great finish and I decided to also touch on a few topics about finishing in general and how to achive a "Professional" finish in sanding , staining and spraying outside. This thread will also have a second part coming next week on "How-to" take a cured topcoat and acheive a "Piano Gloss" finish is so desired. So first off lets take a look at some of the tools we'll be using and get this thing started. I kinda worked this project in while I was spraying another Cabinet today so I wound up having a handful going on, so lets go.
In the first pix is a shot of the gun I will be using along w/ 2 diff kinds of masks and the product we will be spraying. The gun is a "Graco Finex" not the cheapest gun on the planet but deff not the most expensive . Great mid-priced HVLP for wood based finishes. The topcoat is ML Campbell "Krystal" Conversion Varnish. It also should be noted that if you werent using CV and were say using "Lacquer" you could use the exact same procedure here except you wouldnt be adding a Hardner to the topcoat. Also there are 2 diff kinds of Mask. I dont think I have to say which one you should be using but alot of people think the thin white dust mask are just fine, well you be the judge, but I wont risk my lungs on it, use the filtered kind!
Close-up of the gun.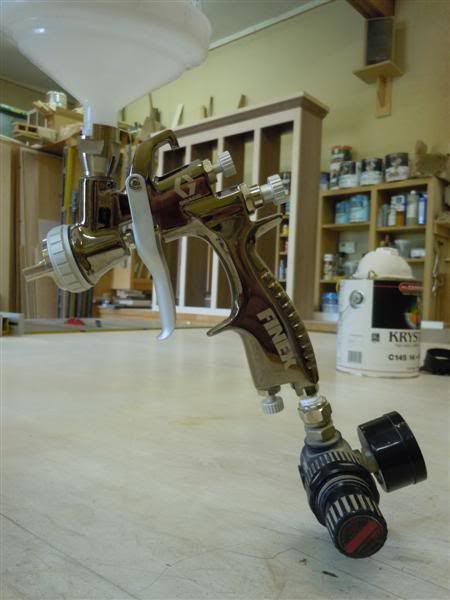 Next pix is a shot of the actual product and what you will need to get prepard for spraying. We have the CV and in this case a "Satin" finish for sheen, a graduated mixing cup in ounces a mini graduated cup in 1/10 ounces (For the catalyst)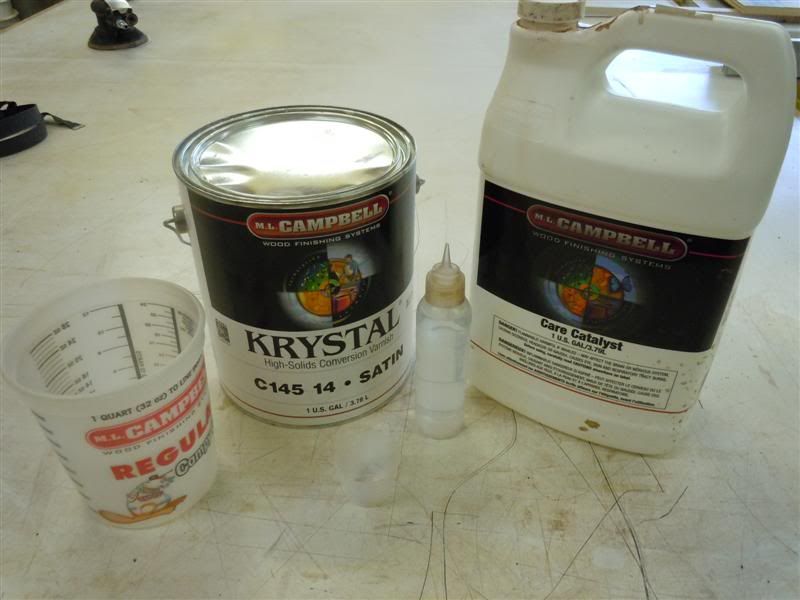 OT- Cant be spraying w/out a little "Blue Grass" playing ! :D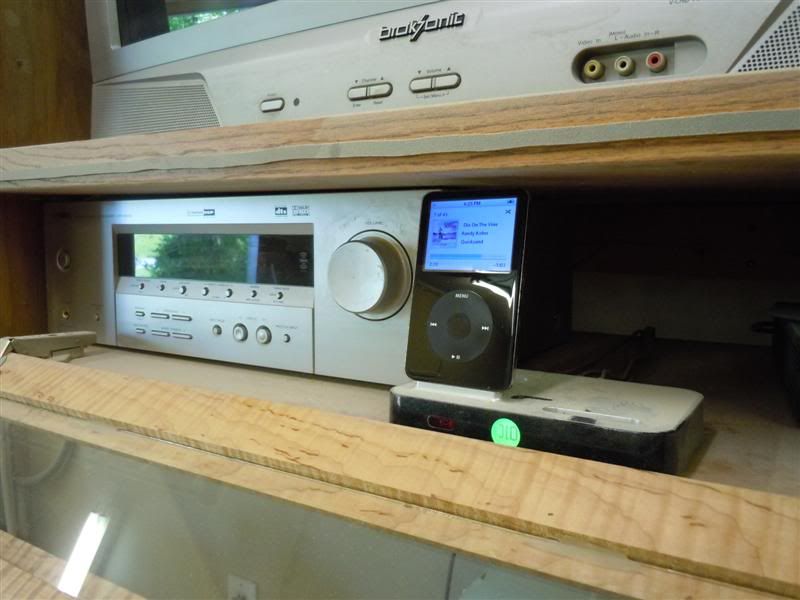 Next shot is of the CV measured at 16oz and the hardner measured at 1.75oz and ready to be mixed.
Mixing the hardner, I usually like to stir for around 2 mins . Also here is a shot of the "Speed cups" I use for product. There made by "Sata" and they have a quick release cap which allows the sprayer to go from ... say sealer to topcoat or even changing colors in just a few seconds w/out having to stop, clean your cup, remix your color or other product. Pretty good little setup.
Part 2 next post. R.K.