Well not another TriTrix
for me
, as it's my first, but there are obviously quite a few in this forum. This is my second build ever. The first was the Ed Frias ar.com DIY design, which I built maybe a month ago. I can see what you all enjoy about this hobby, as it didn't take me long to jump in with #2, and I have #3, 4, 5, and 6 planned out already.
Anyway, I am following the much-repeated advice to build an established design, and I went with PE's CNC TriTrix cabinets to move forward quickly. Assuming these work out, my plan is to use them to replace the front speakers in my 5.1 HT setup. After that, I'll work on sealed TriTrix center and rear speakers, followed by a worthy sub of some sort.
The cabinets went together very quickly, and mostly without issue.
I started by tapping in all of the hurricane nuts, with a dab of epoxy to keep them seated. (I also tested screws in each of them to make sure no epoxy squeezed into the threads.) From there, I glued the baffles to one side: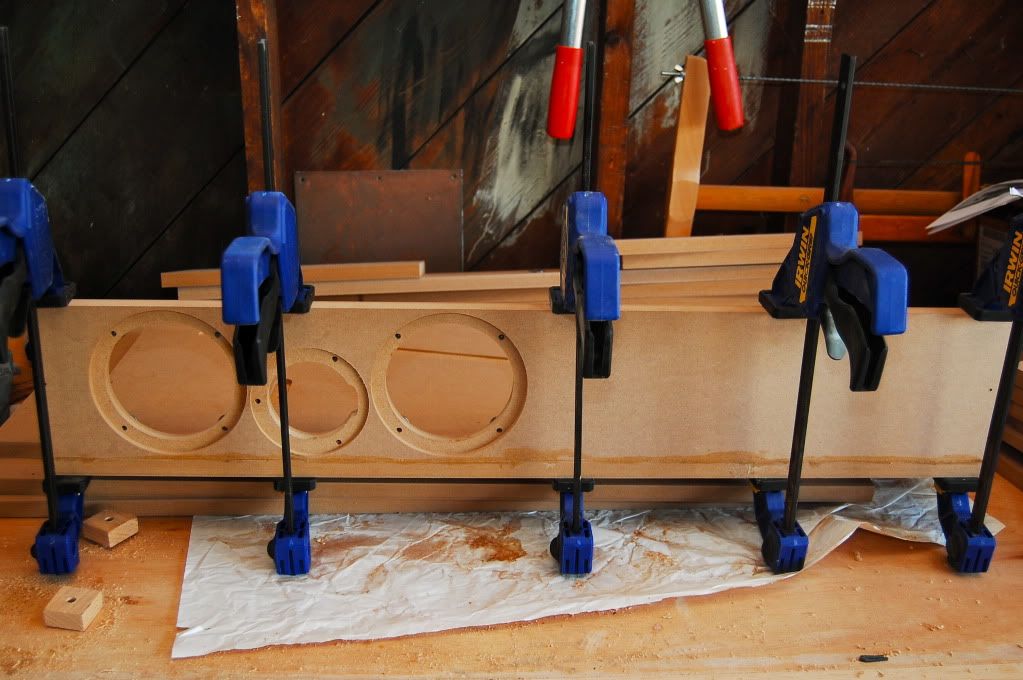 From there, each of the other cabinet parts was glued in place, with each new piece referenced against the previous one:
I continued adding pieces at a fairly leisurely pace over the course of a Saturday afternoon and evening. This was not intensive labor...I took many breaks for things like running my step-daughter around to get ready for prom, the obligatory photo session at The Date's house, dinner out, etc. In between, I removed clamps, clamped new pieces in place, and by the end of the evening my cabinets were in pretty decent shape:
In the previous picture, it looks like the top of the left cabinet is angled, but it isn't. Just a little lens distortion.
The next day I set up a make-shift painting area: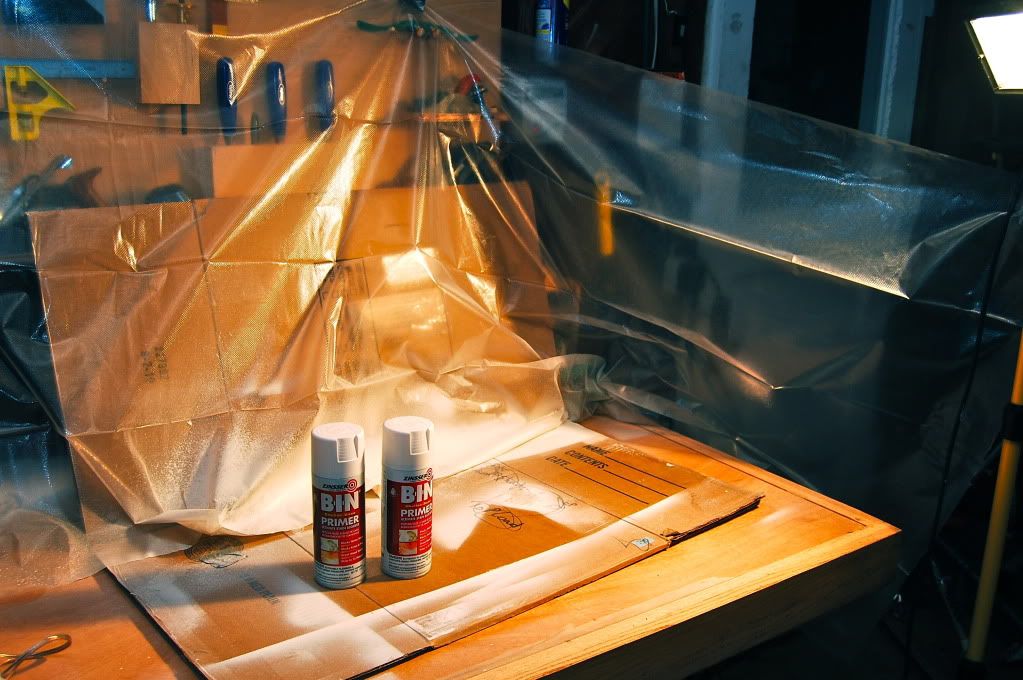 Obviously I am not a pro, but this was sufficient to get some primer and black paint in place. At this early stage of the build, I just wanted to paint the driver cutouts and all of the interior that could be visible from the rear transmission line opening. Eventually my plan is to finish these cabinets with cherry veneer, so I wanted to get the interior painting out of the way long beforehand.
My ultra-crappy paint job on the driver cutouts: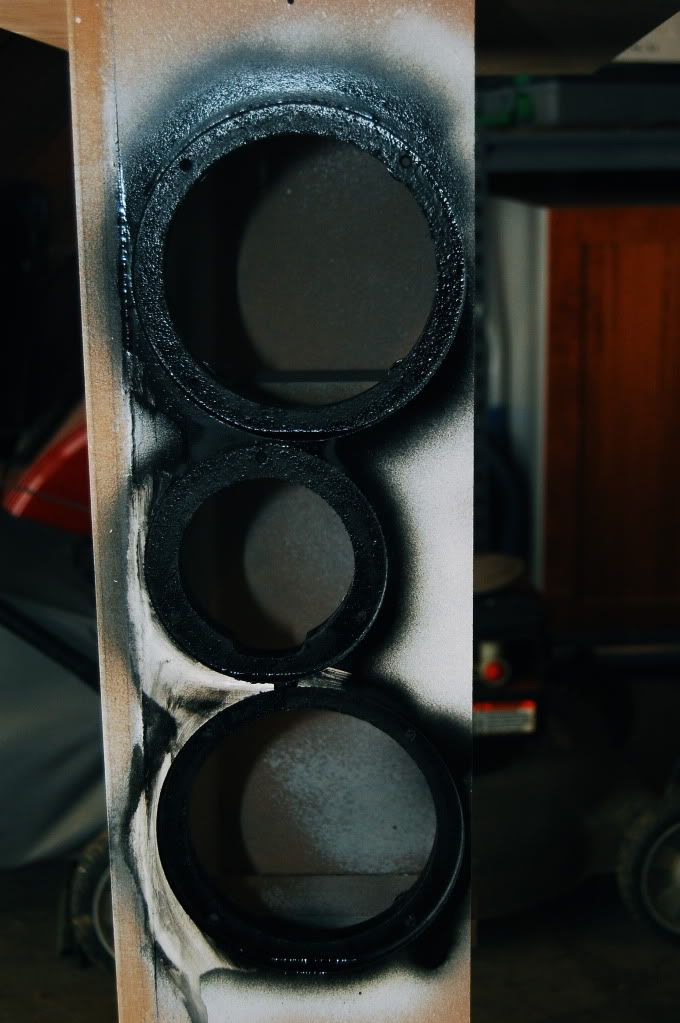 They don't look this bad in person; I blame a too-heavy dose of flash from my camera for the picture above. However, I was NOT happy with the look of these cutouts. I used 2 coats of Zinsser shellac primer, which covered pretty well, followed by Valspar black lacquer in a spray can. It wasn't until I looked at it in the light that I realized I should have sanded these openings. (I had skipped that step, figuring no one would ever see this part of the speaker.) I also put the paint on way too thick, as evidenced by the runs that I lamely wiped with a t-shirt. I can't remember the last time I used a can of spray paint, so obviously I have room for improvement. But these things can be fixed....
Here is what I did on the inside of the cabinets:
What looks like a scratch in the center back of the left cabinet is just a reflection. These turned out pretty good, much better than the driver cutouts.
From there, I started thinking about the crossover. Some of the builds I have seen in this forum have the crossover positioned on the 45 degree slope at the bottom rear of the transmission line path. I thought that was asking for trouble, as gravity would be working against me, so I decided to locate mine on the flat bottom of the transmission line path. I measured and determined that a 4"x5" crossover would fit very nicely, as long as it was slightly elevated (say, 1/2").
I cut 2 pieces of 1/4" plywood to size and laid out my crossover on paper. For neatness, I decided to drill holes for each component lead and wire them on the underside (which wouldn't cause any problem with mounting as I had decided to elevate the crossovers anyway.)
I didn't take any photos of the layout and drilling process, but this is what I ended up with:
For wire, I used a short length of zip cord for attachment to the binding posts. The drivers will be connected using jacketed 18ga wire rated for in-wall use, which is the white wire visible in the photo. Here's a better view of a single crossover, complete with my little blobs of hot-melt glue: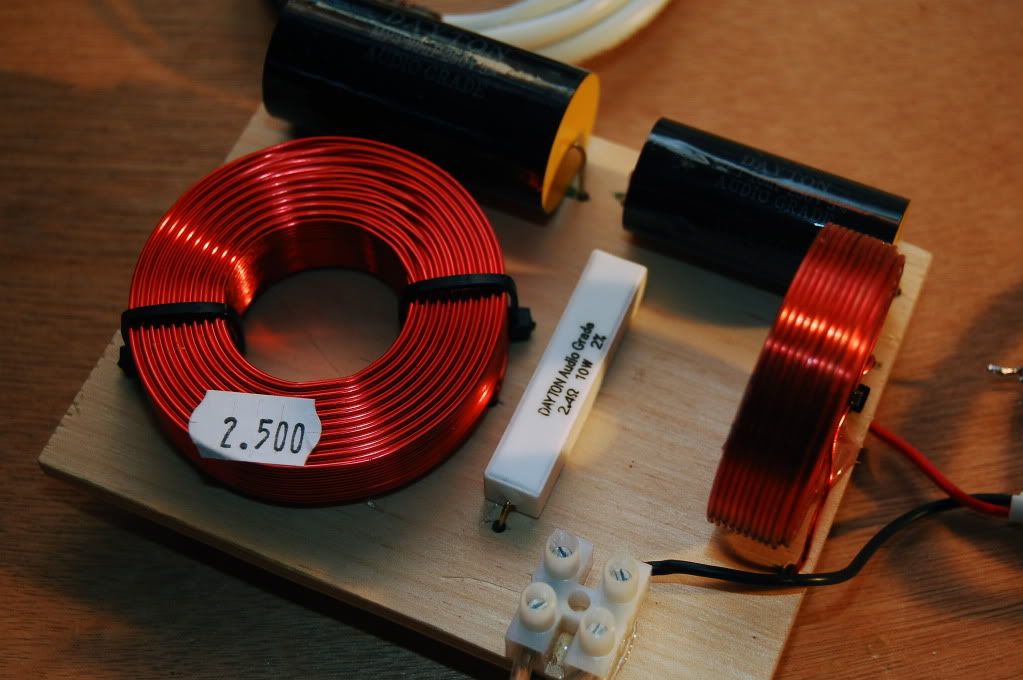 I remember learning, somewhere, that a tripod is inherently more stable than a 4-legged stool. I made three "feet" for each crossover by cutting a half-inch dowel into 1/2" lengths, which were glued to the underside of the crossover. This is how they look installed in the cabinet: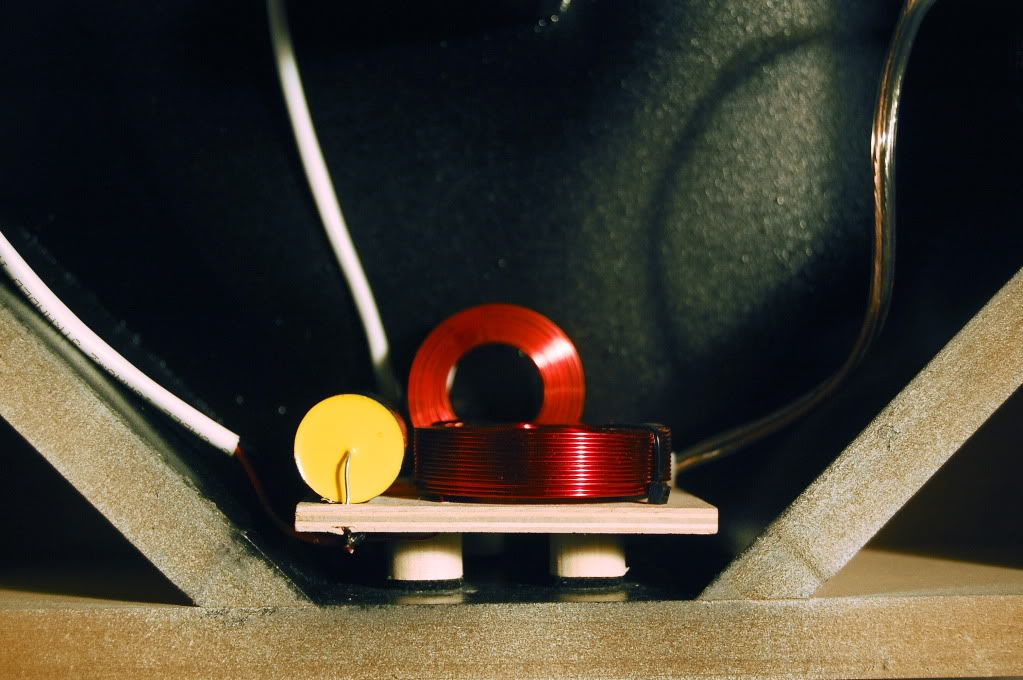 If you look closely, you will see that there is a small circle of velcro between each crossover foot and the cabinet. This is so the crossovers can be removed for repairs after assembly. Velcro is not the strongest substance out there, but again, I have gravity on my side and it seems like this will hold.
Once the crossovers were completed, I decided to go ahead and seal the cabinets:
I had some trouble getting everything to line up, but nothing major. What worked for me was lining up the top edge, getting the upper end of the cabinet divider started, and then pounding it home little by little with a rubber mallet.
I could have stuffed the cabinets before closing them up, and it appears many people do, but I decided to wait. There is ample room to stuff through the driver openings, and there is a lot of dust ahead (sanding, rounding over the vertical edges of the baffle, etc.). Without stuffing in the way, I can always shove a shopvac through the opening to clear out the insides. My plan is to finish the cabinets first, and then stuff them to taste.
I started this project on Saturday 4/30/11, so these photos represent that weekend plus an evening or two last week. I started on some of the finishing work this weekend (Mother's day), but don't have the photos ready to post yet. They will be up as soon as I have a chance...