I realize my timing is horrible, going up against the latest from the great(and I mean that
) Mr. Carmody and all, but today is the day that I have to post this, so here goes...
Meet the Dadiels: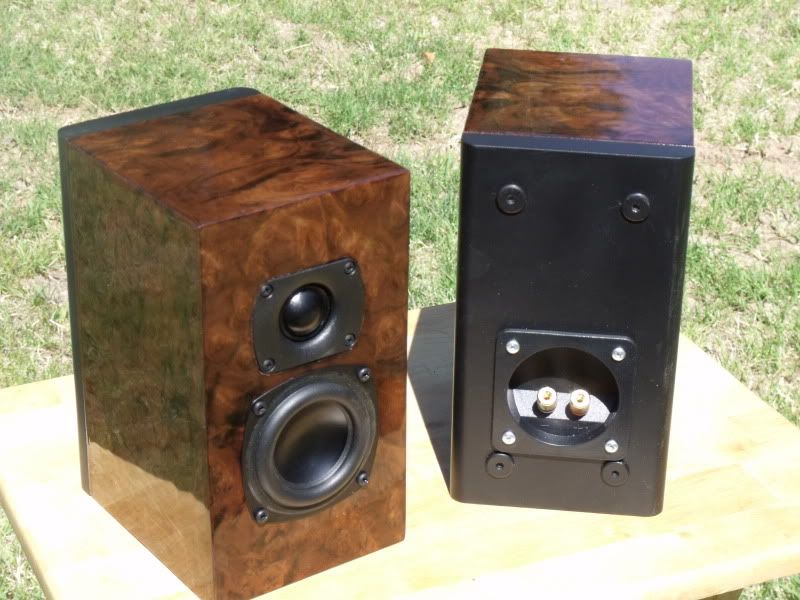 I had a challenge in front of me. Build a very small, low cost, relatively high quality speaker to give to my step-daughter for her birthday. Looks and sound quality were important aspects, bass extension, not so much, as they're intended use was to primarily give better sound for watching TV, and secondarily be a decent music playback system, All in a tiny shoebox of an apartment.
My original thought was to just build a pair of Overnight Sensations, or maybe Nano Neos, but the wife nixed the OS's because of the gold colored cone, and the Nanos were just too big. I (and she) liked the look of the black aluminum ND series, though, so we had a starting point. I then looked at putting the ND105 in a sealed cab, but even that was looking a little large, so I looked at the ND90, which looked perfect. It's also advertised as a drop-in for the Aura NS3, so I went over to Madisound to have a look, and found them on clearance for $12.50 ea. As far as the tweeter goes, I already had that in hand, as LouC had given me a pair of Vifa BC25SC55-04's when I went to visit him in Tucson a while back.
So, drivers in hand, I set about designing a box and crossover. I knew that I wanted as small a box as possible, while still being relatively flat, so I ran the TS params through Jeff B's Woofer box and Circuit Designer spreadsheet, and played with the values until I got to a 2 liter sealed cabinet, which resulted in a broad peak from about 100 to 230Hz, and rolled off basically second order below that. Resulting box F3 was 80 Hz, and F10 about 57 Hz. Works for me! I then ran the woofer and tweeter through Response Modeler to add tweeter diffraction and woofer baffle step effects.
Then, the trouble started.:eek:
Try as I might, I could NOT get the phase to line up properly. I tried varying topologies, symmetrical, asymmetrical, 3kHz, 3.5kHz, on and on and on. No Joy. Either the FR was flat, or the phase was in line. Never both. So I left it alone for a couple of weeks. Meanwhile 50 Watt Head inquired about an improved crossover for the BR-1's. I told him that what he should do is take a look at the MurphyBlaster xo, but that I would take a shot at it. In the process of that, I got reacquainted with the Zobel network, and had a mini-brainstorm. "A Zobel! Why didn't I think of that?" So I went back into PCD, and entered a couple of random values as a Zobel, and immediately the phase came closer to lining up, and with a dip where there was a peak before! So, a little tweaking later, I wound up with the following crossover:
This resulted in the following modeled response: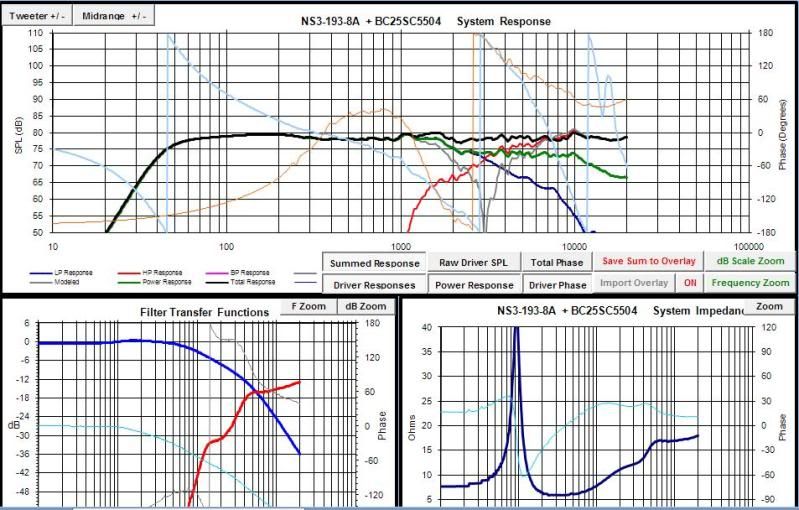 I built the xo's with resistors,coils, caps and buyout 10uF caps from Mad, along with a pair of .1 mH coils that I had in stock (a first!
)
I set about building boxes, outside dimensions are 9"Hx5"Wx6.5"D. I wanted these to be (actually my wife insisted:D) burl walnut on all sides, but I needed a removable panel, so I elected to go with a removable rear panel. I'd love to have the tools and the skill of someone like Bill Schneider, but alas, I don't, so I went with a simple bolt on rear panel, rounded over with a 1/2" radius, and painted flat black. I did a very poor job of flush mounting the tweeters, but it's only visible up close, so that's okay. Midwoofs are surface mounted. I veneered with the aforementioned burl walnut (unbacked), using DAP Weldwood contact cement. I know this method has been derided often and thoroughly, but it's worked well so far, even withstanding a day in the oven of a car interior in Arizona, when I took a cab down to Chandler to show off to Ron (Soundslike). Nary a bubble. Good enough for me.;)
So, how do they sound?
Really nice, if I do say so myself. The bass has a LOT more authority than I would have expected from the woofer and box, and they go quite loud before getting obviously stressed, in fact, when I showed off the first one to my wife, she had a hard time believing that it was the only thing playing.
I'm satisfied, my wife is satisfied, and my step-daughter is ecstatic.
Mission accomplished.
Some pics: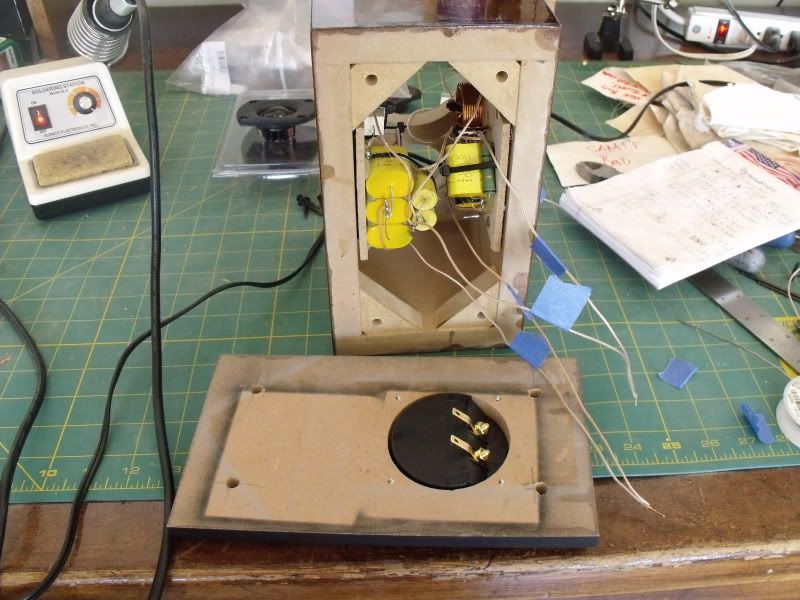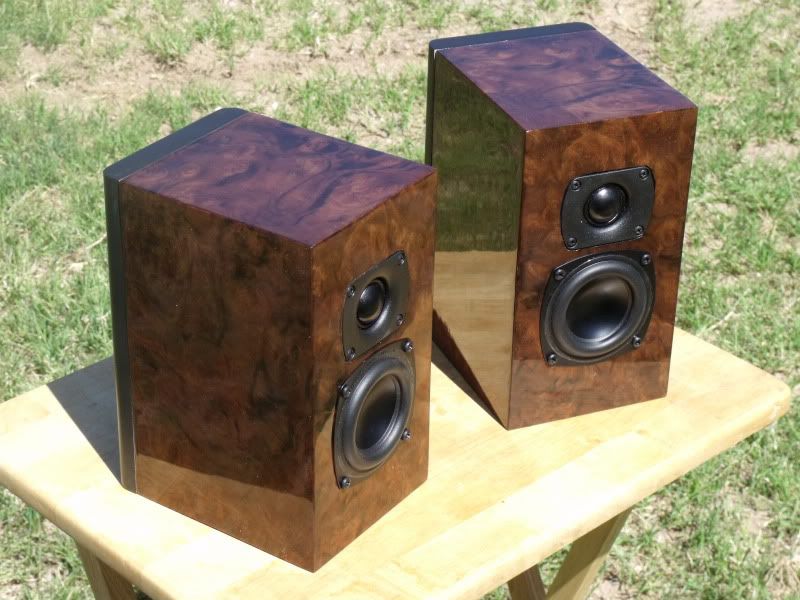 Given their purpose, I would say that NPE's in all of the Cap spots would not detract significantly, and as the current Flier has the BC25SC15-04 on special for ~8 bucks, the pair could be built for ~60 bucks, plus cabinet materials. However, a lot of you probably have the scraps to make the cabs already laying around, so here's a use for them!
Hope you like it!
Mark