TN Allen mentioned in some thread that he had some waveguides he'd like tested, but didn't have the equipment or know how. So I offered because I've been on a waveguide hunt for a while now. I've used the Dayton 8" waveguide for a few months, so that is where some comparison in this thread comes from.
First off, a picture of a couple of the waveguides and an 8" by 10" baffle with a 1/2" chamfer all the way around. It was a sloppy fit, just a quick jobby with a jig saw.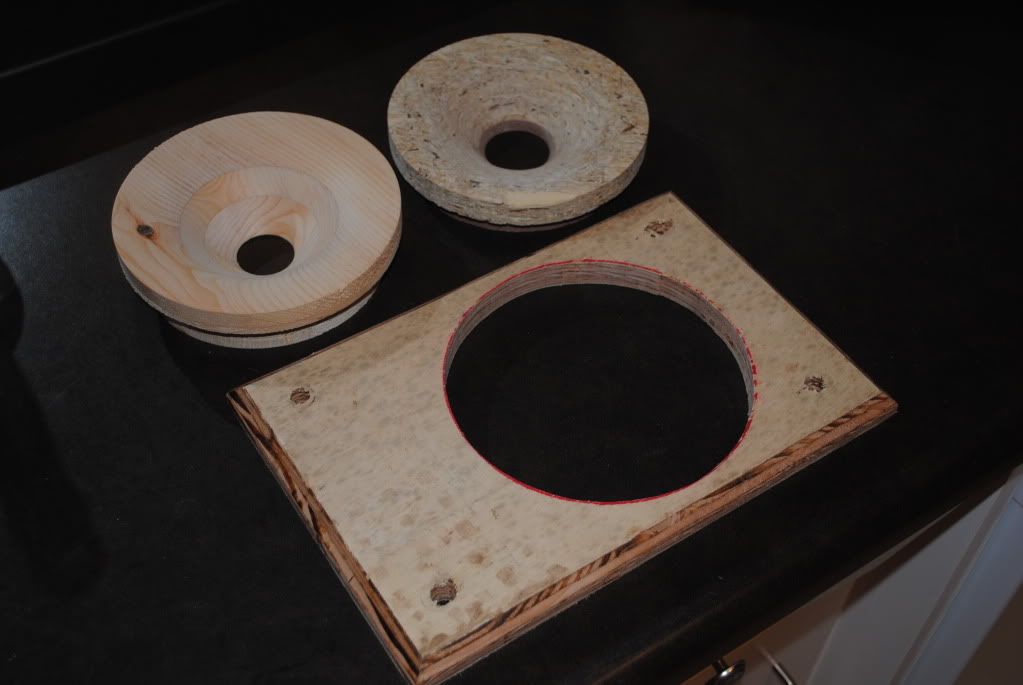 The following measurements were done with an SB29RDCN-0004, a Dayton ND28F-6, and a Tang Band 28-847SE. Each waveguide was measured on axis in with each tweeter. If that was quite poor, then I moved on quickly. If it was ok, I measured at roughly 22.5 and 45 degrees. I measured at a fairly low volume at 0.6m.
Each waveguide was assigned a letter A through E. The waveguide dimensions were quickly measured with a tape. Dimensions were all fairly similar, with 2 waveguides having a narrower throat and straight profile, and 3 having a wider throat and contoured profile. The overall diameter was approximately 165mm (6.5"). Very nice dimensions for aligning acoustic centers and matching diameter with a common woofer.
Here we go. First up are three nice measurements with the ND28.
And here is the same thing with a 6.8uF cap in series. Almost a perfect LR4 at 1100hz, but that's where Fs is too, so more would be needed ;)
Next we have what I thought was the nicest of the 5 with off axis measurements. (Sorry about the reflections out at 45 degrees).
SEE POST BELOW WITH BETTER MEASUREMENTS
The top octave here, looks very similar to what you get with this tweeter flush on the same baffle.
Moving on to the SB. I missed waveguide B for some reason, but previously measured it to be quite similar to A.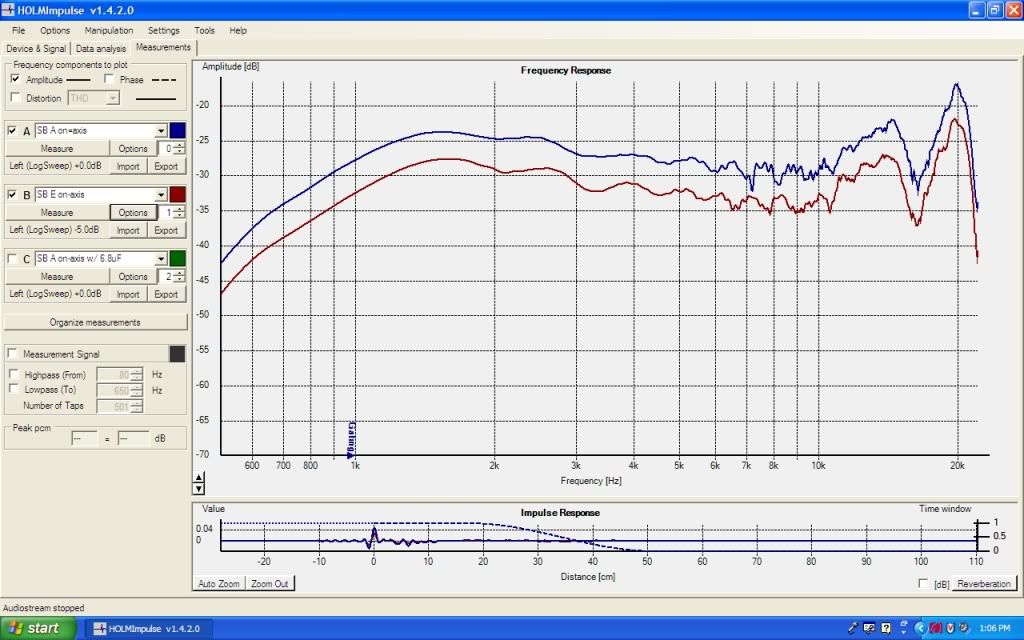 And with the 6.8uF cap.
Upper octave garbage doesn't bother me, but it is a concern. This tweeter does that in the Dayton waveguide also.
And here we have the off axis stuff.
SEE POST BELOW WITH BETTER MEASUREMENTS
Finally the tang band. It was ok.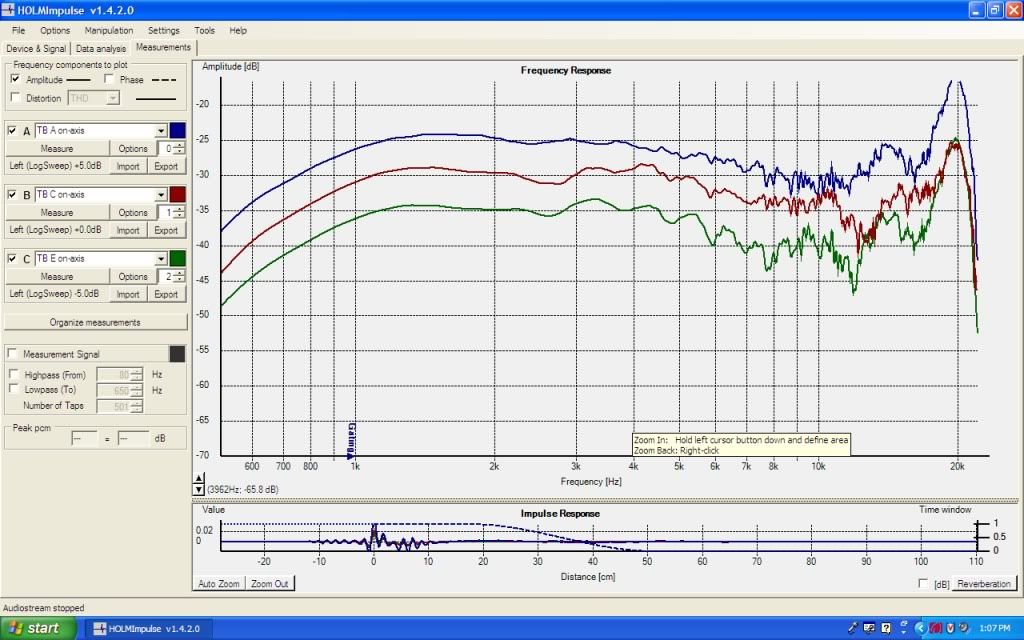 This tweeter was insensitive to the waveguides with only mild gains in the low end.
Just for kicks, here is the Dayton ND28 in the Dayton 8" waveguide.
And this is a couple bad results.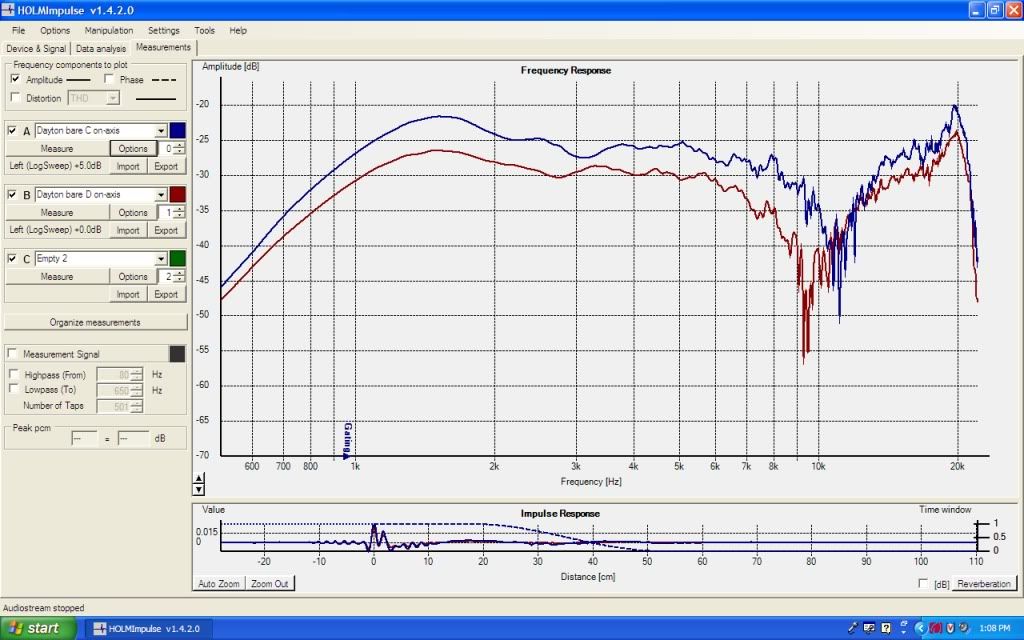 Personally, I think A and E are the nicest. I think I'd take A. I plan to do some more rigerous testing with A. I would like 3 of them :D With how cheap the ND28 is, or how good the SB is, a fine system can be made with these. C and D were not very good. A, B and E were all similar. I also think A, B, and E could accept different tweeters, because the repsonses were similar accross 3 different tweeters.
I have plenty more measurements I can post, such as other off axis, bad measurements, SB in the Dayton 8" waveguide, etc. I can also try measuring with different filters if anyone is interested. I really think TN Allen has milled some great waveguides. I will be begging him to cut me some from this:
http://www.ebay.ca/itm/Maple-Burl-Lu...item5d31b5aae9
Feedback is appreciated. Look for Arlis' measurements coming soon also, with the RS28 I believe. Once they've been measured thoroughly, TN Allen would like to get the x-section out to the public to start making these things, so input is needed now.