So finally pulling the trigger on this. Been threatening to for a while, the time has come... the layer of dust that has collected on the RS270's is
juuuuussst
right...
These were previously named the HobGoblins... it's now been changed to The Bombers, to pay some homage to the SR71's.
So I already have SR71's (ER18RNX + 27TBFCG), which I adore... but I also crave big 3-ways, and I have a pair of RS270-8's just sitting around (Dayton Reference 10")... so with the help of Michael Zisserson The Almighty, the SR71's and RS270's are being combined into an all new 3-way design... Mike's crossover design will be posted later.
So this thread will focus on the bass cabinets. If you'd like to see more about the SR71 cabinets, go here:
So here we go... The bass cabinets are 1.5 cu ft sealed, made from 1/2" baltic birch... I was tempted to go vented, but I still plan on using a sub, and the vented ones got really goofy looking because they were quite a bit bigger... not like these are going to win any beauty contests, but might as well control the bleeding...
No, the upper cabinets are not set back... they are flush to the fronts of the bass cabinets, with a 1/2" gap (this gap makes it look like they're set back)...
First I will construct the bracing structure. The 1.5" radius rounds on the front corners will be made on the lathe/milling machine. The short bits along the edges will just be scraps of 3/4" mdf. Center post is a 1" oak dowel.
Next I will quite literally wrap a piece of plywood around the bracing structure. The plywood will have dato cuts in it to accept the window braces. The large curved radii on the back will be kerf cut, and possibly soaked in water first if necessary (kerf cuts not shown)
Then the top, bottom, and baffle simply glue on. The baffle will also have dato cuts to accept the window braces.
Cabinets will be veneered with a very dark wood of some kind... or maybe not so dark then stained dark.
Here is MikeZ's crossover design...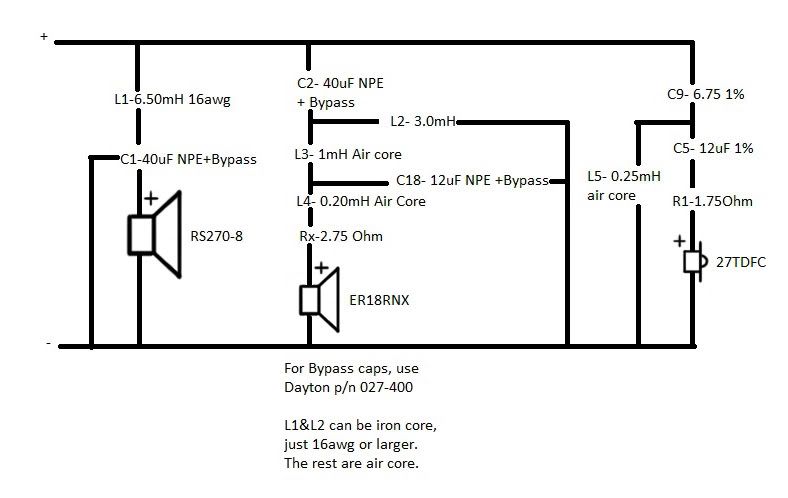 And the PCD plot thingy something or other...
Build starts this weekend!