Recently, as part of my testing, I've been trying to do compression power doubling. I set my system to 0db. My mic preamp to the lowest setting. And the test program (HolmImpulse in this case) to -24db. This is pretty close to 2.83V at the terminals iirc (I'd have to double check that). I then measure in 3db increments, ie. -24, -21, -18, etc. all the way to 0db. To compare, I then offset the -24db result the difference to see how they line up. So, to compare -24 to -12, I'd offset the -24 result +12db. Then the should overlay.
I recently tested a new tweeter that is relatively pricey (>$75) doing this. I won't say which tweeter to keep the discussion on topic and I'm also unsure if what I got is considered good or bad. So I don't want to unintentionally defame a tweeter that may perform good.
The tweeter is in the center of a 12x12 baffle with a 1/2" chamfer. It was flush mounted. My current soundcard calibration isn't good hence the blip at 20khz. I get that on all measurements. I put a 5.9uF and 0.44mH filter on it, randomly, to protect it. It's not a cross over slope, just a random filter.
Here are my results:
First to show the tweeter stays linear within the first few runs, here is -24 vs -18db. So this would be 1watt vs 4watts roughly.
Stays pretty linear.
Ok, lets skip all the rest and jump right up to -9 vs -24db.
And then -6db.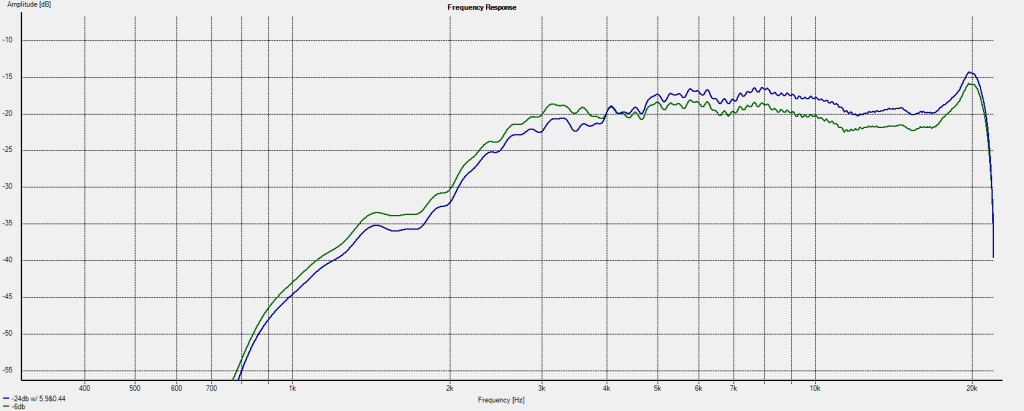 And now -3db.
0db was just nasty. Distortion quadrupled and the sound was disgusting. My equipment was maxed out, so it may have been that. I'll leave it out.
What I'm interested in is the fact that output increases at lower frequencies and decreases at higher frequencies. I assume the lower frequency output is actually distotion, and the higher frequency reduction is compression.
Please discuss and feel free to ask for additional information about the results. Is this good, bad, what causes it, are people doing tests like this, am I doing the test properly, etc.