Ok, so I've been wanted to try my hand at an OB speaker and I've spent hours pouring over dipole threads, and making my thumbs bleed in spreadsheets, and looking to cut costs by using cost effective drivers and even reusing some drivers I already have on hand ;) So here is what I have, and I'm posting for open critical advice and general comments.
The design is a three-way meant to operate 100 hz to 20khz, and my goal was at least 86db /W @ 1M sensitivity. So far it looks like a 90db / 2.83V @ 1M 4 ohm speaker, giving me +1db watt sensitivity over budget (yay).
It uses a compliment of 2x DA270-8 10" Dayton Audio Aluminum woofers, RS150-4 midrange, and <insert tweeter here>. The tweeter I'm designing against here is the SB sale tweeter at Madisound, TWD25. The thing is, with the 2.5khz LR4 slope, most tweeters would work if they are >90db at 2.83V @1 1M. I picked the RS150-4 because I already own it and well, its damn fine for the price, excepting the breakup which I notched out heavily as you'll see in the PCD results.
I played around with many many options for the woofer. The design started with the TB W6-789E because of pure efficiency, but eventually I had to cave for a driver with more surface area and xmax. The DA270-8 fits this nicely, and its cost-effective to boot! The distortion plots on this board show it to be a competent if not superior driver, and I'm only asking 2 octaves of it anyway. Plugging its values into the SPL spreadsheet from Linkwitz gives me these SPL limits at xmax:
So that 100 db at 60 hz, 107 at 80 hz, and 112 at 100. Nice, that'll fit the bill. I won't even show the 2x TB version, its ugly!
I ended up picking a BW2 filter at just below 500 for the woofer to mid because that cancelled out the dipole gain of the baffle cleanly, cutting back on needed XO parts. That might be pushing the DA270 up farther than I should, listening tests will confirm one way or the other.
The LR4 at 2.5 khz came about because when I used the RS150-4 in my bento's I think it can go higher than the 1800 I used and I'd like to try. I have a stiff parallel notch on it too for the breakup, as you can see in the filter function on the PCD below. Another nice choice of 2.5 is frankly, I can use almost any tweeter I want ;) I plan on setting it up with a 104 standard tweeter hole so that I can try other tweets in place.
Without any further talk, here is the current draft XO with 16 parts as PCD simulates on the OB: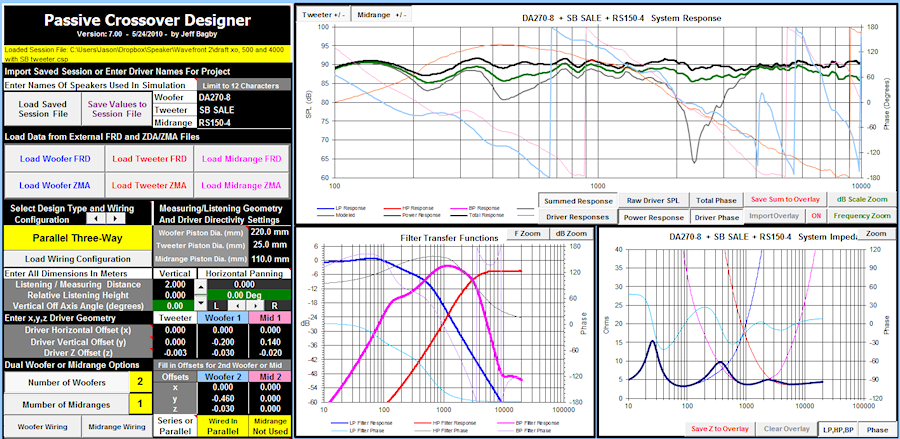 The gray line is the midrange reversed. The smooth power response is promising I think, for a nice in-room balanced sound.
The baffle is 18" wide and 43" tall. I will likely construct it from 3/4" or 1" mdf. I'm currently thinking about a hammered copper steampunk finish with gold edging, it sounds crazy but neat! I'm unsure about the feet yet, I was thinking two 12" pieces going 4" forward and 7" back and using cabinet spikes on them to make it settle well. Here is a simple scale mockup of the design I modeled for PCD with no rounding on the edges:
Well, so far things look solid. This design should be capable of serious output when driven by a 250 or 300 watt into 4 ohm amp, though obvious not a speaker for extended high-power use like parties since I'd wager you could melt the RS150 voice coil easily enough. Regardless, I think I'm ready to move to the build step? I am getting measuring mic shortly too, which will help too no end.