Hey all! I recently delved into speaker assembly with an OS build from PE (which is how I ended up here) and I already have a build list going, including special requests.
After hearing the OS's (many thanks to Paul and his efforts) my dad and I wondered what we could do to a Teledyne PB stereo console he has. This leads to the question of, what kit or DIY build should we use?
Budget is $200, but not set in stone, and we have plywood for the cabinets. I'm going to have to investigate the guts of the console because the model number and power abilities are not clearly visible. Depending on what I find a separate amp is an option. The goal is to keep the outside stock with changes happening to the guts.
Top of console with lid open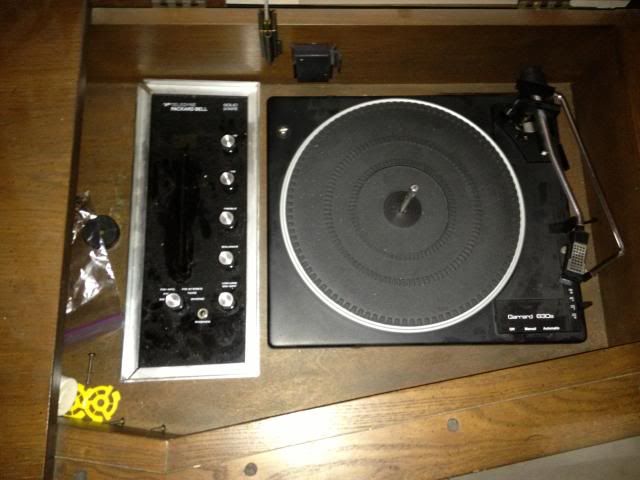 Looking through the back toward the front of the console
For reference, the large speakers are 6x9. I lost the measurements I took so I'll have to post the interior dimensions later.
The speaker baffle can be easily removed (from the inside) and replaced to accomodate whatever we decide to do. There seems to be plenty of room for (2) cabinets inside the console. The existing baffles (2) are quite large, covering about 70% of the front of the cabinet. This leads me to make an uneducated guess that an in-wall or on-wall design should be used.
Another issue is that the front baffles are angled (I'll have to take a picture of the outside) and I will only be able to separate the left and right as much as the console will allow. This leads me to my next uneducated guess that we need something with good off axis response.
The console has sentimental value for my dad, so we want it to sound good, but since it's not an ideal situation, we only want it to sound as good as $200 (give or take). So what say yee?
Thanks.