These are currently still in progress and I normally wait until my builds are done to post them. I figured I would put it out now since I need a break from plugging away at things in general. Lots of work on my house recently as well as speaker builds. I have the minions I just built, im working on the Speedster TMM's, Finalist TL's and soon another floorstanding TL. Turns out I will have 3 TL's designed by Paul K, which I'm probably catching up to how many he actually has of his own!
Also, shout out to Bryan Keane since he has been giving me suggestions and tips via texts.
My dad came to give me a hand ripping this long 4x8 sheets. It was a PITA running those through and I have a decent size tablesaw. I also needed a good sliding miter sled for these finalist tl's since they are longer than my sliding chop saw's reach. I made this, it's kinda big but works well.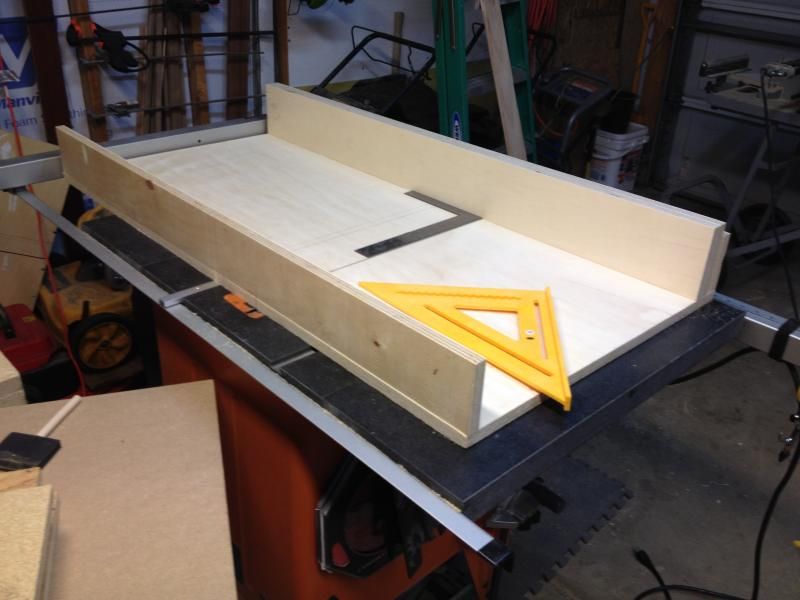 I got all my cut lists prepared and just went to town. In a few hours we had 2 flatpacks (speedster tmm's and finalist TL's)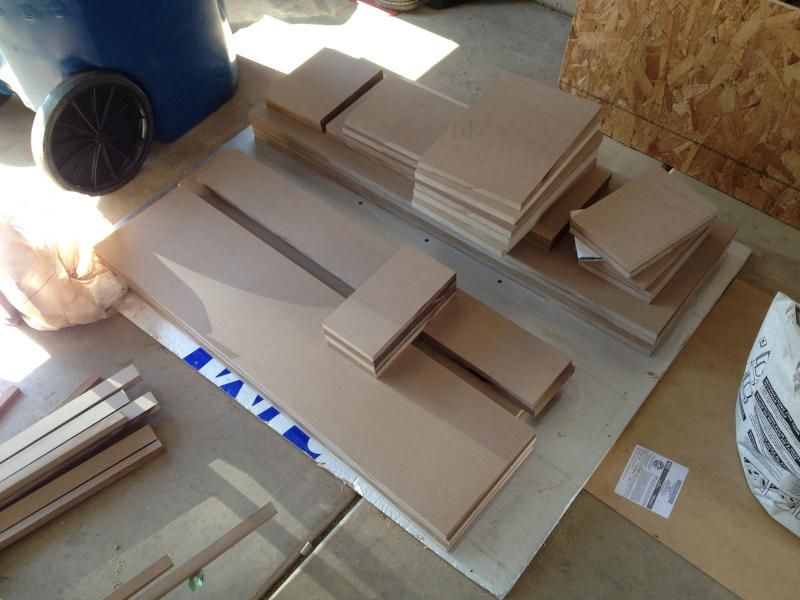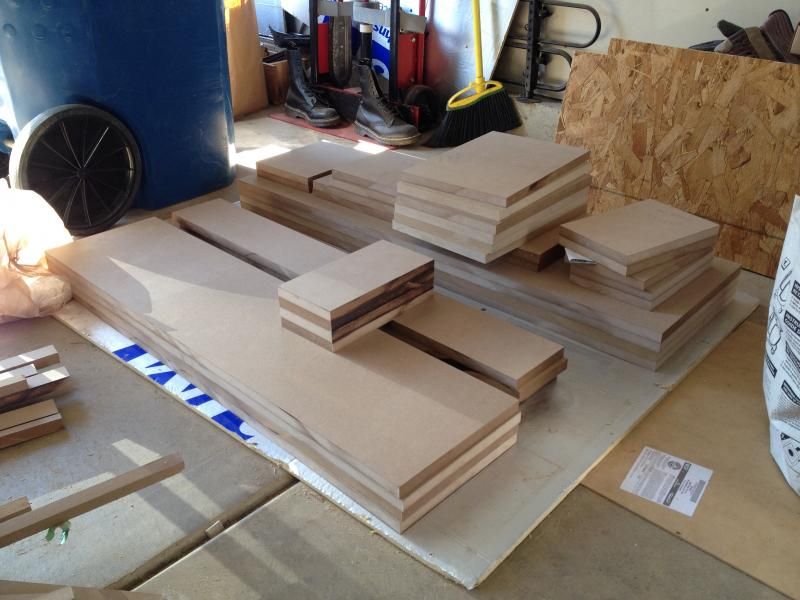 Also, if you don't have one I would invest in these tornado dust collectors. I have the Oneida one. All of this would have been in my garage. Also, no filter on my shop vac and nothing is in the shop vac. Don't pinch the house though you will crush your bucket!
Cut's all turned out great!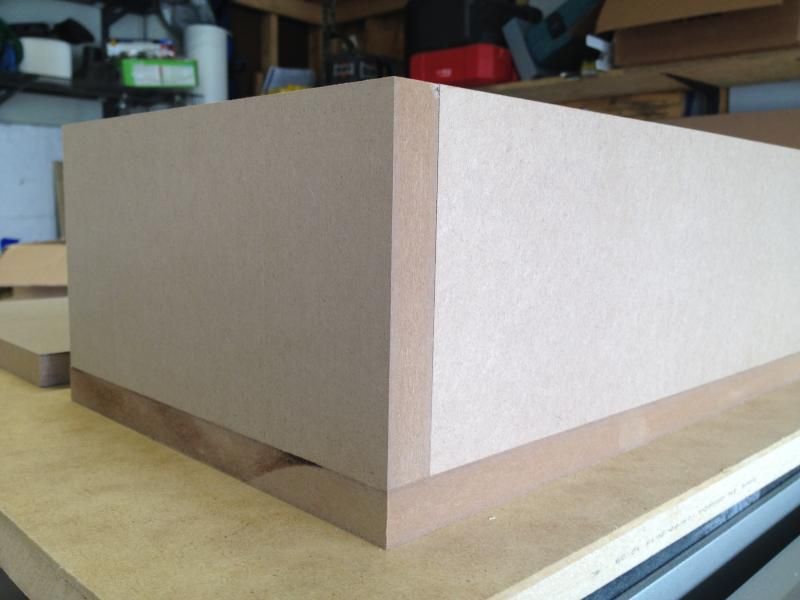 This is where the sanding blade can hurt you. When ripping the long panels I had to keep stopping briefly to adjust my grip. It actually starts to burn the mdf if you rest at one spot. Thankfully it didn't cut in at all it just scorched the surface
I use a foam brush to apply the glue and make sure it gets into the endgrain and spreads evenly.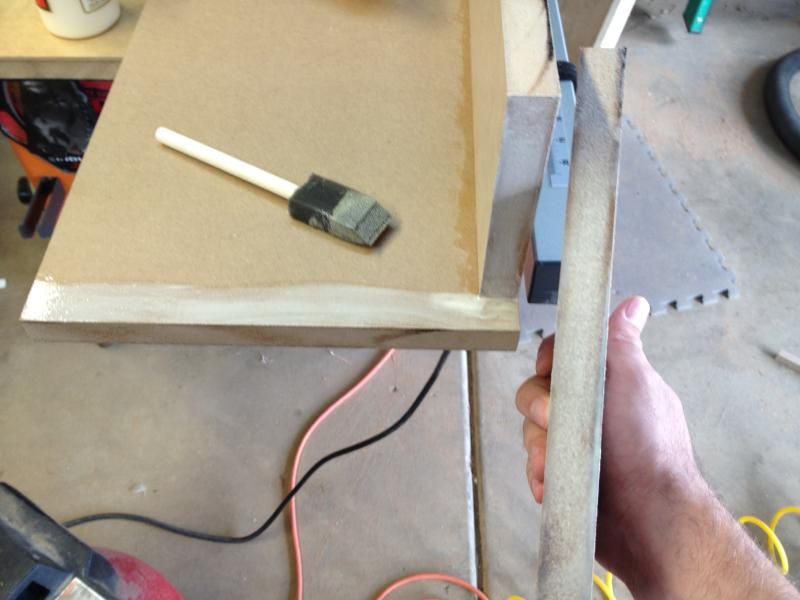 For squeeze out I let the glue start to dry then use a scrapper to peel it off easily. No wet towels to make the glue bleed over.
Exterior complete
Time to make the braces. Normally I prefer window braces but I literally had like 40-50 strips of 1" to 1.5" mdf sitting around from squaring up the panels. So I felt I should use them. It was a lot of extra work to do it this way and windows would have saved me time for sure. Hopefully this is more rigid and deadening. they are a max of 1.25" pieces by 3/4" and are rounded over on all sides. It's under the 5% volume margin of error. It's approximate equivalent to 2 window braces.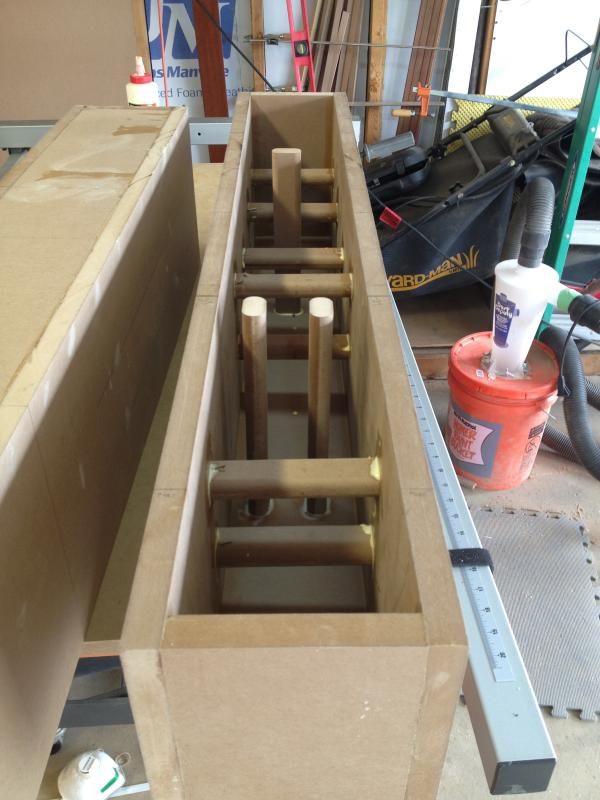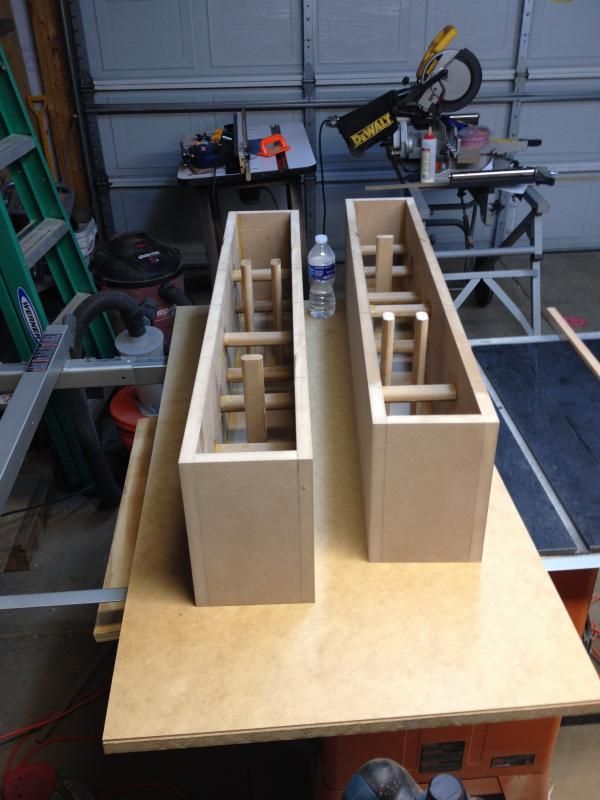 Everything turned out pretty nicely the cuts were all good for doing everything at once. I did however mess up the baffle because I didn't account for the veneer and glue so they ended up a tad to small and I needed to cut new ones.
I bought Acoust-x from acryltech to try out. It's pretty cool stuff and easy to use but do yourself a huge favor and apply it before the braces are installed. It turned out kinda sloppy because It was so difficult to get into the cabinet nooks. took 3 coats to get most of everything good enough.
First coat with foam brush was really bad and messy my hand was a sticky mess and getting it out of your finger hairs was not the most pleasant experience. It does actually come off with water though. My last experience with stuff I couldn't get off my hand was "great stuff" and that stuff is absolutely brutal and needs to wear off your hands.
1st coat (and I SHOULDN'T really say coats because for each coat I was just getting areas that were light or I had previously missed)
2nd coat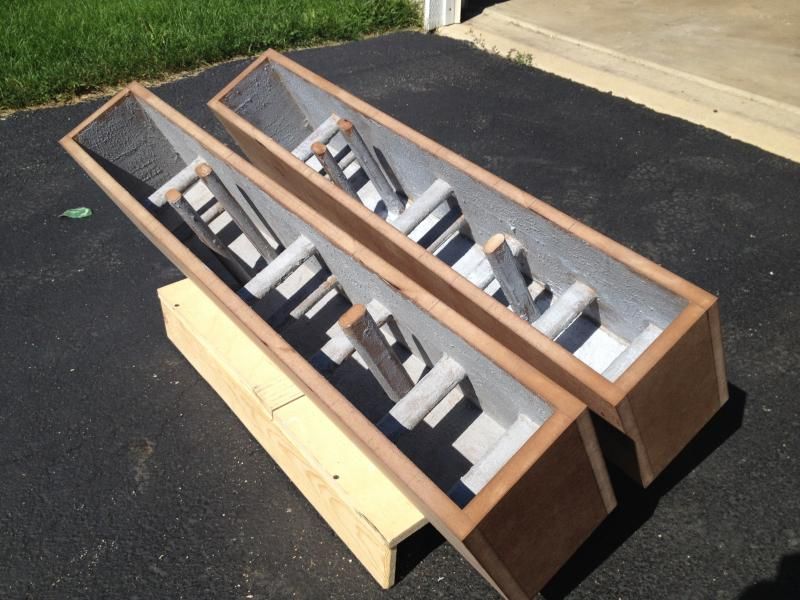 3rd coat
Got the wires cut and twisted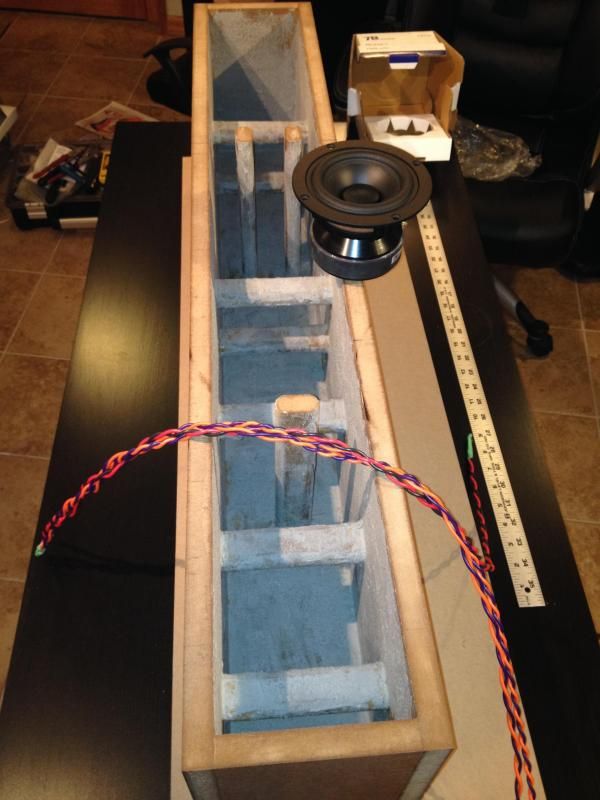 Bought a 4x8 sheet of Walnut for these. Talk about an akward piece to drag around and try to cut alone. It kept rolling itself up and not cooperating. Hopefully my xbox one was watching me.
I saved some time doing 2 at once. I taped the sides all around to not get the contact cement on the new veneer or raw mdf. I put these back to back so that I couldn't "slip" with the roller and get it on the veneer. Trust me I came close a few times.
Looking good!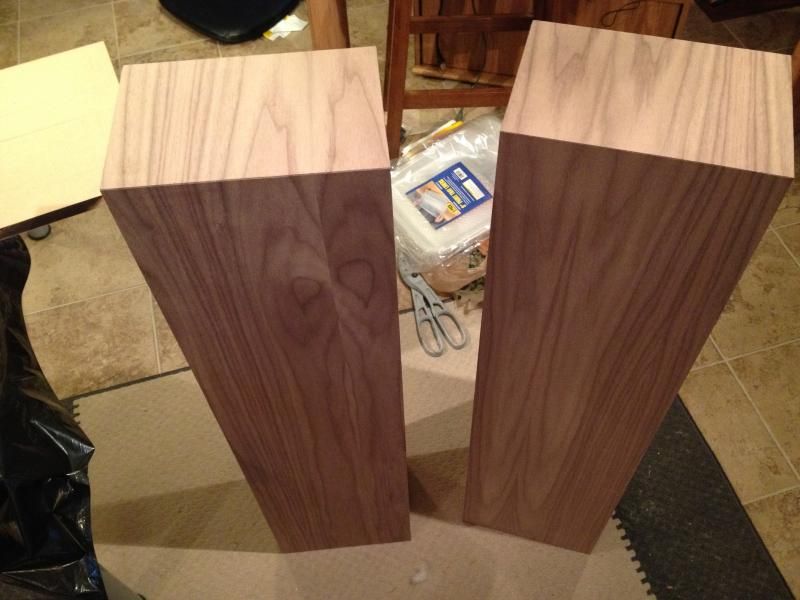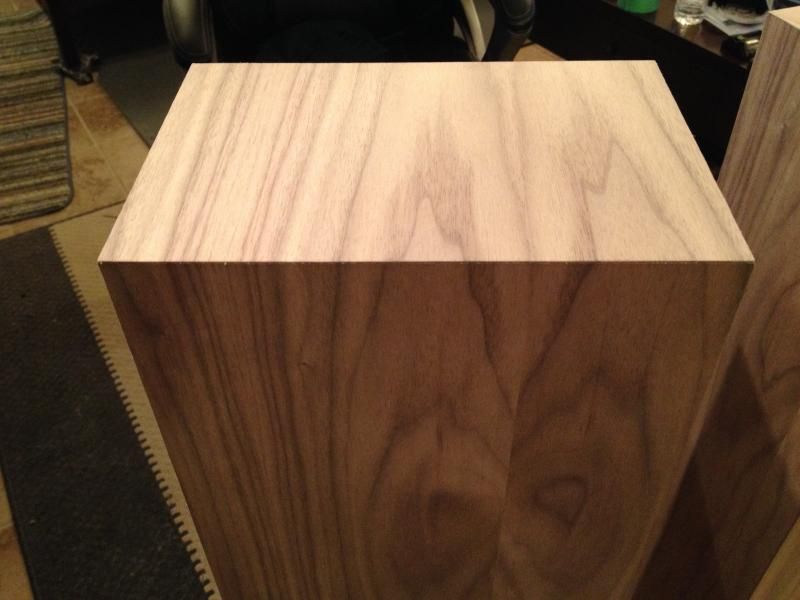 Remember those baffles I said I messed up? I used them to cut the veneer as a backing (razor knife). Then I repurposed them again to make a stand for the speaker and use the underside of the stand to mount the crossover. network.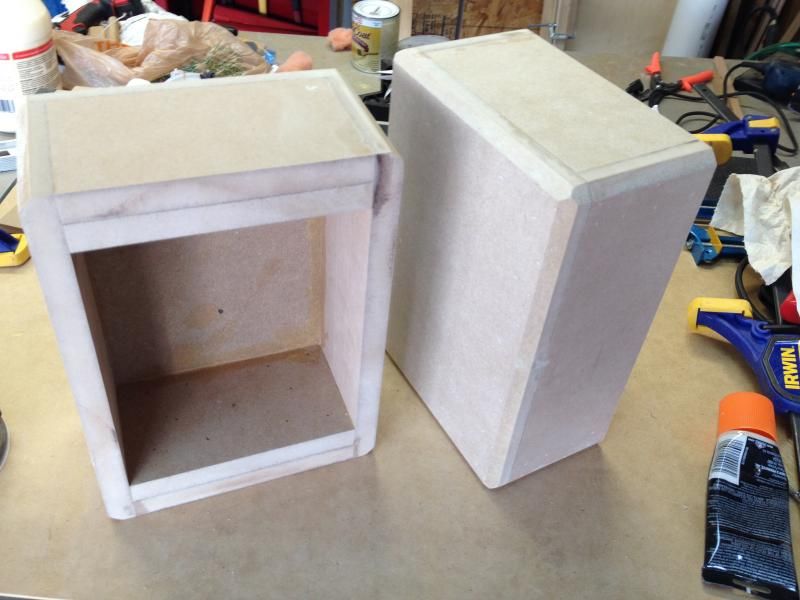 I got the tweeter networks done. I just need to make the woofer one however it has 3 coils very close together so I need to work on a better layout for it that wont interfere. I plan to connect the terminals to this base and then the tweeter network toward the front of the base and the woofers toward the rear of the base. The speaker wires will feed through the center (hot glue the holes before installing the baffles) and all the terminals will face the center of the base.
Also, I've been spending so much time doing this somebody is really not happy with me. I came in today and this is the look I got....He is clearly not happy. Usually he is bouncing up and down when I come in.