Re: Any issues not using ground lead on potentiometer?
I can re-do some of the power lines if that helps, but on the other amp board I just used the rear mounted plugs without any wiring at all and it is still doing the same thing.
Lower resistance pot? I'm using PE's 50k log pot:
http://www.parts-express.com/parts-e...meter--023-550
I was going to use the audio taper one but it was out of stock. This one actually seems to work well and the gain rate is progressive enough to make me happy. Could the pot be picking up noise? and how does it's resistance factor into it? Could you describe how that works a little please if you could. I'm not questioning the validity of what you're saying, I am just a little new to these types of problems and don't know where the possible solutions might be. Thanks for taking the time to help me, I appreciate it a lot.
I was attempting to use all PE parts for this project, but if there is a better pot option that will cut the noise, I'll look at it. I also thought that perhaps shielding the wires running from the pot to the board with alum. tape for some shielding may help, but in moving those wires all around the board there was no shift in the whining noise, so I'm guessing that won't help a lot.
I have another board coming in a few days; I can see how that one performs. If I have problems with that one as well, I think I may start leaning towards there being a problem with the board itself or it's design. I'll wait to see first, though.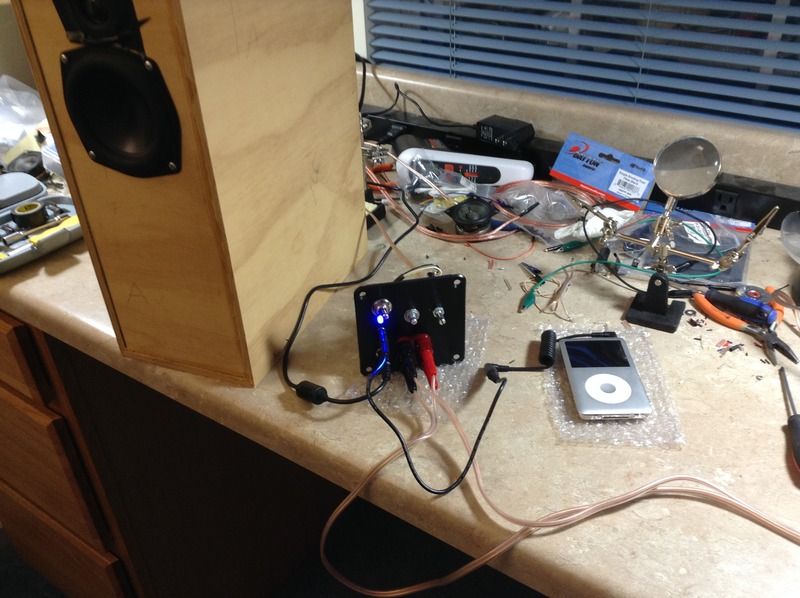 It's a shame if that's the case. It's almost comical how loud this setup was getting with a pair of Nano Neo's and a Voxel sub. Real sonic performance for a dozen dollars and a quarter. Hope I can make this project work.
Thanks again,
TomZ